Micro Data Centers Fill in at the Edge

Enterprises and service providers are widening the range of their networks, pushing out secure edge computing as close to end users or endpoint devices as possible. But the edge isn't always easy to reach. Solutions are needed that can quickly bring branch or point-of-presence (PoP) connectivity to remote users.
Enter modular data centers, also known as micro data centers. These are boxlike containers filled with the same storage, compute power, and networking needed in a regular data center, but delivered in a compact unit. And in the latest trend, they come with integral cloud connectivity, completing a turnkey package for the edge.
Many micro data centers, such as those from Microsoft Azure (MSFT), Vapor IO, Vertiv (VRT), to name just three of many, resemble shipping containers like boxcars. They come equipped with satellite and/or cell connectivity and can be ruggedized for outdoor locations, as shown in the photo below: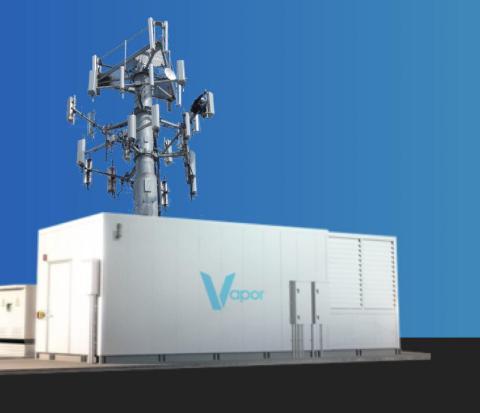 Source: Vapor IO
Other micro data centers, such as those from Schneider Electric (OTCMKTS: SBGSY) and Hewlett Packard Enterprise (HPE), again to name just a couple of many, look like big voting booths, sized for use inside factories deploying industrial Internet of Things (IIoT) or in similar locations where edge resources may be needed. Note HPE's model on wheels in the following photo: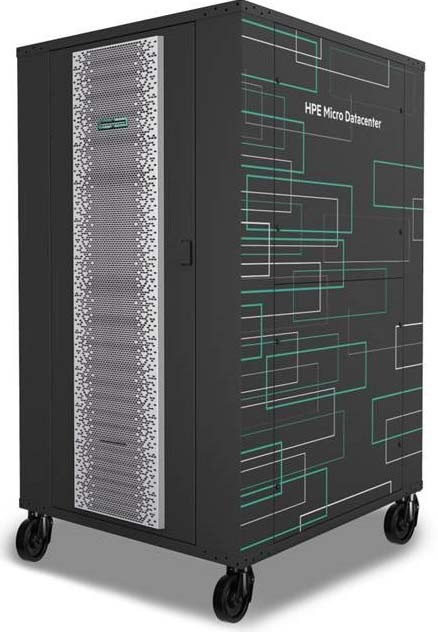 Source: Hewlett Packard Enterprise
Micro Data Centers Evolve
Containerized, modular data centers are nothing new. Google (Alphabet: GOOGL) was reportedly researching a design as early as 2003, and by 2009 revealed the use of data centers-in-containers in its own network.
But the advent of digital transformation increased demand for these products, and the shift to remote work has kicked the market into high gear. Workers simply can't function with poor connectivity, and with little time to build out brick-and-mortar branches, enterprises have turned to the container approach.
"Micro data centres can reduce data processing delays, improve services and provide better customer experience. They are also more cost-effective compared with traditional site builds because of their space-saving design and features," Teoh Wooi Keat, Malaysia country manager for modular data center player Vertiv (VRT), recently told the Edge Malaysia Weekly.
All these advantages are boosting market growth. According to Research and Markets, the total market for small, containerized data centers will climb from $3 billion in 2020 to $6.5 billion by 2025. This growth could be even higher as the edge expands and cloud services are bundled in.
Micro and modular data centers will also play an increasingly vital role as 5G emerges. Some observers see these containerized solutions as housing or acting as multi-access edge computing (MEC) for the mobile edge cloud.

Clouds Form in Micro Data Centers
Enterprises considering micro data centers with integral cloud support have a wide and often confusing landscape of choices. Among these are longtime system suppliers such as HPE and IBM (IBM), which also bundle their wares with cloud services. Other suppliers, such as Edge Micro and Vapor IO, will colocate their modular data centers alongside fiber aggregation points in remote areas, enabling access to cloud solutions.
Still others, such as EdgeConnex, work with cloud companies to pack cloud capabilities within their micro data center solutions. Following are some examples of the trend toward cloud-in-a-box:
— On November 12, FedEx (FDX), Dell Technologies (DELL), and Switch Inc. (SWCH) announced they will collaborate to create cloud-enabled, edge data centers to improve FedEx's network performance. The rollout will include compute, storage, and networking facilities housed in FedEx-branded shipping containers.

— In another example, Microsoft's Azure Modular Datacenter (MDC) delivers an Azure-equipped data center in a shipping container with satellite links. Azure is using this solution to create satellite ground stations in remote areas, but the MDC also can serve as an edge mini-datacenter for Internet of Things (IoT) applications, or anywhere compute, storage, and networking capabilities are needed to improve network performance.
— In 2019, AWS (Amazon: AMZN) enlisted with modular data center vendor Vapor IO, and Crown Castle, a real estate investment trust (REIT) that also supplies communications infrastructure throughout the U.S., to deliver AWS cloud services to Vapor IO's Kinetic Edge containers, which are deployed alongside cell towers that in turn connect to Crown Castle's fiberoptic links.
It is likely we'll see much more partnering and collaboration in this space, as edge networking takes center stage in enterprise planning. At the same time, expect micro data centers to become even better equipped, perhaps even for turnkey multi-cloud capabilities.