Azure, Others Bring Edge to Outer Space

Microsoft (MSFT) recently launched a program called Azure Space to manage satellite data for a range of industries. Think of it as the Secure Edge to outer space.
Azure hopes to develop its share of a growing segment loosely termed the space market, comprising a range of disparate but intensely lucrative businesses. Many of these are tied to U.S. government defense projects, such as the Joint Enterprise Defense Infrastructure (JEDI) project, for which Microsoft has won a multi-billion-dollar cloud computing contract with the Pentagon. There are also opportunities in energy (e.g., oil and gas exploration), telecommunications, various sciences, space traffic management, and agriculture.
Satellites are key to these initiatives, and Azure, like Amazon Web Services (AWS) and other cloud titans, aims to get in on the action by helping enterprises save costs in ground station data storage, computing, communications connectivity, security, and analytics.
Space Partnerships Launched
To promote its latest program, Azure is showcasing partnerships with satellite providers, in which Azure is offered as a backup alternative or processing hub. In this vein, Azure offers another new option, called the Microsoft Azure Modular Datacenter (MDC), which, as illustrated below, delivers an Azure-equipped data center in a shipping container with satellite connectivity, allowing for ground stations in remote or underserved areas.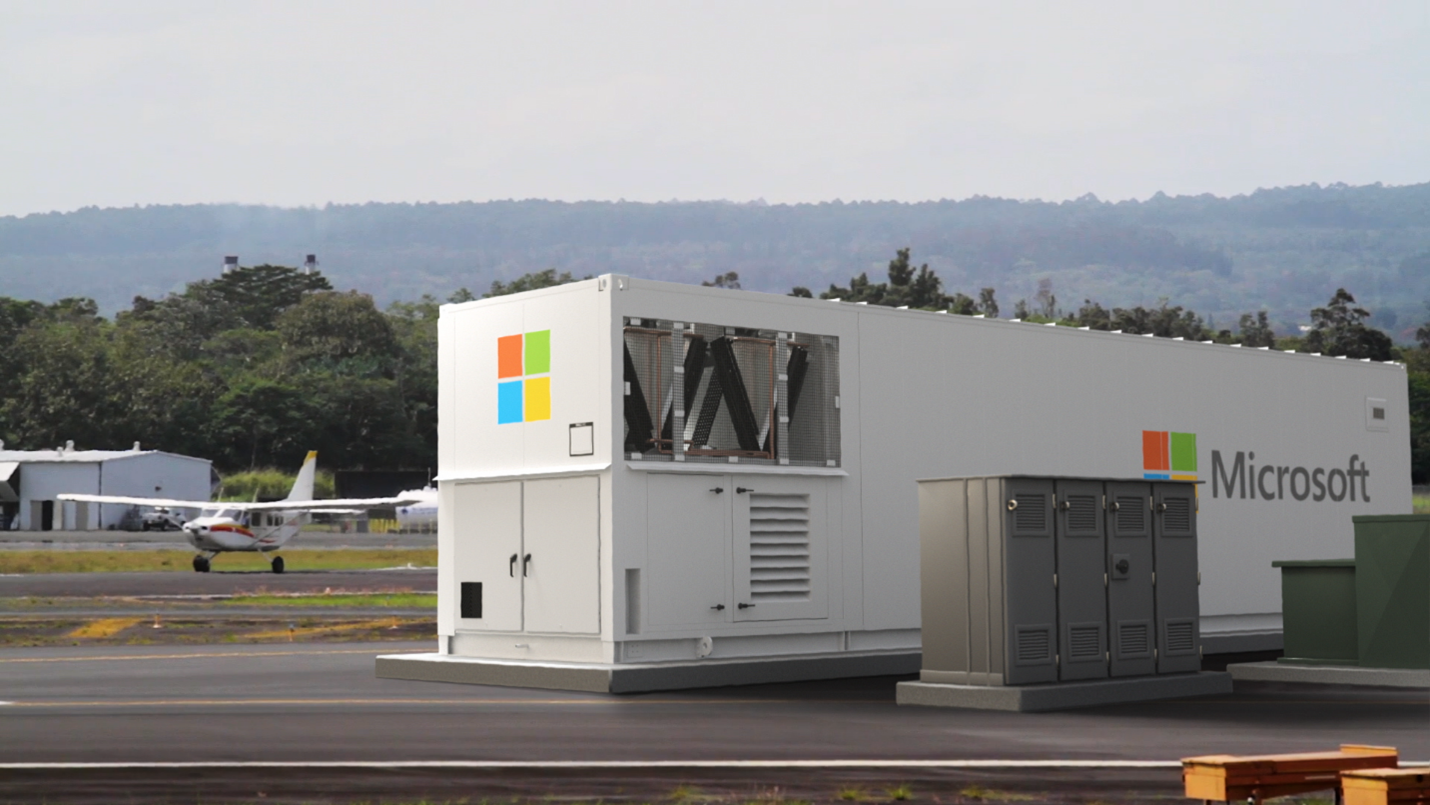 Source: Microsoft Azure

As part of this announcement, Azure is promoting its partnership with Elon Musk's SpaceX, which uses the rideshare model to sell room on SpaceX satellite-launching vehicles to companies or projects with satellites of their own. Azure will offer its ground-station services to these SpaceX customers, as well as to enterprises that engage SpaceX's Starlink satellite-based Internet network. Customers buying Starlink satellite — or the Starlink satellites — could also deploy Azure services.
Azure also has longstanding arrangements with satellite service providers SES SA, Intelsat, and Viasat. And a cloud processing demonstration for the U.S. Air Force undertaken with Ball Aerospace last September may have helped Azure win the Pentagon bid against AWS (which took the Pentagon to court over losing the deal, resulting nevertheless in an affirmation of the government's Azure pick).
AWS Has Ground Stations Too
AWS also has been active in pursuing the space market. Partnering with Lockheed Martin, the cloud provider began work in 2018 on a series of ground stations to process satellite data for customers worldwide. It has since joined with a range of satellite service providers, including Capella Space, D-Orbit, Maxar Technologies, Myriota, NSLComm, Open Cosmos, Spire, and Thales Alenia Space, among others, to create a "ground station-as -a-service."
In June 2020, AWS launched a new Aerospace and Satellite Solutions division to extend these efforts, particularly toward getting business from U.S. government agencies — alas, that Pentagon contract! — and other enterprises that use cloud computing in satellite and space-related applications. This is a market area AWS anticipates could be worth hundreds of billions of dollars.
Others Get In on the Space Act
Azure and AWS aren't alone in bringing the edge to space. VMware (VMW) last year announced an alliance with Mexico's satellite provider Elara to supply SD-WAN connectivity to enterprise customers such as PEMSA, an oil and gas subsidiary of Grupo Mexico, that country's largest mining conglomerate.
IBM (IBM) also is actively pursuing space opportunities, particularly ones that combine its Red Hat and IBM Cloud technologies with artificial intelligence (AI). Earlier this month, Big Blue announced two open-source projects that deploy these technologies to identify and manage satellites of all kinds, including so-called swarms of small satellites working in groups.
In an IBM Developer Blog posted October 2, 2020, Naeem Altaf, Colin Alstad, Minsik Lee described the project:
With the proliferation of satellites of all sizes in lower earth orbit in space, enormous amounts of data will be produced related to earth observation, to space traffic management, to space situational awareness. This data needs to be protected, analyzed, transported, and correlated.
This is where edge computing in space can provide inferencing and data filtering capabilities, basically processing of data in satellites. Next, cloud will come into the picture, to receive the aggregated and raw data via ground stations from constellation of satellites for further processing.
Clearly, space opportunities are attracting the major cloud players — and are likely to draw a range of associated technologies along for the ride. And as the edge becomes the focal point for cloud connectivity, expect satellite connections to become more sophisticated.