Google Cloud Heads to the 5G Edge

The Google Cloud division of Alphabet (Nasdaq: GOOGL) picked the first day of its Google Cloud Next '21 conference to unveil a new portfolio called Google Distributed Cloud, including Google Distributed Cloud Edge, a solution designed to drive 5G applications in service provider networks.
Google Distributed Cloud Edge is an extension of the vendor's Google Cloud for Telecommunications, and as the name implies, it brings 5G core and radio access network (RAN) capabilities to the edge of customer or service provider networks. The solution also will run in Google's network of 140+ edge points of presence (PoPs) worldwide.
One Anthos to Rule Them All
Google Distributed Cloud Edge is a service managed with Anthos, the Google Cloud Platform's open-source management system for hybrid and multicloud environments. This is key, since the multiple components of the solution fall under control of Google, not another cloud provider or integrator, implying a level of vendor lock-in.
Still, Google Distributed Cloud Edge builds on an impressive ecosystem that encompasses leading lights in several areas. To start with, the service is compatible with gear from Cisco (Nasdaq: CSCO), Dell (NYSE: DELL), HPE (NYSE: HPE), and NetApp (Nasdaq: NTAP). The service also runs cloud-native 5G cores from Ericsson (Nasdaq: ERIC) and Nokia (NYSE: NOK).
Google Distributed Cloud Edge also lets service providers run workloads on chips from Intel (Nasdaq: INTC) and NVIDIA (Nasdaq: NVDA), including Intel Smart Edge Open, Intel's FlexRAN reference software, and Intel Xeon Scalable processors, as well as GPUs from NVIDIA.
AT&T, Bell Canada, Telus, Telecom Italia Mobile, Reliance Jio, and Orange are among early adopters of the product, which is available in preview.
Google Cloud illustrates its Distributed Cloud architecture in the figure below: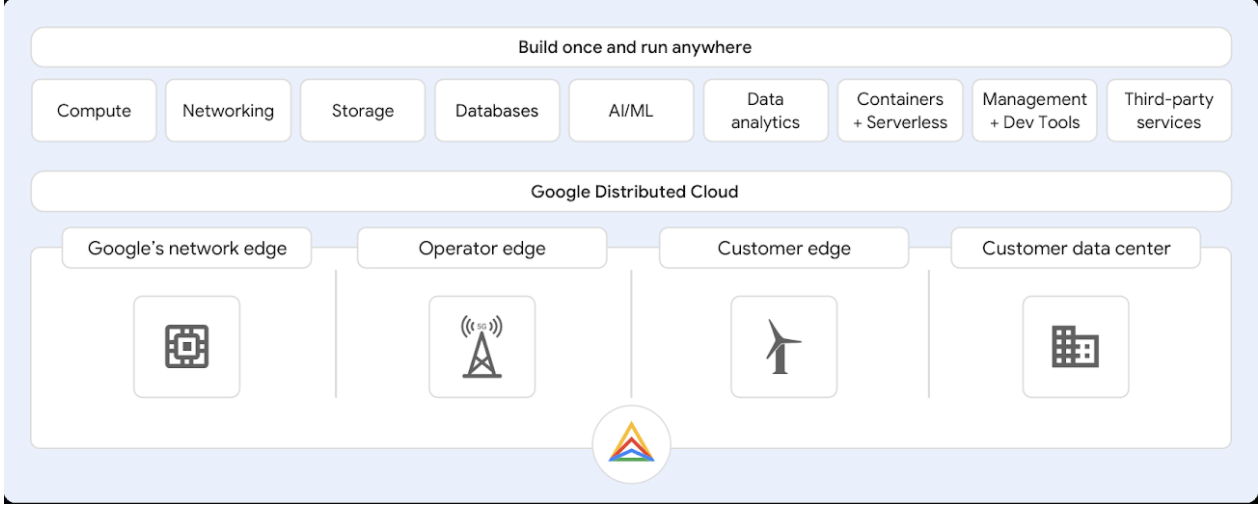 Source: Google Cloud
Google Follows Its Plan

While Google Distributed Cloud Edge is still in preview, it follows a strategy the cloud hyperscaler has embraced for months – specifically, to make GCP the springboard for mission-critical 5G applications, which by definition require edge deployment. Alphabet CEO Sundar Pichai described it during the vendor's second-quarter earnings call in July 2021, during which Google Cloud revenue was reported to have grown 54%:
"Our focus on delivering industry specific solutions, coupled with our secure, open cloud infrastructure enable us to support leading telecommunications companies such as Reliance Jio, Telecom Italia TIM, and Ericsson, to work together on applications and new solutions for 5G networks and Mobile Edge Computing. These join existing customers Vodafone, Telus and many others."
Another Google Distributed Cloud Product Debuts
A second product in the Google Distributed Cloud portfolio was announced today – Google Distributed Cloud Hosted. This service is designed for customers such as government agencies, who must follow strict regulations as to where data resides – a requirement that can preclude their use of cloud services.
Google Distributed Cloud Hosted does not require any connection to Google Cloud Platform. Instead, it relies on what Google terms a local control plane provided by Anthos to manage infrastructure, services, and APIs that must remain at a customer's data center or colocation facility.
The service is due for availability in mid-2022. Early adopters include French hosting provider OVHcloud and integrator T-Systems, a subsidiary of Deutsche Telekom.
Takeaways
The announcements today position Google Cloud shoulder-to-shoulder with rivals AWS and Microsoft Azure, which have both launched aggressive telecom-focused services leveraging 5G.
AT&T (NYSE: T), for instance, has shifted 5G core capabilities to Azure, and DISH Network (Nasdaq: DISH) will develop its 5G network with AWS. IBM has announced that Verizon (NYSE: VZ) will deploy Red Hat technology in its 5G core.
The context of today's Google Cloud announcements is clear: Telecom players, facing increasingly expensive buildouts of 5G, are turning to cloud hyperscalers for help. This only makes sense: The telcos have shelled out enormous amounts for the spectrum to run 5G; turning to the cloud providers for infrastructure and application support saves costs. Partnerships also allow telcos to add access points that reduce 5G latency across geographies.
Bottom line? Google Cloud has made another move that positions it well to profit from the acceleration of 5G.