Introducing Futuriom's New 5G Edge Cloud Tracker

Welcome to Futuriom's new 5G Edge Cloud Tracker, in which we analyze how the communications and cloud infrastructure industries are building out the future platform for digital services. This is part of our new premium technology research service, Cloud Tracker Pro, which will offer detailed quantitative and qualitative analysis of the technology expansion in the cloud infrastructure markets.
The communications and cloud industries are changing rapidly to adapt more capabilities at the edge. This, of course, is catalyzed by new cloud and streaming services enabled by mobile connectivity such as 5G. Communications and cloud providers are coming together to provide valuable infrastructure to accommodate the trend toward digital transformation. In many cases, this has forced landmark shifts in the communications industry – toward open, cloud technology architectures as well as deep partnership with the cloud providers
The Money is Flowing
It will also require large investments! Most of the world's communications carries are challenged to provide more bandwidth than ever, which has high capital intensity. They are digging deep into their resources to fund fiber, wireless spectrum, and edge points of presence (PoPs) for 5G networking. Carriers and cloud providers that can't build out edge infrastructure are reorganizing their priorities and directing their efforts toward integration with other vendors' services.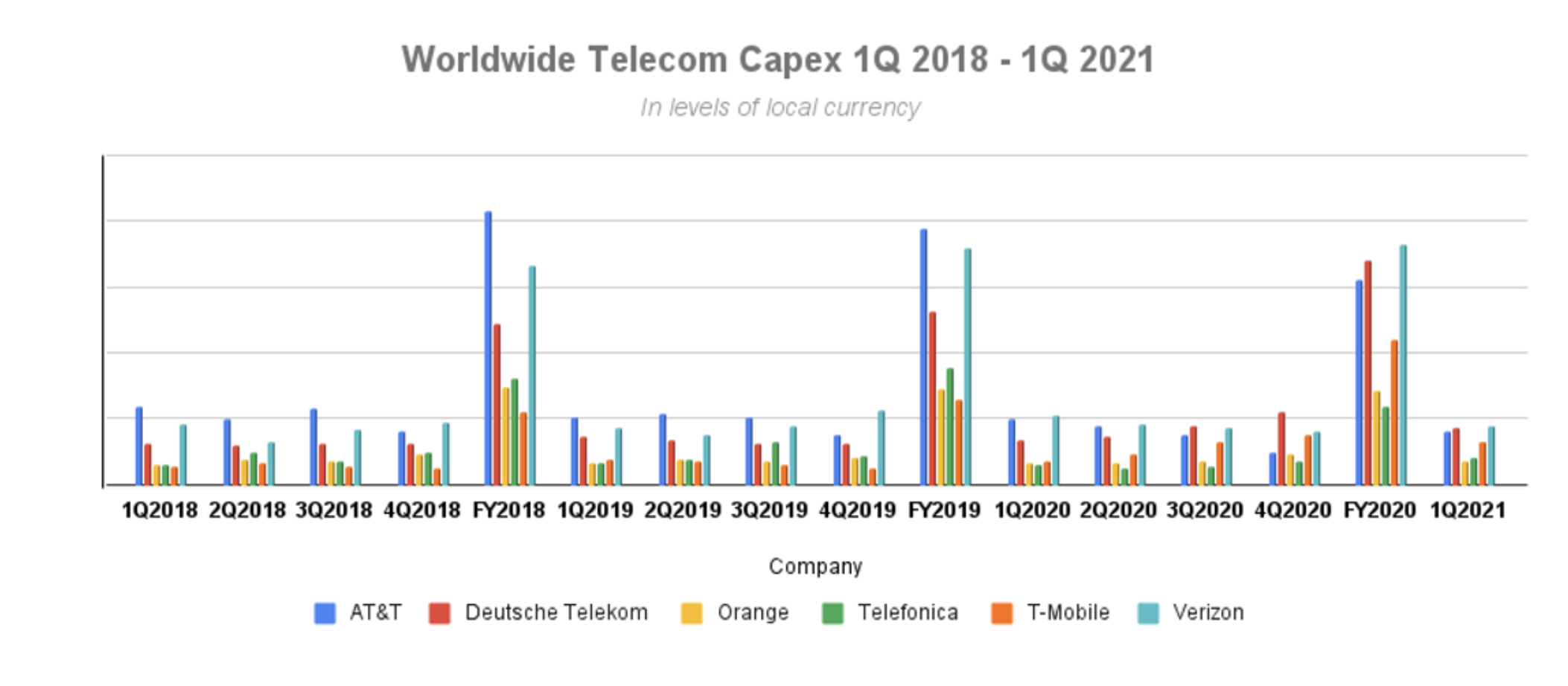 As part of Cloud Tracker Pro, Futuriom will be regularly tracking the money and deployments by telcos, including infrastructure used for cloud edge. In this report we will explore trends in carrier capital spending (capex), cloud capex, and different forms of edge-cloud deployments.
In this first report, we will focus on Carrier Capex for 5G – but in the future we will add additional analysis and metrics for cloud edge deployments.
Report Highlights
Immense change is happening in the telco cloud. Faced with capital constraints and the high costs of investment in spectrum, telco players are looking to more efficiently deploy 5G infrastructure. This is pushing them to deploy more open, cloud-based technologies as well as partner with the public cloud providers to leverage their software capabilities and infrastructure.
In studying the market over the past four months, here are the findings of our first 5G Edge Cloud Tracker:

Faced with capital spending needs, telecommunications companies are turning toward cloud providers to help build out 5G. Public cloud services such as AWS, Google Cloud Platform, and Microsoft Azure are becoming key to 5G networking for customers such as AT&T. By porting its 5G core network to Microsoft Azure cloud services and selling its software-defined networking (SDN) technology to Microsoft, AT&T hopes to streamline the rollout of 5G and to focus on its major strengths in fiber and physical infrastructure.
IBM (NYSE: IBM) recently announced that Verizon will deploy Red Hat technology in its 5G core. And companies such Hewlett Packard Enterprise (NYSE: HPE) and VMware (NYSE: VMW) also have focused enormous effort on telcos. There are also many startups with solutions in this space. The result is a movement that should not only speed 5G deployment but enable carriers to create, manage, and deliver 5G services once networks are in place.
5G capex on the rise. After a pandemic lull the world's top carriers are increasing capex in pursuit of 5G expansion. AT&T, Deutsche Telekom and its T-Mobile US subsidiary, and Verizon are leading the way among western carriers in the 5G buildout. To fund 5G expansion, big carriers are divesting businesses such as entertainment content delivery that reduce their ability to focus on 5G rollouts.
Mid-band spectrum is key to 5G success. Thanks to its favorable signal-to-distance ratio, radio spectrum in the range from 1 GHz to 6 GHz is favored by carriers intent on blanketing services across countries or regions. And in 2020, the three leading U.S. carriers spent an aggregated sum of $90.8 billion to purchase 281 MHz of spectrum with a general frequency range between 3.7 GHz and 3.98 GHz, called the C-band range. C-band spectrum is capable of supporting speeds above 4G LTE (or above 12 Mbit/s download) all the way to 1.5 Gbit/s per device. Telcos are planning to make it the primary source of most 5G services. To do that, they are paying out enormous amounts in capex for the equipment that can run C-band 5G and integrate it with existing services such as millimeter wave (mmWave), an approach particularly favored by Verizon.
Carriers without large spectrum licenses are refocusing or partnering to stay competitive. Two of the companies covered in this report – Europe's Orange and Telefonica – have relatively small investments in 5G.

Cloud Tracker Pro subscribers can download the full report, which is part of our series of quarterly reports plus additional bonus premium analysis that subscribers receive throughout the year. Click on the button below to subscribe.