Telcos Plan C-Band Spending Blitz

A wave of capital spending is coming to the U.S. communications infrastructure in the wake of the recent Federal Communications Commission's 5G wireless spectrum auction. And as predicted by Futuriom, the resulting tide could significantly lift enterprise cloud networks.
In presentations last week, the top three U.S. carriers introduced their plans to roll out 5G services with their newly acquired C-band, or mid-band spectrum, which has a range between 3.98 GHz to 4.2 GHz, capable of supporting 5G at speeds above 4G LTE across relatively broad areas.
Following are a few details:
— AT&T (T) acquired 80 MHz of spectrum for $27.4 billion in the FCC's auction. It plans to spend between $6 billion and $8 billion between now and 2024 on deploying the first 40 MHz of its newly acquired resources, equipping between 70 million and 75 million points of presence (PoPs) by the end of 2022. In 2021, AT&T will extend its broadband fiber footprint to over 90 metros, serving 3 million new customers. All this spend is already included in AT&T's $18 billion projected capex for 2021. AT&T plans to pay back $23 billion of its spectrum bill this year from its available cash.
— T-Mobile US (T-MUS), which acquired 40 MHz of spectrum for $10.5 billion, anticipates spending between $11.7 billion and $12 billion in 2021 on capex, including 5G. By the end of 2023, the carrier plans to have its 5G network infrastructure completed and ready to deploy all of its spectrum allocation. T-Mobile also boasts that due to its modest spending on spectrum (the least of the three leading carriers), it won't have to struggle with payback or capex to accommodate growth. Indeed, the company plans for a $60 billion buyback of stock between 2023 and 2025.
— Verizon (VZ) acquired the most spectrum of all buyers — 161 MHz, for which it paid $52.9 billion. The carrier expects to spend $10 billion above its ordinary capex annually for the next three years. (Projected capex before those extra charges was originally between $17.5 and $18.5 billion for 2021.) Verizon plans to add 5G in 46 markets serving 100 million people over the next 12 months. By 2024, coverage will increase to 250 million people. Verizon expects new services to fund the payback on spectrum, via revenue increases of 2% or more in 2021, growing to 4% by 2024.
So far, all the proposed spending will be a spike for the top carriers this year, though not the biggest in recent times. AT&T, for instance, spent heavily on in 2017 and 2018 fiber and its FirstNet first responder network, compared to what it spent last year. And T-Mobile invested heavily in 5G and was able to include numbers from the Sprint merger, making 2020 a standout capex year, as indicated in the chart below: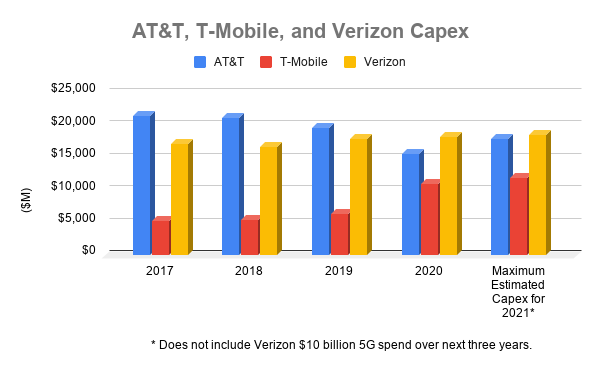 AT&T, Verizon Emphasize the Edge
Carriers differed in their emphasis on new markets driven by 5G. But AT&T and Verizon stressed the importance of the network edge. And in both cases, executives said ecosystem partnerships, including ones with cloud providers, will be key to addressing enterprise demand for edge resources.
"We will continue to expand our 5G edge solutions in 2021, developing customer-led applications with technology partners like Microsoft, IBM, Accenture, Google and Deloitte," said Jeffery Scott McElfresh, CEO of AT&T Communications LLC, which owns the wireless and broadband assets of the firm, during the AT&T Analyst and Investor Day event on March 12. All these players are part of trials in which AT&T is pairing its edge infrastructure with cloud services.
Verizon also emphasized its Intelligent Edge services via multi-access edge compute (MEC) as key to successful 5G. During the carrier's Virtual Investor Day on March 10, Kyle Malady, Verizon's EVP and CTO, stated:
"Last year, we were the first in the world to deploy a public MEC [multi-access edge compute] solution with AWS. We deployed 10 zones in 2020 and will deploy an additional 10 this year. We anticipate that C-band will accelerate MEC adoption. In addition, we will start private MEC deployments in partnership with Microsoft that feature 5G in-building solutions."
Aliances between carriers and cloud providers will be key to supporting multi-cloud networking, since 5G's network slicing capabilities could play into support of multiple edge partners.
T-Mobile's Virtual Analyst Day March 11 focused more on consumer than business 5G. Still, T-Mobile values ecosystem partners in developing 5G services, as evidenced by its 2020 opening of a 5G Open Innovation Lab with Intel and NASA. T-Mobile describes that effort as focused on helping startups to develop 5G and edge solutions for business.
Knock-On Market Effects
Investors rallied to the carriers' news last week, hiking up share values for all three. Analysts also were bullish on the potential for equipment vendors to share in the 5G upswing. "We highlight the prospective C-band network build-out by the U.S. Tier 1 mobile operators as representing a meaningful incremental opportunity for Comm. Equipment and infrastructure suppliers," stated Fahad Najam, executive director at MKM Partners, in a note to clients.
Besides makers of radio equipment, such as Ericsson (ERIC) and Samsung (KRW), analysts predict opportunities for switching providers such as Ciena (CIEN) and Cisco (CSCO), as requirements for cell site interconnect and backhaul increase.
Suppliers and carriers also may benefit from an $80 billion infrastructure spending bill proposed by the Democratic Party. Called the Accessible, Affordable Internet for All Act, the bill would distribute funds via auction in or around 2023 to build out Internet infrastructure in underserved areas of the U.S. Funds would go toward services as well as equipment. While just proposed, the bill represents government momentum behind broadband in general and potentially 5G as well.