Keys to Survival in 5G Networking

Futuriom has been hard at work investigating many trends in the evolution of edge-cloud infrastructure, especially networking technology to support the rollout of 5G communications services.
5G is the high-bandwidth, low-latency mobile technology being rolled out by the major service providers. Deployments will likely kick into high gear in 2021, our research shows. This advanced, virtualized communications technology will support many data applications, such as autonomous driving, virtual reality/augmented reality (VR/AR), business analytics, and high-speed broadband (both fixed and mobile). But this will also create major challenges for the major communications providers, cloud providers, and enterprises alike. How do they launch new services economically? How do they support the massive scale and bandwidth needed to support these applications? And how do they roll out networking support for virtualized resources that can operate at scale?
Our exclusive survey and report, sponsored by Arrcus, delves deep into the details, anchored by a survey of highly qualified professionals at the major service providers, cloud operators, and large enterprises. All survey respondents were carefully screened and qualified as Director-level and above.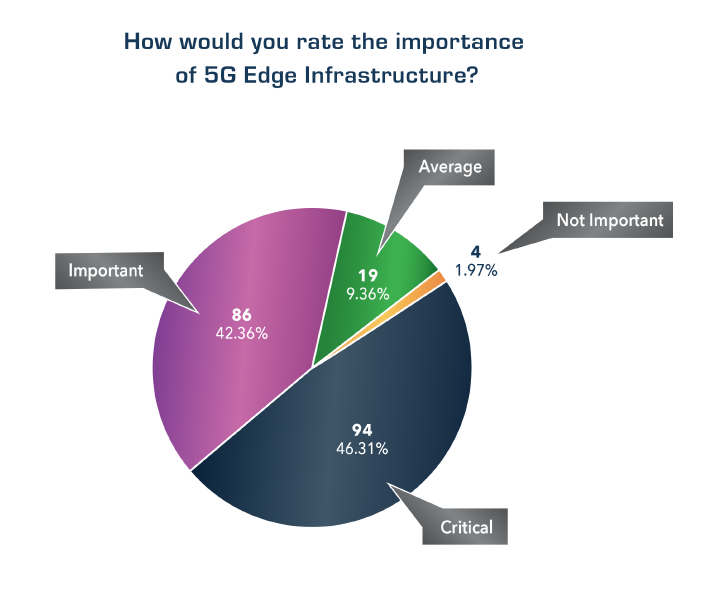 You can download the report right here.
5G Networking Market Takeaways
• A large majority of our 203 total survey respondents – Communications Service Providers (CSPs), cloud/webscale providers, and enterprises – see 5G as a critical or important component of their technology platform. Almost 90% (88.6%) of respondents referred to 5G edge infrastructure deployment as either "critical" (46.31%) or "important"(42.3%) to their business.
• CSPs, cloud operators, and enterprises are in an active plan-and-build stage for 5G infrastructure right now. Of those surveyed, 54% said they are planning to deploy in the next 12-24 months and 32% said they are doing it now.
• A high-performance transport network will be key to connecting assets across on-premises, cloud, and edge environments. In order to support 5G applications, the transport network needs to adapt in real-time with scale and elasticity.
• Operators in the cloud, enterprise, and service provider markets need to provide operational velocity, simplicity, and flexibility using network automation, standards-based models (e.g OpenConfig), and programmatic APIs.
• Advanced routing technologies with segment routing (SR) capabilities, including SRv6, SRMPLS, and SR-TE (Traffic Engineering) will be needed to build high-performance 5G networks. Other checklist items include routing security (e.g. DDOS mitigation), high availability (Fast Reroute), PTP/1588, and GTP.
• To achieve high-performance cloud attributes, the next-generation routing and transport software needs to be guided by a first-principles mindset.
• Key goals of 5G include the capability to deliver new business models and new services, increased bandwidth to support increased capacity demands, lower latency for better and end-customer experience, automation for lower operational costs, and private dedicated spectrum.
But there's way, way more. If you are involved in deploying 5G and you want to learn about all the key requirements and needs of next-generation 5G networking infrastructure, you should download the report now.
(Special thanks to Arrcus for sponsoring this exclusive research.)