Gelsinger: The Old Intel Is New Again

"Intel is back!"
With that, new CEO Pat Gelsinger summarized an hour-long public briefing yesterday, which highlighted Intel's strategy to lead the U.S. in chip manufacturing as well as in component designs for hyperscale cloud providers and suppliers of networking, automation, and edge equipment.
"Technology has never been more important for humanity," said Gelsinger. "The entire world is becoming digital, driven by four superpowers — the cloud, connectivity, artificial intelligence, and the intelligent edge."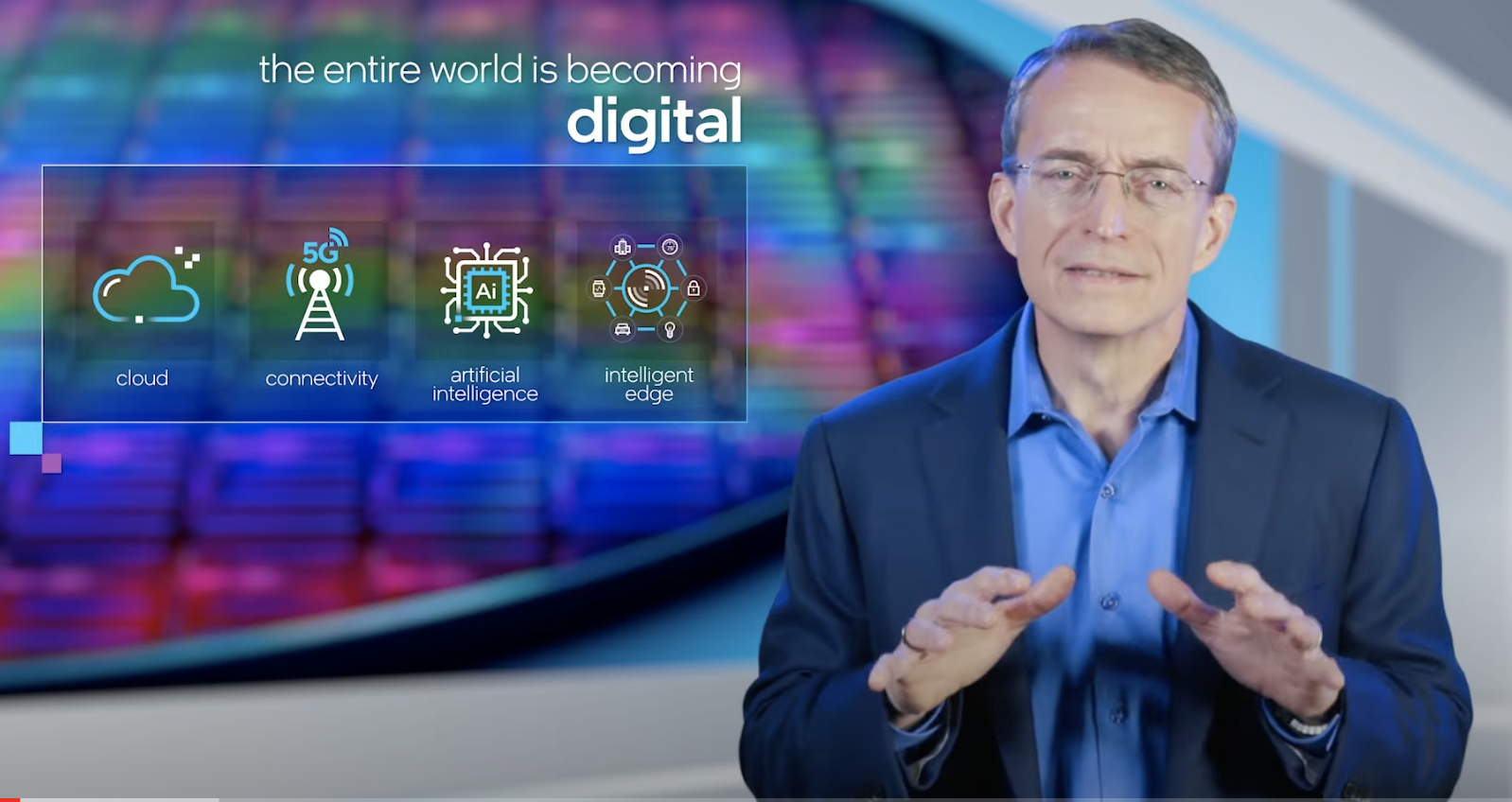 Source: Intel. Note the 5G tower illustrated at left.
Gelsinger's talk focused mostly on meeting the requirements of these tech markets with what he introduced as IDM 2.0, meaning a fresh strategy for integrated device manufacturing at Intel (INTC). Referencing the Biden administration's review of U.S. chip shortages with an eye to increasing domestic production, Gelsinger unveiled the following plans:
A $20 billion investment in two new manufacturing facilities to be added to Intel's Ocotillo Campus in Chandler, Arizona. Construction will start immediately. More plants are planned worldwide, with a focus on the U.S. and Europe. The goal is to grow semiconductor manufacturing in the U.S. and Europe, where worldwide contributions have dwindled to 15% and 5%, respectively — with the rest of the world's chips coming from Asia.
Expanded use of third-party foundries such as the Taiwan Semiconductor Manufacturing Facility (TSM), UMC (UMC), Samsung, and GlobalFoundries in an effort to achieve scale and improve margins.
The establishment of a new, "world-class" Intel Foundry Services business focused on supplying requirements in the U.S. and Europe, to be headed by Randhir Thakur, a former SVP and chief supply chain officer at Intel. Intel sees the foundry business as a total addressable market of $100 billion by 2025.
Renewed focus on ecosystem partners, starting with a research collaboration with IBM (IBM) aimed at innovating in advanced silicon processing and packaging technologies. IBM CEO Arvind Krishna made a cameo appearance to endorse the deal.
Gelsinger Gets Mixed Response
Gelsinger said the IDM 2.0 model has been endorsed by customers such as Amazon (AMZ), Cisco (CSCO), Ericsson (ERIC), Google, IBM, Microsoft (MSFT), and Qualcomm (QCOM). A brief video endorsement from Microsoft CEO Satya Nadella underscored that company's support for the plans.
Still, journalists and financial analysts took Gelsinger to task during the Q&A regarding Intel's past ill-fated attempts at starting a foundry business. "This isn't Intel's first shot at foundry. There was a big push in that direction about seven years ago," said one questioner. "What didn't work back then, and why's it going to work this time?"
To which Gelsinger replied: "First I'd say the market is really different today. As you've seen, an extraordinary demand for semiconductors, strong interest on the part of U.S. and European institutions and governments. I'd also say that our first efforts were somewhat weak."
New Markets, New Chips
Gelsinger expanded on specific Intel innovations in his talk. He referred to a new kind of chip design that uses 3D packaging to stack various components vertically as tiles on a substrate. This design, called Foveros, transcends system-on-a-chip to achieve a "system on package" comprising mix-and-match combinations of CPU, graphics, AI processing, and other components to meet specific demands. Cloud hyperscalers, he said at one point, will benefit from this approach. Gelsinger also mentioned the upcoming release of "Ice Lake," the latest iteration of the Xeon Scalable Processors that are among components used in many 5G trials worldwide.
A Clear Vision, An Unclear Future
Gelsinger, as ever, managed to cover all bases convincingly, and the stock ticked up a bit after his talk and this morning was trading at $63.64 (+0.17, +.26%).
Still, challenges abound. Competitors such as Advanced Micro Devices (AMD) and NVIDIA (NVDA) not only loom over cloud and data center chip markets, they are busy acquiring even more expertise — AMD via a $35 billion bid for Xilinx, and NVIDIA with its plan for the $40 billion cash/stock acquisition of Arm Holdings, as well as other recent acquisitions, including Titan IC for an undisclosed sum and Mellanox for $6.9 billion.
Notably, Intel's financial guidance hasn't shifted much in light of the changes and market forces. The company anticipates non-GAAP revenues of $72 billion for 2021, with earnings per share of $4.55. Capex is expected to fall between $19 billion and $20 billion. Gross margin guidance is for 56.5%.
And Gelsinger's undeterred by any naysayers. "Hey, it's going to take several years for us to build this business up, but ultimately it's a good business that we're moving into," he said last night. "[T]his is a heavily leveraged business against what we're already doing in the company…. The old Intel is now the new Intel as we look to the future."