Cisco Shares Plunge After Sales Expectations Reduced
Cisco shares plunged 10% today after Wednesday evening's earnings report, in which the company said that product orders had slowed and the company reduced revenue guidance and growth numbers for the rest of its fiscal year.

Cisco's earnings reports are widely followed by tech investors because the $190 billion market-cap company is considered a bellwether for the technology industry. That may not be a good sign after Wednesday's fiscal third quarter report.
The company reported that revenue increased 7.6% for its first quarter of fiscal year 2024, which ended on Oct. 28. Reported net income was $3.64 billion, or 89 cents per share, up from $2.67 billion, or 65 cents per share, a year ago.
But shareholders and traders were most concerned about the management's forward guidance. Cisco's second quarter and full-year revenue guidance came in way below what Wall Street had been expecting. The new revenue guidance for the fiscal second quarter is $12.6 billion-$12.8 billion compared to a $14.2 billion estimate. Cisco cut full-year guidance to $53.8 billion-$55.0 billion versus the previous estimate of $57 billion-$58.2 billion.

Backlog Blues
The report caps a volatile period for the technology industry, which featured a surge in spending during the COVID period, supply constraints resulting from disruptions to the global supply chain, and then a gradual return to normal business. This has produced an unpredictable period as customers digest the boost in orders made during the period of supply constraints. Many companies including Cisco built up a large backlog of orders that were delivered late last year and earlier this year. The concern now is that the backlog is gone and order growth has been weak.
"After three quarters of exceptionally strong product delivery, our customers are now focused on installing and implementing these unprecedented levels of products," said Cisco CEO Chuck Robbins. "The bottleneck that we previously saw in the supply chain has now shifted downstream to implementation by our customers and partners. Our order lead times and backlog have largely returned to normal levels."
Robbins painted the slowdown as temporary. "Based on our analysis, we believe this phase is temporary and estimate there is an additional one to two quarters' worth of shipped orders in customers' hands still waiting to be deployed."
Investors thought otherwise -- they sold the stock. Cisco shares ended the day down $5.24 (10%) to $48.04. Shares are about flat for the year.
Some of Cisco's end-market numbers were pretty terrible -- which may be why investors were so spooked. For example, the company reported that the service provider and cloud market segment was down 38%, enterprise was down 26%, and public sector was up slightly at 2%. Not everything was terrible, as the company's Observability division, which includes acquisitions AppDynamics and ThousandEyes, was up 21% year-over-year (y/y). Networking was up 10%.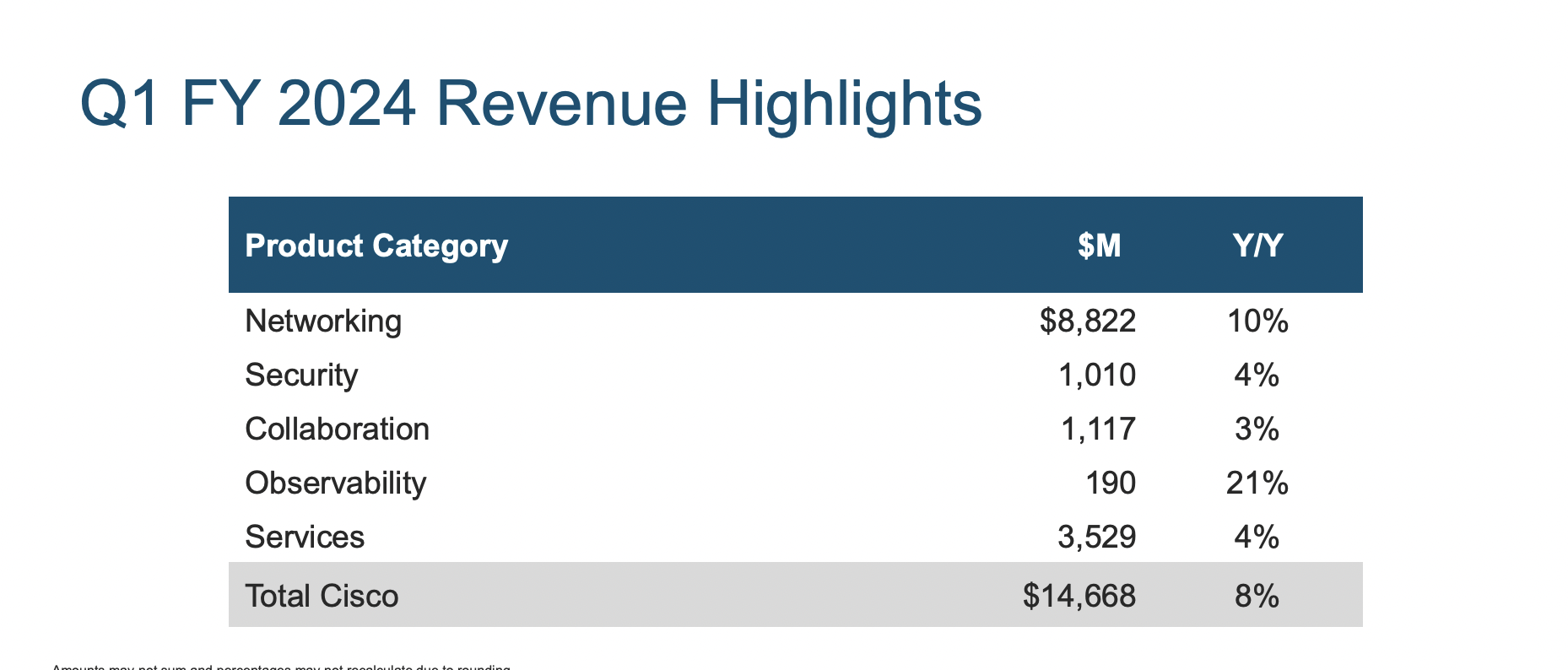 But the weak forward guidance unsettled investors. To make matters worse, Cisco executives seemed a bit tone-deaf on the conference call. "To summarize, we delivered a solid quarter, highlighted by top line growth and increased operating leverage that resulted in stronger-than-anticipated earnings per share," said Scott Herren, the Chief Financial Officer, before the stock plunged 10%.
Analysts Reduce Ratings
The response on Wall St. was swift. As many as nine Wall St. analysts lowered their price targets for the stock, contributing to the sell off.
"Now, they've [Cisco] exhausted their excess backlog and the business is stepping back down to lower revenue run rates," Jefferies analyst George Notter said in a note.

In a note to clients, analyst Simon Leopold of Raymond James noted that many funds have become bearish on Cisco, and he doubts Cisco can return to growth until the second quarter of its fiscal year 2025, which would be late next year.

"We reduced our rating on Cisco in October," wrote Leopold. "Cisco's recasting of segments led us to rebuild our model, which contributed to our more bearish views on CY24."

The Futuriom Take: The Cisco news sends a warning to technology investors that growth my be soft for the next several quarters, especially in enterprise spending. Additional networking and security companies have also reported uneven results, with most growth related to the AI area.