Ciena Predicts Strong Broadband Demand

Ciena (NYSE: CIEN) beat analyst expectations on the top and bottom lines in its fiscal year-end earnings report today. And the vendor's outlook for next year is positive, particularly in the areas of fiber broadband access technologies supported by Ciena's routing and switching segment.
"While '22 has been a challenging year for Ciena because of supply chain conditions, our market position has never been better, and we expect that it will continue to improve," said CFO James Moylan on today's conference call. "Demand for bandwidth is growing at rates of thirty-plus percent, demand for capacity from customers is sturdy."
Indeed, annual order growth came in at 26%, execs said. And combined with a loosening supply chain that's helping to move along a backlog worth more than $4 billion, things are looking bright for the optical supplier.
Supply Chains Loosen
For the quarter ended October 29, 2022, Ciena reported adjusted net income of $90.9 million, or $.61 per share, down from $.85 for the same quarter last year, but higher than Zacks estimate of $.08 per share. Sales came in at $971 million for the quarter, down 6.8% year-over-year (y/y) but up 14.04% from the Zacks consensus.
For the year, Ciena reported sales of $3.63 billion, flat compared to $3.62 billion for fiscal year 2021. Adjusted net income for the year was $288.9 million, or $1.90 per share, compared to $456.5 million, or $2.91 per share for fiscal 2021.
Execs blamed supply chain volatility for the slowdown in sales earlier in the year that affected all numbers. Still, they believe that gradual improvement in delivery of key components needed for Ciena products that began during the second half of the last quarter will continue -- barring any worsening in macroeconomic conditions. And they expect strong sales results in fiscal 2023 as the backlog of orders is addressed and demand continues to build.
"With respect to demand we remain very positive that the fundamental drivers, including 5G, cloud, and automation are durable over the long term," said president and CEO Gary Smith. "Based on these drivers for network investment, we continue to see a strong demand environment in the coming quarters and the next several years."
Strong Sales in Routing and Switching
Notably, Ciena continues to see strong sales in its routing and switching segment, which includes fiber broadband access gear. For the quarter, sales in the segment were $102.8 million, up 38% y/y. In comparison, Ciena's converged packet optical equipment segment showed sales of $649.9 million, down over 14% y/y.
For the year, revenues for routing and switching rose over 46% to $398.4 million, accounting for 11% of Ciena's revenues, compared to 7.5% of the pie in fiscal 2021. Converged packet optical gear brought in $2.38 billion, or 65.5% of revenues, compared to 70.5% of revenues in 2021.
Ciena is investing in growth for the routing and switching segment. Late last month, the vendor announced the purchase of Benu Networks (broadband access software) and Tibit Communications (PON equipment). While both companies are small, their technology is expected to bolster Ciena's stake in the access arena.
"The addition of advanced subscriber management and next-generation PON technologies will advance our ability to address fast-growing applications, including residential broadband, enterprise business services, and fixed wireless access," said CEO Smith.
Webscalers In the Loop
On today's call, Ciena execs stressed growth in the number of non-telco customers, which account for about 38% of revenue (about the same as last year). Of those customers, 19% were cloud hyperscalers (e.g., AWS, Microsoft Azure, and Google Cloud Platform) in the fourth quarter. That's up from 18% this time last year. The remainder are cable providers and mix or government and business enterprises, as shown below: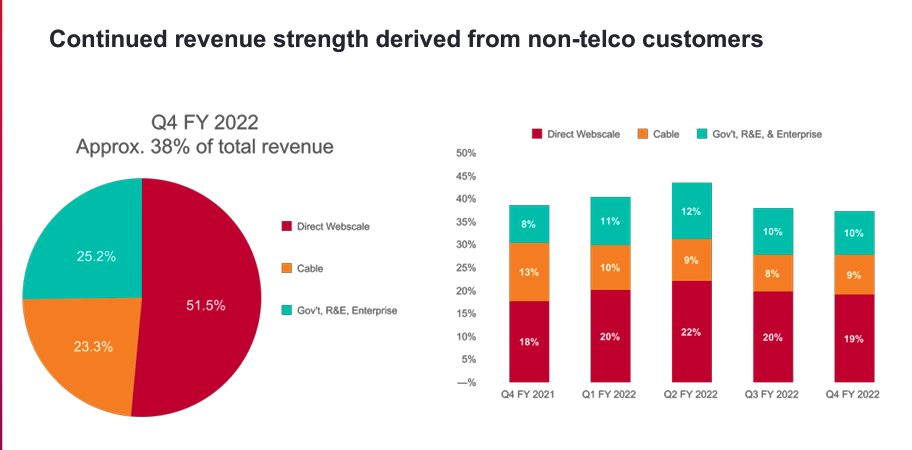 Source: Ciena
Guidance Up
For next quarter, Ciena anticipates supply chain improvements will lead to revenue between $910 million and $990 million; for fiscal year 2023, revenue growth between 16% and 18%.
"Looking ahead, we expect to deliver outsized revenue growth in fiscal 2023 given our significant backlog and continued signs of gradual supply improvement," said Smith "And, we remain confident that the durability of secular demand drivers and our strategic investments to expand our addressable market position us to deliver strong revenue growth over the next several years."
This afternoon, Ciena shares were trading at $52.09, up 8.85 (20.47%).