Ciena Deepens Foray Into Access with Two Acquisitions

Optical networking player Ciena Corp. (NYSE: CIEN) is making two key acquisitions in the broadband access arena, strengthening its growing presence in a market where it's been making significant inroads for the past couple of years.
Ciena has agreed to buy Tibit Communications, based in Petaluma, Calif., and founded in 2014, for approximately $210 million in cash – the value of the shares Ciena doesn't already own as primary shareholder (more on that momentarily).
Ciena also has already purchased Benu Networks, a Futuriom 40 company founded in 2010 and based in Burlington, Mass., for an undisclosed sum. That cash transaction took place within Ciena's fiscal first quarter 2023, which started November 1, but Ciena says the deal isn't expected to be material to its future financial results.
Fresh Forays Into Broadband Access
Both buys are aimed at strengthening Ciena's portfolio of broadband access products, including fixed wireless access (FWA) gear as well as access equipment for residential and enterprise use.
This particular market segment represents an offshoot from Ciena's traditional optical WAN equipment focus, but it's been a lucrative branch. For Ciena's most recent third quarter 2022, routing and switching equipment, of which broadband access gear is a subset, accounted for $100.7 million, or 11.6% of Ciena's total of $868 million quarterly sales. That figure was up 44% year-over-year. Routing and switching also outstripped sales of Ciena's bread-and-butter optical gear, which fell 21% to $563.9 million, or 65% of sales, in the most recent quarter owing to supply chain constraints that hindered shipments of key products.
Tibit's PON OLT
Tibit makes pluggable optical line terminals (OLTs) for passive optical networks (PONs), the technology that divides a single fiberoptic cable into multiple endpoints. Introduced at the start of the millennium, PONs haven't always featured among the sexier optical components making broadband headway. But with fiber playing a major role in the buildout of 5G networks worldwide, PONs have become the primary means of extending fiber to the home or business.
Tibit's OLT replaces clunky PON OLT chassis and separate transceivers with what it calls a MicroPlug module, which provides FTTx PON fiber access from Ethernet switches and routers. The module also comes with software that links to software defined networking (SDN) orchestrators or management systems. The module supports the fastest 10-Gbit/s PONs. It has been part of Ciena's PON solutions for its routing and switching platforms since 2020.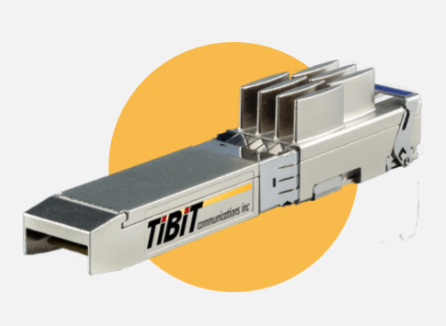 Tibit MicroPlug module. Source: Tibit
Tibit has raised about $84.9 million, according to Crunchbase, most recently scoring $30 million in June 2022 with contributions from Ciena as well as from Liberty Global (LGI), Swisscom Ventures, Intel Capital, Juniper Networks, and Solasta Ventures. Now owned by Ciena, the vendor may or may not be continuing relationships with the other vendors it's served. A Ciena spokesman says that virtually all of Tibit's 50+ employees and all of their key technology and operations leaders will be joining Ciena, though a few senior staffers may opt out.

Ciena PON transceivers. Source: Ciena
Benu Networks to Add Broadband Access Software
Benu Networks makes a cloud-native platform called the Software-Defined Edge (SD-Edge), which is meant to add a range of edge functions to a service provider's network, including a virtual Broadband Network Gateway (vBNG), 5G Access Gateway Function (AGF), and Secure Access Service Edge (SASE) functionality.
Ciena says Benu will provide it with "a single solution that integrates routing, OLT, subscriber management and network services." Exactly how that will pan out – as an add-on to an existing Ciena platform or as a brand-new product, remains to be seen.
Benu's software was featured in a Ciena proof of concept demonstration at the Fiber Broadband Association's Fiber Connect 2022 conference last June. The demo featured Ciena routing and switching gear interconnecting and distributing fiber over the middle and last mile to the home via multiple 10-Gb/s Ethernet and XGS PON connections – all connected to vBNGs from Benu Networks and augmented with smart-home management software from Plume.
Benu raised $89.9 million over seven rounds of funding, according to Crunchbase. Investors have included Spring Lake Partners, Sutter Hill Ventures, and Liberty Global Ventures. Ciena says virtually all of the firm's 30+ employees and their senior management have joined Ciena.
With these two new acquisitions under its belt, Ciena stands to deepen its foray into broadband access, an area already succeeding for the optical player.
As of this writing, Ciena shares were trading at $44.10, down −0.25 (0.56%).