Fiber Connect Showcases Broadband Boom

NASHVILLE, TN. -- It was hot in Nashville this week in more ways than one. While the temperature hit triple digits, the mood at the Fiber Connect 2022 conference rose too, driven by recent legislation that recognizes the importance of fiber broadband to the American economy.
Indeed, if there was a central theme to the annual Fiber Broadband Association (FBA) gathering of nearly 3,000 attendees, it was the welcome news that the bipartisan Broadband Infrastructure Bill has established fiber as the favored medium for achieving future-proof universal access to high-speed Internet. And the federal government has earmarked over $40 billion to projects in which fiber infrastructure will be given priority.
But fiber is just the raw material for use in a long, arduous process comparable to the building of national highways decades ago. The success of the broadband bill depends on individual states effectively navigating and distributing the available funds. And supporting that process is at the heart of the FBA's mission.
"The rules are in our favor, but the fight is far from over," said FBA CEO Gary Bolton in a morning keynote on Monday, June 13. He urged all members of the FBA – including public officials, service providers, industry experts, vendors, community representatives, and other proponents of residential fiber to spread the word, starting with each state's broadband office, however new or small that agency may be.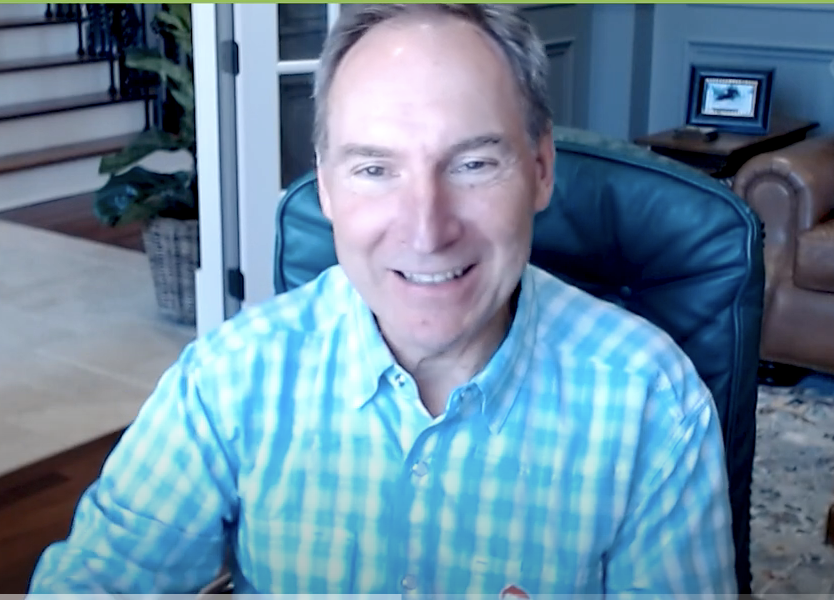 Gary Bolton, president and CEO of the Fiber Broadband Association (FBA). Source: FBA
The work isn't only about building networks, either. To close the digital divide separating the technically equipped from unserved and underserved populations means making service affordable. "Infrastructure and business equity are now unified," said Kathryn De Wit, project director, Broadband Access Initiative of The Pew Charitable Trusts, in another keynote June 14. Like CEO Bolton, she stressed the importance of public-private partnerships (PPP) in advancing fiber optic infrastructure at the grassroots level. "Please participate in the planning process," she said.
The FBA's work has caught the attention of public officials. "What you are doing is absolutely critical," U.S. Senator Bill Hagerty (R-TN) said in a surprise keynote visit at the show's start. He noted that fiber broadband has improved Tennessee's economic position dramatically, moving it up from one of the country's poorest states to one of its fastest growing.
FBA Wheels Are Turning

The Fiber Connect 2022 conference was the showcase for the various efforts by the FBA to advance its fiber crusade. Some key projects on view at the show included a Broadband Infrastructure Playbook created in partnership with NTCA – The Rural Broadband Association. This is a detailed guide to help states navigate the available broadband bill funding.

Another effort on display at the show was the FBA OpTIC course, which develops knowledge and skills in a building block format for technicians interested in fiber careers with service providers or contractors. A "Train the Trainers" class was offered at the conference – and continues to be offered across North America -- to help instructors prepare to teach the course to would-be technical experts.
A Fiber Proving Ground
The show floor also featured a Proof of Concept (PoC) series of demonstrations aimed at showing network operators the potential of fiber-based solutions to support smart city, smart home, telehealth, 5G, and Internet of Things (IoT) applications at the community level.
One demo featured an interoperable, "open and scalable" networking design featuring routing/switching equipment from Ciena (NYSE: CIEN) interconnecting and distributing fiber over the middle and last mile to the home via multiple 10-Gb/s Ethernet and XGS PON connections. This gear was linked to virtualized broadband network gateways (BNGs) from Benu Networks and augmented with smart home experience management software from Plume. (Imagine being able to remotely view and stop your teenager's gaming at dinner time!)
In another PoC, DZS (Nasdaq: DZSI) supported up to 400 Gb/s over multi-rate optical connections for what it terms "terabit-class L2/L3 routing and tunable coherent DWDM optics" in a compact machine suitable for the high-speed edge of residential fiber networks.
Yet another demo showcases a public/private partnership (PPP) between Medina County, Ohio, and their ISP that is based on products and services from LIT Communities, COS Systems, and Calix. IP Infusion and Nokia (NYSE: NOK) also conducted PoC demos – IP Infusion of a disaggregated router hosted on white box hardware for multiple optically-derived services; and Nokia of a single PON architecture capable of expanding capacity by adding wavelengths to a single fiber.
Organized Effort Required
Underlying the event in Nashville this week was the sense that collective, organized effort is needed to further the cause of creating fiber broadband projects at the grassroots level. Incumbent service providers haven't extended universal broadband service throughout the U.S. Now it's up to municipal and regional utilities and governments to do so, with help from private-sector products and services funded by the broadband bill at the state level.
It's an exciting vision that will take a while to achieve. But this week's conference showed there's plenty of determination and commitment to make it happen.