Aryaka Buys Secucloud for SASE

Aryaka has announced its first acquisition: Secucloud GmbH, a Hamburg, Germany-based provider of a Secure Access Service Edge (SASE) platform to deliver network security from the cloud. The terms were not disclosed.
Secucloud offers an integrated cloud-based security platform that includes cloud-based firewall-as-a-service (FWaaS), secure web gateway (SWG), and advanced threat protection (ATP) capabilities -- all of which are becoming key features of the fast-growing SASE market. The platform can be used in WAN, cloud, mobile, and IoT environments.
Augmenting SASE Capabilities
This is an interesting move for Aryaka, which already supplies Network as a Service (NaaS) capabilities, including software-defined wide-area networking (SD-WAN) and cybersecurity services.
Over the years, as Futuriom has documented, network security services have become more tightly coupled with SD-WAN. Aryaka is one of the leaders in SD-WAN, which means it is positioned well to deliver cybersecurity services from the cloud.
By purchasing Secucloud, Aryaka is adding to the suite of cloud-based security services that are included under the SASE banner. This highlights a trend of expanding security services offered as part of SD-WAN managed services, which Aryaka offers. This trend has been highlighted in our SASE research. Aryaka has so far focused on offering best-of-breed cybersecurity solutions with partners such as Palo Alto Networks and Zscaler, so the acquisition of Secucloud will give it more homegrown capabilities.

Shashi Kiran, Aryaka's Chief Marketing Officer, said that Aryaka made the acquisition in response to customer demand. Aryaka sees demand for cloud-based security solutions being accelerated by a number of trends triggered by the COVID-19 pandemic, including remote work.
"The pandemic in a way has accelerated this trend called SASE. In 2020, people thought it was years out. Now we hear people saying they need to move right now to a cloud-first approach from the network side, as well as security."
Demand for Cloud Security Services Grows
With the popularity of cybersecurity cloud services such as Cloudflare and Zscaler growing in popularity, it's easy to see why Aryaka would go this route. Futuriom research has backed up the trend that end users are looking for more value-added cybersecurity protection services that can be offered as part of a NaaS or cloud offering.
In our recent SD-WAN Managed Services survey, managed security services were identified as the third most popular set of value-added features (see chart below):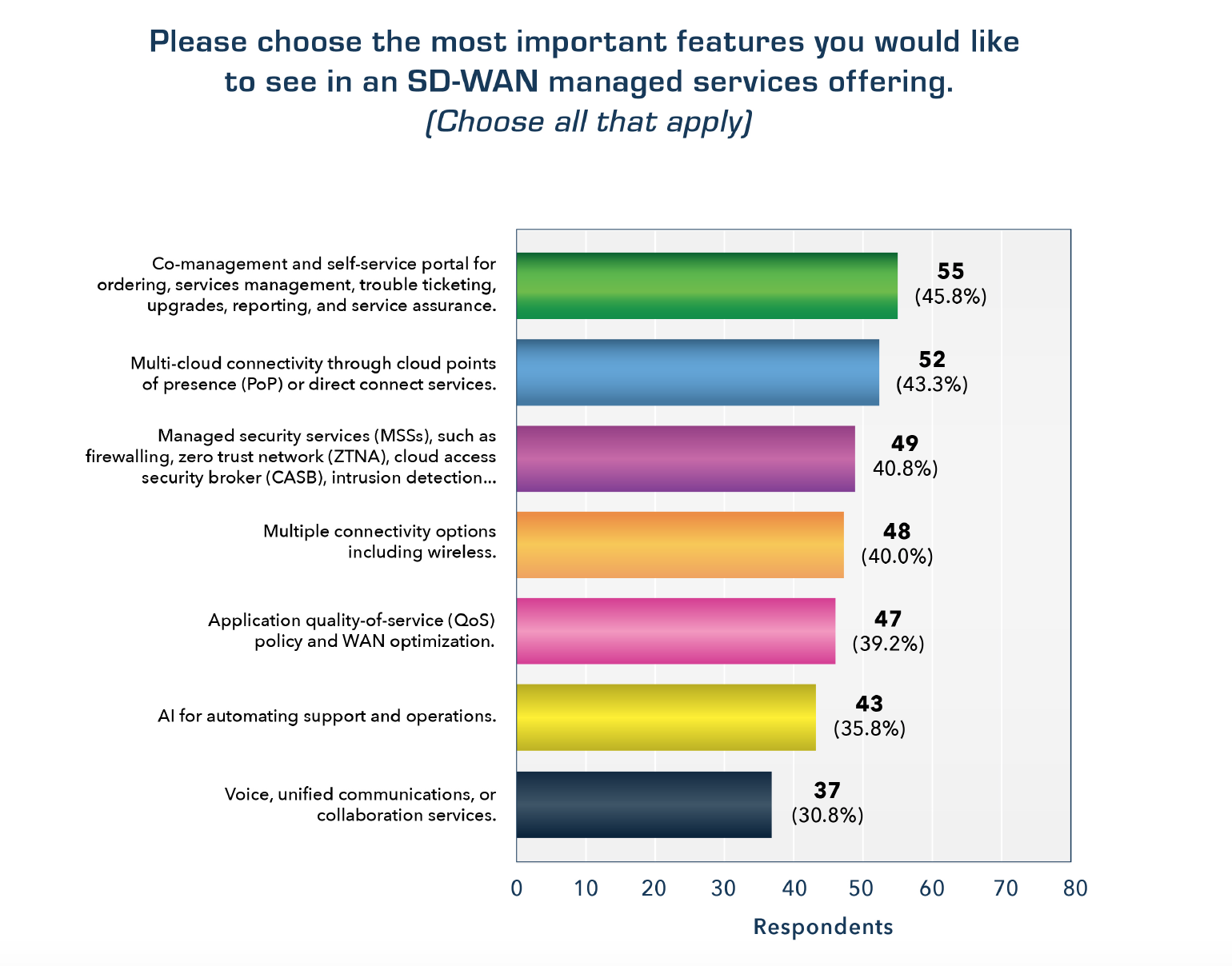 Aryaka already provides layer 3 and layer 4 firewall capabilities as well as remote, zero-trust network access (ZTNA), but the Secucloud acquisition will expand its own suite of native security services that can be hosted in its network of Points of Presence, which it calls Aryaka Network Access Points (ANAPs).
One question is whether Secucloud will compete with existing offerings from Aryaka's partners. Aryaka says this is not a factor, because they target different segments of the market. With the new Secucloud offerings, Aryaka says it is targeting enterprise buyers that want to purchase a fully managed SASE suite, including network access. Aryaka says this differs from other segments of the market, such as a customer-led deployment, known commonly in the industry as "Do it Yourself" (DIY), in which the enterprise customer builds a fully integrated network and security suite using best-of-breed products.
One takeaway from the deal is that it demonstrates that Ayraka has grown to a new level to be in a position to make acquisitions. Aryaka was recently featured in our Futuriom 40 list of cloud technology companies most likely to be acquired or position themselves for IPO.
Aryaka is a private company, so financial details will not come to light. But Kiran said that Aryaka is growing fast and that some of its larger account contracts have doubled or tripled in size in the past year and some have reached eight figures.