Startups Link Satellites to Earth Via 5G

There's a movement afoot to link 5G and satellite networks, extending the range of high-speed cellular connectivity and expanding use cases back on Earth.
This month, for instance, Sateliot, a four-year-old startup based in San Diego, Calif., and Barcelona, Spain, announced that SpaceX will launch Sateliot's second nanosatellite (the size of a microwave oven) in the first quarter of 2023. This will advance Sateliot's plans to unite mobile and satellite systems, specifically in a network of low-earth-orbit (LEO) satellites linked to ground-based Internet of Things (IoT) devices via 5G. The vendor plans to launch five more nanosatellites in 2023, 64 in 2024, and 250 in 2025.
Notably, Sateliot recently raised $11.4 million in a Series A round of funding that resulted in Spain's Indra, an IT and defense technology firm, owning 10.5% of the company. Cellnex, the European wireless telecom infrastructure provider, owns 3.5%.
Also in September, Sateliot announced an alliance with Amazon Web Services (AWS) to create a cloud-native 5G narrowband IoT (5G NB IoT) network via AWS's cloud platform and Sateliot's network of LEOs. The resulting network could be used to transmit information for on-the-spot disaster recovery efforts or military field applications, as well as for the tracking of cars, trucks, and shipping containers.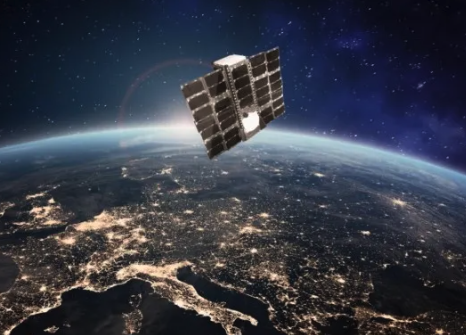 Sateliot's nanosatellite. Source: Sateliot
And Sateliot isn't alone. A range of startups are entering this new segment. One of these, Swiss startup Astrocast, founded in 2014, also offers a LEO-based satellite network for IoT applications. It has worked with Telefonica on 5G trials to track assets in remote regions where there is no terrestrial connectivity.
Why 5G NB IoT
The popularity of using narrowband 5G in satellite networks advanced after the 3GPP endorsed the use of 5G for non-terrestrial networks (NTNs) in Release 17 of its 5G specifications. The European Space Agency (ESA) also has announced support for 5G NB IoT via LEO satellite networks.
There are several technical reasons for the growing popularity of 5G NB IoT via satellite. Narrowband offers lower power consumption that doesn't drain the batteries of small IoT devices such as sensors and tracking gear. The technique ensures connectivity each time the satellite flies over the IoT device, meaning there's no handoff required. And 5G NB can support multiple devices at scale, and do so relatively cheaply. While latency may be longer, the approach is ideal for applications in which small devices report status intermittently over the network.
"5G-IoT will unquestionably be the next big thing in the space industry," wrote Jaume Sanpera, Sateliot's founder and CEO, in a recent OpEd.
5G to Smartphones Planned
There is also a move to link smartphones directly to satellite networks via 5G. One example: AST SpaceMobile Inc. (Nasdaq: ASTS), a company constructing a network of LEOs to communicate directly with terrestrial mobile phones, recently announced successful testing of a 693-square-foot BlueWalker 3 (BW3) antenna meant to link its satellites directly to smartphones via 5G.
Earlier, in September 2022, LEO connectivity provider OneWeb announced its involvement in a 5G Innovation Centre at the University of Surrey (5GIC) in the U.K. The goal is to trial the integration of OneWeb's satellite network with mobile 5G on the ground. OneWeb is acting as team leader in the project, which also includes systems integrator CGI. The test will continue through mid-2023 and is funded by the UK Space Agency and the European Space Agency as part of a Sunrise Partnership Project.
Separately, OneWeb has reportedly engaged in tests of automobile-mounted 5G satellite terminals from equipment supplier SatixFy, undertaken as part of the same Sunrise Partnership Project.
All of these efforts point to a growing market that will connect satellite and mobile networks via 5G. Expect to see much more activity in this space (pun intended).