Silver Peak Scales up Unity EdgeConnect
Silver Peak, widely considered to be one of the leaders in the fast-growing software-defined wide-area networking (SD-WAN) market, today announced a major upgrade of its Unity EdgeConnect product line that will make it more attractive to large-scale enterprises.
The upgrade includes the addition of significant automation and management features that will help network managers deploy and manage SD-WANs for enterprises that have 10,000 sites or more. There is a focus on ease-of-use, automation, and orchestration, which Futuriom regularly cites as one of the top features of SD-WAN functionality (see below).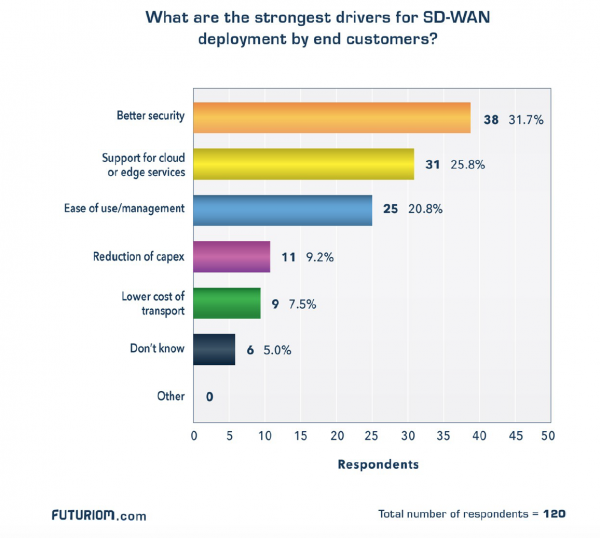 Futuriom has found that SD-WAN customers often cite a platform's capability to enable a fast roll-out of SD-WAN using automation and network management capabilities as one of the most important characteristics. Silver Peak officials point to large customers that are rolling out upgrades that can deploy hundreds of SD-WAN branches per week.
For example, new Unity EdgeConnect capabilities include multi-fabric orchestration and management, one-click automation with leading cloud services, advanced segmentation and cloud-scale connectivity. Silver Peak officials say this means the product will now support deployments of 10,000 sites and beyond.
The new Unity Orchestrator Global Enterprise management, which targets large-scale global enterprises with multiple divisions, business units or subsidiaries, enables individual SD-WAN fabrics to be orchestrated and managed as distinct entities. This will allow network managers to segment networks will at the same time keeping a unified view of the networks. The range of features include:
Single sign-on view to all SD-WAN fabrics
Secure orchestration-as-a-service
Centralized alarm view across all SD-WAN fabrics
Fabric independent software versioning, maintenance and upgrade cycles
Granular role-based access control for network administrators
Silver Peak is also continuing its tradition of focusing on ease-of-use and deployment. This includes one-click feature that enables managers automatically identify, classify and onboard Azure-destined traffic to the nearest Microsoft Virtual WAN on-ramp in proximity to each branch location, increasing the performance of Azure apps.
The one-click automation will help with consistent security and application policy enforcement across all WAN locations, reducing configuration time from hours to minutes, according to Silver Peak. Network administrators can also automate the configuration of IPsec tunnels using Silver Peak security partners Zscaler and Check Point Software, with a single drag-and-drop click.
Additional upgrades to Unity EdgeConnect includes advanced segmentation capabilities, with virtual routing and forwarding (VRF) and zone-based stateful firewall and Network Address Translation (NAT) capabilities, which allows managers to implement advanced segmentation to routes and application traffic. Separate addressing, routing and security policies can be managed across end-to-end segments and micro-segments in large-scale multinational enterprises or federations of companies. Silver Peak says this will eliminate the manual configurations of VRF, firewall and NAT policies.
Another significant upgrade is the addition of dual 10G/25G interfaces in the EdgeConnect Extra Large (EC-XL) regional hub and data center appliance, which Silver Peak says keeps pace with the transition to larger interfaces in data centers.
The comprehensive upgrade to Unity EdgeConnect should solidify Silver Peak's reputation as one of the leading independent alternatives to the larger SD-WAN leaders, such as Cisco's Viptela and VMware VeloCloud. Silver Peak has grown fast in the past two years, adding about 200 employees -- and looks to be making a play to stay at the top of the SD-WAN stack.
(Check out the Futuriom Cloud Tracker Pro research sale. Get both of our 2019 SD-WAN reports, as well as ALL premium research on the calendar for 2020, for one low price of $695 per subscriber.)