Futuriom Research Mega Sale!

Big news. In, 2020 Futuriom will be bundling all of our premium research into new a new annual research offering, Futuriom Primo Pro. This professional technology research service focused on the cloud provider and service provider infrastructure space will offer at least four quarterly reports, regular cloud business updates, and detailed analysis of trends in the cloud infrastructure, cloud networking, and cybersecurity markets -- available exclusively to our subscribers.
Right now, as a special offering to our founding subscribers to Primo Pro, Futuriom is offering a special sale to cover all of our research for the next year. If you purchase right now, you get both SD-WAN research reports from 2019 -- as well as all of our research for the next year -- at a special rate of $695 per user (our research reports in 2019 were $695 each). This premium subscription means that you will get all of our premium research for the next year (through Dec. 2020).
When the Primo Pro annual service launches next year, it will be priced at $949 annually. Right now you can get all of our research produced over 24 months, offered for only $695 for an individual subscriber! It's an amazing deal.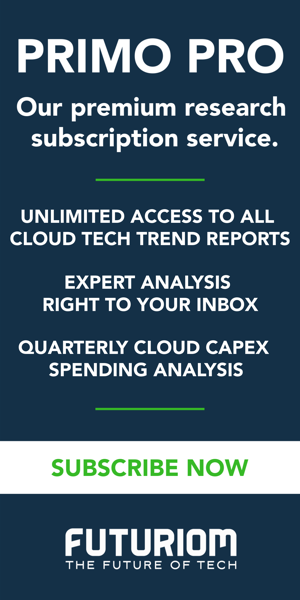 Below is a list of everything that is included in the Primo Pro pre-sale offering:

NOW. You get our 2019 SD-WAN Growth report and SD-WAN Managed Services reports ( a $1,394 value).
5G and IoT Edge Compute Trends (March 2020)
SD-WAN Infrastructure Growth Report (May 2020)
CSP Visibility and Automation Leadership Survey (June 2020)
SD-WAN Managed Services Survey (October 2020)
2020 quarterly "Cloud Trends" market update, which will include key trends in cloud infrastructure as well as analysis of capital spending by major cloud providers.
Premium content and analysis published weekly by our analyst staff on topics of cloud infrastructure, networking, telecommunications networks, and cloud security.
If you are a technology professional looking at strategic direction in the cloud provider and service provider infrastructure market, this will be invaluable insight into what's happening in your markets. Our premium research approach uses end-user survey and investment data to analyze powerful trends in the technology marketplace. This will tell you where important technology trends in the cloud are going, ahead of time.
As mentioned, you will be getting all of our 2019 and 2020 research for one low price of $695, a 25% discount off of next year's Primo Pro price of $949. Purchase this invaluable cloud technology advisory service before the price goes up!