Aruba's SASE and XaaS Power HPE Progress

Don't look now, but Hewlett Packard Enterprise (NYSE: HPE) has been on a tear. Shares have rallied 50% since October. During the company's fiscal fourth quarter earnings last week, the company guided for decent growth of 2%-4% in 2023.
HPE has made a lot of progress in growth segments, including the Aruba Networks division, which is growing 23% year/year. It has also made progress to converting its tech portfolio into anything-as-a-service (XaaS), where it recently reported order growth of 33% y/y.
The shares have responded in part because investors have been seeking the safety of large companies with reasonable valuations as high-multiple growth technology stocks have been crushed with the rise in interest rates. Large, traditional tech conglomerates with profits, growth, and low multiples have done well despite the market swoon. HPE trades at a forward price/earnings (p/e) multiple of about 8 and its shares are up 3.8% year to date. It pays a 2.93% dividend. In comparison, the Nasdaq Composite Index, which is more heavily weighted toward higher multiple tech stocks, is down 28%.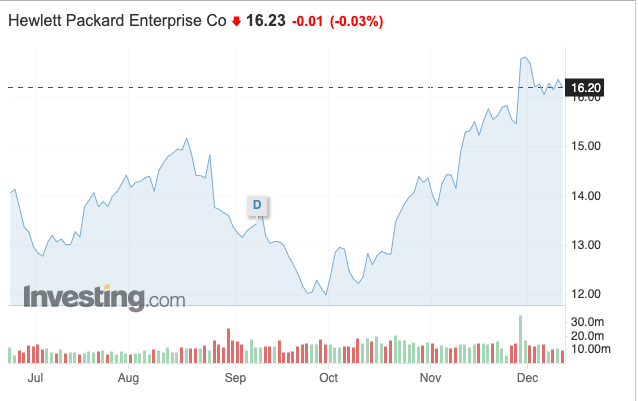 Aruba Powers Growth at the Edge
In its earnings announcement last week, HPE recorded its most profitable quarter since 2017 on a non-GAAP basis, with record quarterly free cash flow. The company reported revenue of $28.5 billion, up 3% and 5% adjusted for currency from the prior-year period. Its total XaaS orders increased 33% year-over-year (y/y). On the earnings call, HPE management projected growth of 2%-4% in 2023.
HPE is still growing slowly and probably won't reach the growth rates of a cloud titan like Microsoft, but the company continues to make strides in cloud growth under the helm of CEO Antonio Neri. One of the drivers has been its Aruba Networks division, which has a nice combination of edge networking and secure access service edge (SASE) technology. HPE's Aruba division is running on all cylinders, as the company has successful folded in the Silver Peak acquisition and integrated it with the Aruba Edge Services Platform. On the earnings call, HPE executives reported that the Aruba division delivered 23% y/y revenue growth.
Neri lauded the Aruba results on the earnings conference call:
"We are outgrowing our main competitors and are taking share across wireless LAN, enterprise switching and SD-WAN including in some of the largest enterprise customers. Customers are increasingly adopting our Edge services platform and automation software suite. Our operating margin of 13.3% was up 2.4% annually, though down 3.2% sequentially with FX being the biggest contributor to the sequential decline."
When HPE bought Silver Peak in 2020, it opted to buy its way into the software-defined wide-area networking (SD-WAN) market. Following its acquisition of Silver Peak, Aruba has focused on integrating SASE and SD-WAN functionality with its wireless and enterprise networking platform, the Aruba Edge Services Platform (ESP). Aruba brings its own security functions to the table, but it also encourages third-party best-of-breed integration with other cloud security providers. ESP now allows network managers to adopt SASE, zero-trust security, and policy enforcement across the entire enterprise network, from WAN to the edge – using the same platform. This is the overall direction of the SASE market, as we detailed in the SASE Ecosystem report.
More Cloud Growth Ahead?
HPE's Neri hinted at more growth ahead as he pushes the XaaS theme, which includes a variety of compute, storage, and cloud services under the GreenLake banner.
According to Neri:
"Our as-a-Service business momentum remains strong and this business is lifting our mix of higher margin recurring revenue. Total as-a-service orders remain robust. Orders grew 33% in Q4 despite lapping 104% growth in Q4 '21. On a constant currency basis, orders grew 43% in Q4 and our full year as-a-service orders grew 68%. This indicates the long-term health of our as-a-service portfolio and further strengthens our confidence in our three-year ARR target of a 35% to 45% CAGR from fiscal year '22 to fiscal year '25."
Analyst Simon Leopold of Raymond James pointed out that HPE's results seemed more positive than some of its big-cap tech cousins:
"HPE's tone was cautiously optimistic and better than anticipated. In the context of IT suppliers, the networking suppliers with high backlog sound most constructive including Arista, Juniper and Cisco. HPE provided a more favorable outlook than Dell or NetApp. Dell expects servers to decline; HPE sounds more upbeat. HPE benefits from exposure to the campus market with a tailwind from share gains. It lacks Dell's PC challenges, and for now pricing in the Storage vertical sounds resilient for all the vendors."
It will be interesting to monitor HPE's progress along with other tech giants such as IBM and Cisco, as they now have a window to attract investor interest now that growth technology shares have fallen out of favor.