SD-WAN Growth Is Accelerating in 2019

Futuriom has released its 2019 SD-WAN Growth Outlook, for the third year in a row. It appears that the flexible, software-based approach of software-defined wide-area-networking (SD-WAN) market is resonating with both enterprise and service provider users alike. It's gaining market traction and growth is accelerating.
Futuriom now expects $2.2 billion in SD-WAN platform and tools revenue by 2020, $2.75B in 2021, and $2.5B by 2022. Incumbent networking vendors, startups, and service providers are all poised to benefit from this growth, and they are excited about moving toward a more nimble software delivery model and annual recurring revenue (ARR) business model upon which most SD-WAN services are built.
End users are excited about SD-WAN because it enables them to manage and add network functionality using a cloud-based software model. Networking features such as WAN optimization, de-duplication, load-balancing, and link balancing can be bundled with broadband for business applications. All of this has the potential to lower both operating costs (opex) and capital expense (capex) of managing enterprise WAN connections.
To build our research on SD-WAN, Futuriom surveyed more than 300 end users and interviewed dozens of enterprise and service provider buyers over a period of four months. Our conclusions are clear: This market is growing fast, and it's driven by organic demand.

See below for the full details of the SD-WAN Growth Outlook report, which is currently available to Futuriom subscribers as a single-users license at $699. Use the discount code "FOFU" to get a 10% Friends of Futuriom discount.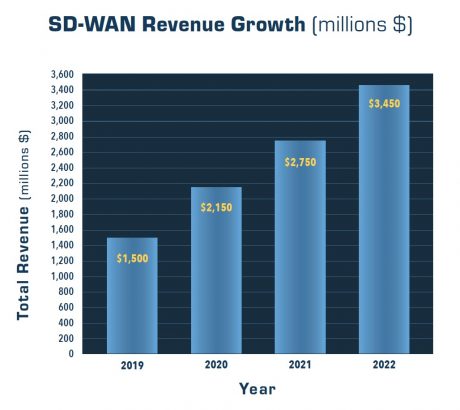 SD-WAN Market Highlights
• The SD-WAN market has reached mainstream adoption. Enterprises and service providers see SD-WAN as the edge networking platform of the future.
• Futuriom expects the SD-WAN tools and software market to grow at a CAGR of 33% to $2.1 billion by 2020 and $3.5 billion by 2022.
• Futuriom is increasing revenue forecast by 130% over last year's forecast for the year 2021. Based on bottom-up data collection from vendor sources.
• The top drivers of SD-WAN adoption are network security and streamlined management via cloud software and orchestration.
• Of the 40+ SD-WAN software and tools vendors, the vendors leading in revenue traction, according to Futuriom end-user surveys, are Aryaka Networks, VMware/Velocloud, Silver Peak, and Cisco/Viptela.
• Cisco's revenue reporting metrics are opaque, and it is difficult to break out SD-WAN revenue from other reporting segments such as routers.
• Additional vendors distinguishing themselves in the "Top Ten" of 40+ SD-WAN software and tools vendors include Aryaka Networks, Cato Networks, CloudGenix, Cradlepoint, Fatpipe Networks, Nuage Networks, and Versa Networks.
• M&A activity is likely to pick up. Aryaka, Cato Networks, CloudGenix, FatPipe, and Versa Networks are strong candidates for M&A or IPO.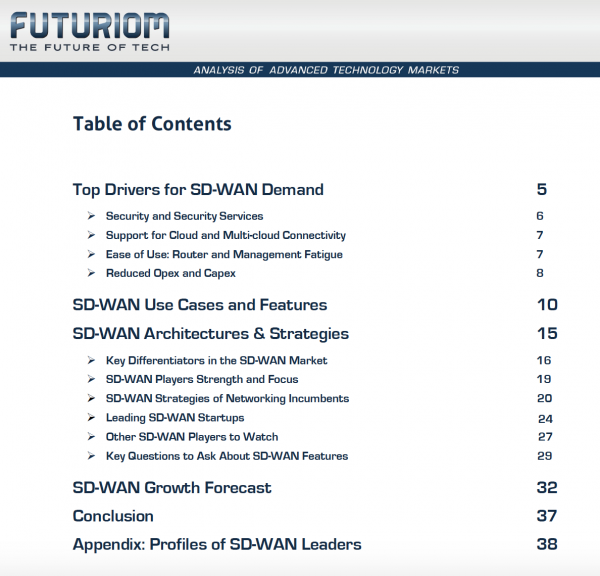 SDN-WAN Growth Outlook Details
You can purchase this premium Futuriom report by clicking on the button below. Use the discount code "FOFU" to get a 10% Friends of Futuriom discount.
Report Title: 2019 SD-WAN Growth Report
Length: 43 pages
Companies included: Aryaka Networks, Cisco Systems, Cato Networks, Citrix Systems, CloudGenix, Fatpipe Networks, Fortinet, Juniper Networks, Nuage Networks (Nokia), Silver Peak, Versa Networks, VMware.
Price: $695
Terms: This is for a single-user license. Please contact sales at futuriom dot com for multi-user or enterprise license.