Lessons Learned from Zscaler's Recent Success

Solid financials, ongoing acquisitions, and news of a big debt offering have moved Zscaler (Nasdaq: ZS) to the center of market attention, prompting speculation about where it's all headed — and what it means in the larger cybersecurity picture.
Zscaler announced on June 22 that the company will offer $1 billion in convertible debt in notes due 2025. The private offering will be made to institutional investors (timeframe not clear). Early bird buyers also will be afforded a 13-day opportunity to buy more shares. All proceeds will be used for "corporate purposes" as well as to fund the transactions.
The news follows Zscaler's quarterly earnings report in May, which beat analyst estimates and showed 36% overall revenue growth year-over-year. Zscaler now has a $14 billion market cap, and as of this writing, its share price has doubled since its IPO in March 2018.
Cloud-based Endpoint Security key to Success
From its founding in 2008, Zscaler's capability to secure endpoints without requiring hardware has earned it a place with over 3,900 customers. The work-from-home (WFH) trend resulting from the COVID-19 pandemic has further spurred interest in Zscaler's products. Below is a recent slide of Zscaler's promoting its traction: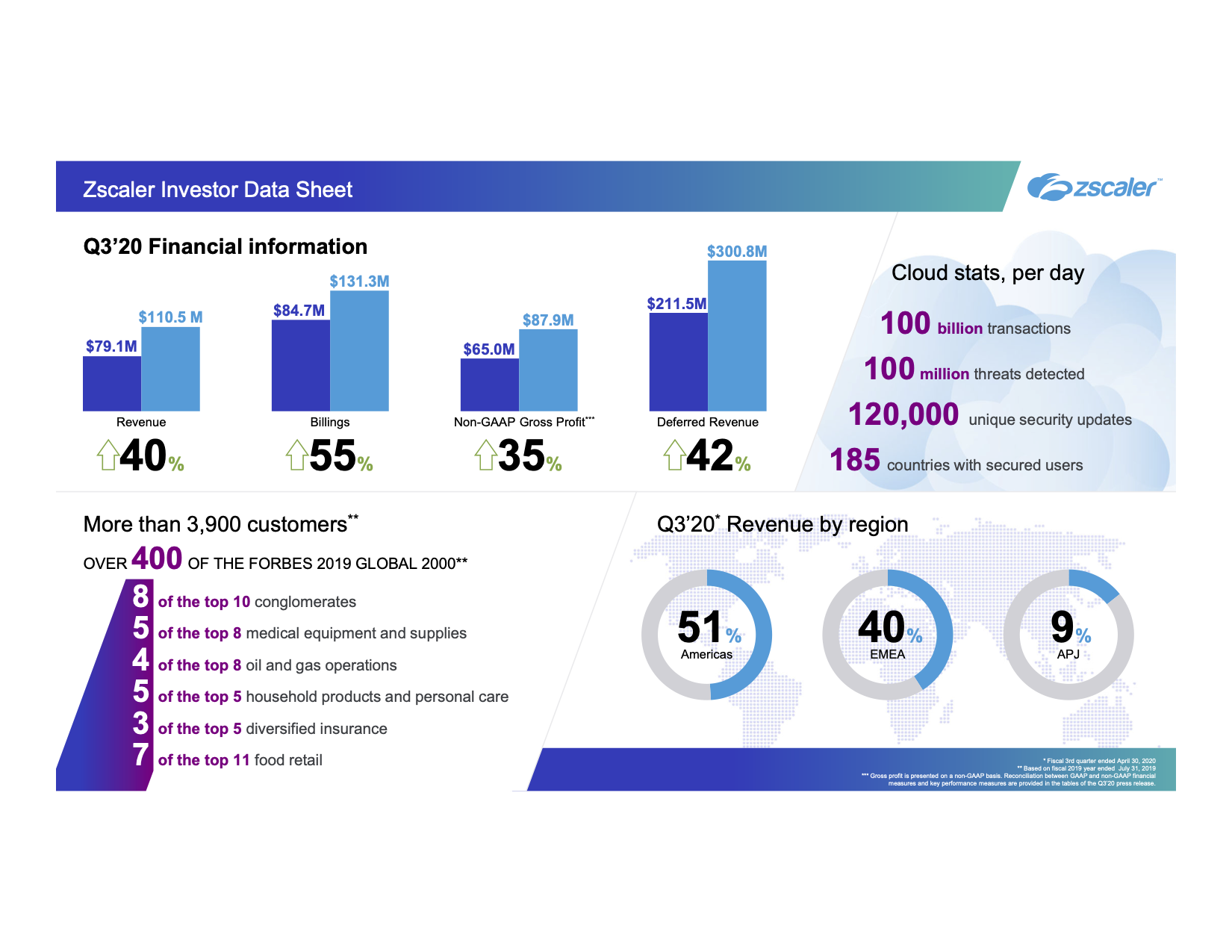 One notable win was the recent zero-trust security pilot project at the U.S. Department of Defense (DoD). The 12-month pilot will demonstrate Zscaler's ability to protect Google cloud applications without requiring government-issued CPE. If successful, the actual deployment could scale to over 1 million endpoints, according to press reports.
Acquisitions have added more sophisticated security solutions as the market has grown. Zscaler obtained artificial intelligence and machine learning (via an "immaterial" purchase of intellectual property from TrustPath in 2018); browser-based protection (through the $13 million acquisition of Appsulate in 2019); security against misconfigurations in software-as-a-service (from Cloudneeti, bought for $9 million in 2020);, and micro-segmentation for applications (Edgewise, $31 million in 2020).
The Importance of Zscaler's Partnerships
Key to Zscaler's fortunes has been its impressive
partnership roster
. Zscaler is resold by a range of service providers, including AT&T (NYSE: T), Verizon (NYSE: VZ), BT, and Orange Business Services, along with managed service providers such as Accenture (NYSE: ACN). These resale relationships could produce
opportunities as 5G mobility takes hold
. Zscaler's work with Microsoft (Nasdaq: MSFT), with which it has
a slew of integrations
, including
one recently announced for Office 365
, could pan out at the Azure edge as well.
Zscaler also has significant penetration in the software-defined wide-area networking (SD-WAN) market, where it's managed to set up shop with a few of the major players, including Aryaka, Citrix (Nasdaq: CTSX), Cisco/Viptela (Nasdaq; CSCO), Nokia/Nuage (NYSE: NOK), Silver Peak, and VMware/Velcloud (NYSE: VMW).
Are There Any Perils for Zscaler?
In general, the prospects for Zscaler look good. But there are potential pitfalls. For one: While it's clear that Zscaler integrates well with many of its partners' solutions, it also competes against others.

For instance, Zscaler is integrated with VMware/Velocloud, but VMware is also pursuing its own endpoint security strategy. Likewise, Cisco, Crowdstrike (Nasdaq: CRWD), and others aren't relying on Zscaler alone, and in fact could eventually look to displace it in various situations.

Zscaler also faces competition from Palo Alto Networks (NYSE: PANW), Fortinet (Nasdaq: FTNT), and others whose approaches, while based on hardware, show no lapse in demand. Ongoing revenues from these incumbents show that cybersecurity is the major focus for buyers, who will consider a range of technology solutions as long as they fit requirements.
Still, it's a given that integration and "co-opetition" are fundamental to digital transformation. Zscaler is in full sail, but it will continue to share the water with other rising boats.