HPE Beats on Earnings, Looks to Better Future

Hewlett-Packard Enterprise Co. (NYSE: HPE) exceeded analyst predictions in its quarterly earnings report this week, while showing recovery from supply chain problems and highlighting industry trends supporting its businesses.
HPE reported $6.8 billion in quarterly revenues, down 5.5% year-over-year but up 13% sequentially. Non-GAAP earnings per share was 32 cents. Wall Street analysts had forecast about $6 billion in revenue and 23 cents per share.
A key point in HPE's report was the reduction of COVID-related order backlogs that affected the company last quarter. The supply chain holdups have been mostly resolved, execs said this week, freeing up about $500 million worth of orders, mostly for compute and storage gear. The company hopes to clear the rest of its backlog by the end of the present quarter.
Analysts Still Fret Over HPE Outlook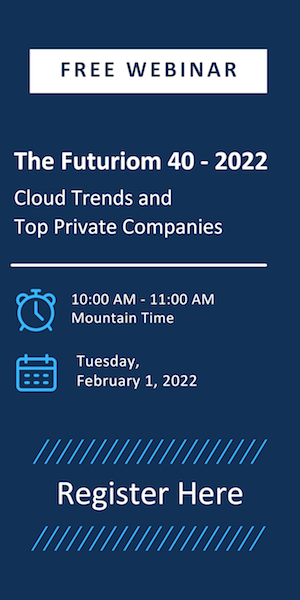 Financial analysts seem pleased with HPE's backlog resolution, but many remain concerned that it may take longer than expected for the company to hit pre-COVID levels. A massive restructuring effort announced late in 2019, involving layoffs, reorganization of product segments, and a pivot toward an annual recurring revenue (ARR) model across the board, continues to weigh on the vendor's financials.

In a note this week, Simon Leopold and colleagues from analyst firm Raymond James stated:

HPE's cost reduction plan extends through FY22 to achieve annualized savings of at least $800M at a cash cost of $1.0-1.3B over three years, and we worry that the restructuring could cut into corporate muscle and degrade the cash generation for the next few years.
HPE Segment Results Send Mixed Message

While HPE continues to focus on layoffs and operational revisions, the company's pivot to its new marketing approach, dubbed HPE GreenLake, seems to be paying off the most in its compute and storage businesses. The result is that these segments represent the bulk of current sales, as shown in the chart below: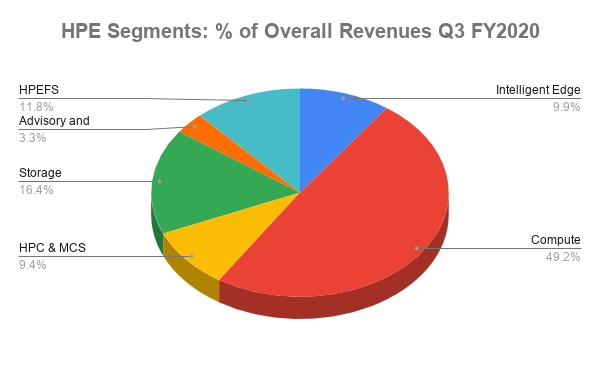 HPE's compute and storage segments include data center switches, servers, storage solutions based on artificial intelligence (AI), and high performance computing and mission-critical computing options.

The company's intelligent edge products, including Aruba's SD-Branch gateways and the software-defined wide area networking (SD-WAN) in the works from HPE's acquisition of Silver Peak, are moving more slowly, as shown below:

Of course, much of the slowdown in intelligent edge points to a temporary reduction in much enterprise investment in digital transformation technology. In a recent survey of 2,400 IT decision-makers conducted by the Aruba division, 77% of respondents acknowledged delaying or postponing their digital plans. But the majority said they are planning to move ahead with future aggressive plans for cloud-based solutions as conditions normalize.

HPE Looks Ahead

Despite the COVID-related and restructuring headwinds, HPE is confident in its financial stability and ongoing growth. This quarter's results included some modest guidance points: 32 to 36 cents non-GAAP diluted net EPS for Q4 and $1.30 to $1.34 of the same for the full year 2020.

HPE has several reasons for optimism. The company anticipates that finalizing the acquisition of Silver Peak by year's end will further strengthen the intelligent edge sales. And integration of Silver Peak's products should go smoothly: Aruba has already equipped its SD-Branch gateways with cloud-based SD-WAN connectivity. HPE also has made 5G service providers a strategic target, which could prove lucrative as services emerge.

Overall, HPE's message this quarter is one of working with the odds as well as against them. "COVID-19 has forced fundamental changes in businesses and communities," said CEO Antonio Neri on the earnings conference call this week. "These changes have further validated our strategy. Navigating through the pandemic and planning for a post-COVID world has increased customer needs for other service offerings, secure connectivity, remote work capabilities and analytics to unlock insights from data."

HPE plans to deliver on many of those fronts in the not-too-distant future; and if its latest report is an indicator, it just might be on the path to more profitable quarters ahead.