Versa Adds Native 5G to SASE

Versa Networks has released its first secure access service edge (SASE) appliances with integrated native 5G connectivity, reflecting the vendor's strategy of adding a portfolio of integrated capabilities to its SASE platform.
The new CSG700 and CSG1000 appliances are aimed at branch offices, factories, retail outlets, and other WAN edge sites that rely on 5G for mission-critical applications. A series of point-of-sale sensors linked to a private wireless network, for instance, would be shielded by Versa's SASE stack -- including cloud access security broker (CASB), secure Web gateway (SWG), next-generation firewall as-a-service (NGFWaas), unified threat management (UTM), and zero trust network access (ZTNA) -- while linking via software-defined wide-area networking (SD-WAN) to data centers, colocation facilities, or branch-office sites.
Support of native 5G includes built-in virtual network functions (VNF) and network slicing. Multi-tenancy is supported. There are numerous traffic management options, Versa says, including policy-based traffic management, bandwidth augmentation, and traffic throttling. The appliances link to 4G LTE networks as well, which is a boon to enterprises looking to reduce the amount of hardware required to support wireless networks, as shown in Versa's diagram below: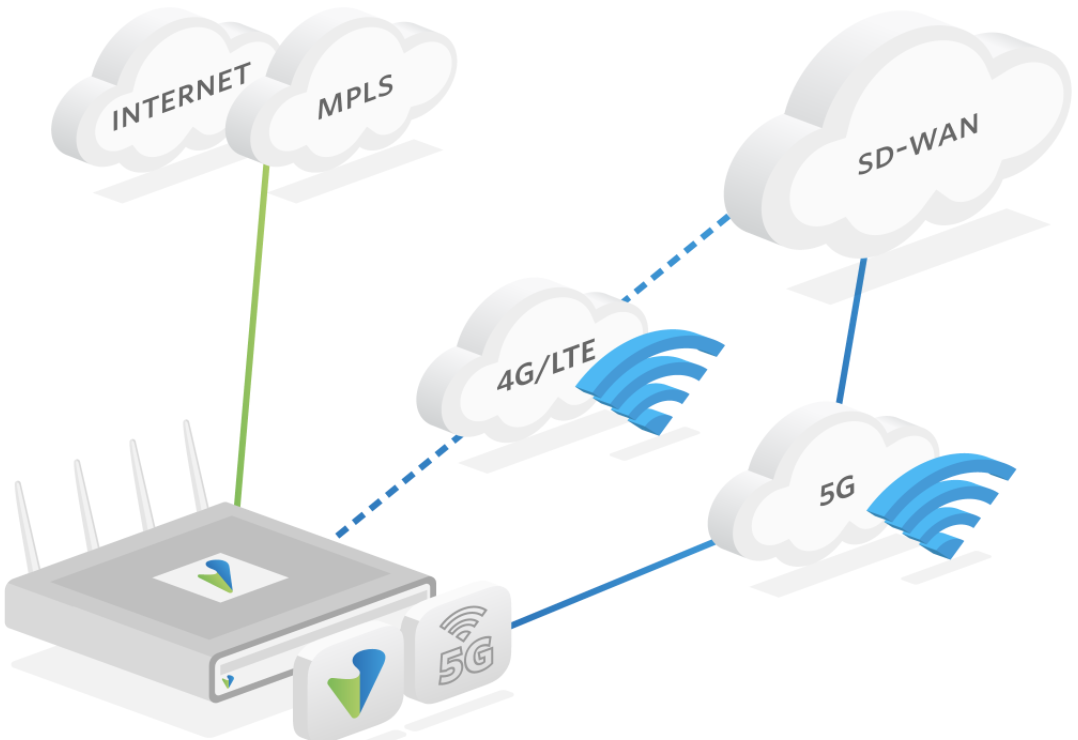 Source: Versa Networks
Small Form Factor Packs a Lot
Versa claims to differentiate from other suppliers by virtue of the level of integration and the number of capabilities packed into its 5G-enabled SASE appliances. In addition to 5G and LTE interfaces, for instance, the appliances include native wired interfaces for copper and fiber Ethernet, T1, and DSL. Customers can opt out of some of these connectivity options, or add others, such as an LTE modem for a second concurrent carrier connection.

Versa says another differentiator is its virtual console, which furnishes orchestration, management, and analytics in a centralized interface that consistently manages all Versa devices. "Detailed 5G network connectivity, application traffic, security and other data is captured as flow records..., helping our customers have detailed views on bands being used, connection qualities, data rates, and more for current and historical analysis purposes," stated Dogu Narin, head of product management at Versa, in an email to Futuriom.
Competition Lining Up
Competitors are making similar claims to Versa's. Fortinet (Nasdaq: FTNT), Cisco (Nasdaq: CSCO), and Juniper (NYSE: JNPR) all say they offer integration of SD-WAN, SASE, and 5G. Other large vendors have their own solutions to the 5G challenge, which sometimes involve multipole devices and software or service options -- which may be practical for some users with significant installed base of a vendor's wares.
Comparing products is impossible here, but one thing the clamor makes clear is that the hottest SASE trend is integration – of 5G and SD-WAN connectivity, along with as many security services as possible.
Why Integration Works
So far, Versa's integration approach has worked: The vendor boasts thousands of customers, including Barclays, Capital One, Colt, Samsung, T-Mobile, Verizon, and Virgin Media. The introduction of native 5G should prove advantageous to many of these takers.
"It is crucial for organizations to connect to 5G networks while making full use of SD-WAN and security capabilities to protect themselves with appliances that natively integrate SASE services," said Dogu Narin in a press release.
"We were attracted to Versa's consolidated approach combining SD-WAN with cloud security, next generation firewall, threat management, and role-based access control – all in a single software stack," said Lance Brophy, IT director of operations transformation with science and engineering consultancy Thornton Tomasetti, in a company statement earlier this year. "These products are traditionally packaged separately but Versa gave us the ability to manage different SASE components under one intuitive interface, significantly reducing complexity and costs."
5G and SASE Will Prevail
Versa's announcement – and those of competing suppliers – highlight the importance of supporting 5G in service provider networks and at the enterprise level, particularly in private wireless networks. Customers will take up advanced wireless services as they find them secure and flexible, and use cases will proliferate as adoption continues.