HPE Adds One More to String of Acquisitions

Hewlett Packard Enterprise (NYSE: HPE) added another notch to its acquisition belt with an agreement to buy OpsRamp, a privately held vendor of IT operations management software augmented with artificial intelligence (AI). Terms of the deal were not disclosed.
This marks the fifth acquisition announced by HPE this year. In January, the vendor announced plans to buy Pachyderm, a large-scale AI company, to augment HPE's high performance computing (HPC) efforts. Also early this year, HPE bought TidalScale, which created software that combines the elements of multiple physical servers into unified virtual servers. In February, HPE revealed plans to acquire cellular network provider Athonet. And earlier this month, HPE said it will buy Axis Security to boost its Secure Access Service Edge (SASE) capabilities.
HPE has stated that these acquisitions will augment its GreenLake offerings, which include software and services billed as "an edge-to-cloud platform." The GreenLake marketing appears to be working: "Powered by our market-leading hybrid cloud platform, HPE GreenLake, we unlocked an impressive $1 billion in annualized revenue run rate or ARR for the first time," said HPE CEO Antonio Neri on the company's first-quarter earnings call.
More About OpsRamp
OpsRamp was founded in 2014 in San Jose, Calif., by Varma Kunaparaju and Raju Chekuri, who both also founded NetEnrich, a vendor of security information and event management (SIEM) software. Kunaparaju is now OpsRamp CEO and Chekuri, who also has experience with semiconductor companies, serves as chairman of the board. According to LinkedIn, OpsRamp has 344 employees.
HPE invested in OpsRamp in 2020, along with Sapphire Ventures, in a $37.5 million round of funding led by Morgan Stanley. At the time, OpsRamp claimed to have over 1,400 customers, and management said the startup had tripled its annual recurring revenue (ARR) in 2019.
It's not clear how much OpsRamp raised in total funding, though some Internet sources claim over $60 million. But one thing is clear: OpsRamp has been a going concern and HPE aims to make it a significant GreenLake asset.
OpsRamp Adds More AI to HPE
OpsRamp uses AI to manage IT network, storage, and application performance and automation for on-premises and cloud environments, including AWS, Azure, Google Cloud, and Alibaba Cloud. OpsRamp claims to have over 2,500 integrations with external tools, monitoring systems, applications, databases, and other IT infrastructure and management entities.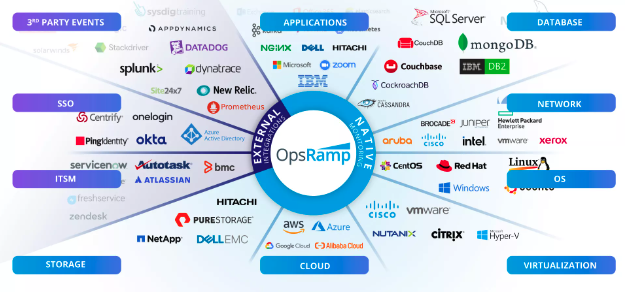 Source: OpsRamp
OpsRamp's use of AI puts it in the Gartner-dubbed "AIOps" category (short for Artificial Intelligence for IT Operations), an area populated by IBM (NYSE: IBM), SolarWinds (NYSE: SWI), Dynatrace (NYSE: DT), and ServiceNow (NYSE: NOW), to name just a few.

HPE has already trumpeted AI as key to its GreenLake strategy. And as AI ubiquity appears to be growing throughout the tech industry, it will be a boon for HPE to have more of this capability in its GreenLake platforms and services.
A Magnet for MSPs
A key target in OpsRamp's strategy has been managed service providers (MSPs), which use the firm's software and services in their own day-to-day event correlation, reporting, automation, observability, and security tasks while offering OpsRamp solutions as a service to their customers.
HPE's ownership of OpsRamp could give it leverage with the current OpsRamp MSP customers, which in turn have sizeable needs for the systems and services included under the GreenLake umbrella. Further, HPE's own targeting of MSPs with its Aruba solutions should be augmented by OpsRamp capabilities.
Bottom line? Whatever it paid for OpsRamp, this acquisition adds significantly to a war chest HPE is gathering to compete with the likes of IBM, VMware (NYSE: VMW), and other major IT technology providers in supporting enterprise hybrid cloud environments.