Cisco Presses Software Subscription Sales

Over the last several years, Cisco has expanded the core portfolio of products and services it provides via acquisitions of relatively small players such as CliQr to multi-billion deals involving application monitoring services such as AppDynamics. This week at the Cisco Partner Summit 2017 conference, Cisco outlined how it intends to create bundles of offerings around four classes of IT solutions spanning Cloud Connect, Cloud Protect, Cloud Consume, and Cloud Advisory services.
Overall, the strategy emphasizes Cisco's move to bundles of services that can be sold by software subscription. Cloud Connect will combine vEdge routers, CSR 1000v routing software, and Cisco Umbrella security software based on technology Cisco gained via the acquisition of OpenDNS. Cloud Protect aims to combine sales of Meraki Systems Manager software for wireless access points, Cisco Cloudlock access security broker software, Cisco Advanced Malware Protection (AMP) for endpoints, and Umbrella. Cisco Consume seeks to combine Cisco CloudCenter management software originally developed by CliQr with the monitoring software delivered as a software-as-a-service (SaaS) application via AppDynamics. The Cloud Advisory Services add cloud migration services on top of any one of those three product services.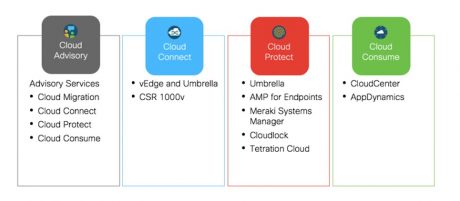 Emphasis on software sales
As Cisco executives have stressed in public forums and pitches to Wall Street, Cisco is looking to expand the amount of software it sells to its clients in an effort to boost sales. Software sales is a more attractive business model than hardware because of higher margins and more predictability in recurring revenue. Cisco CEO Chuck Robbins told partners that recurring software revenue generated by Cisco now exceeds $1 billion annually and is growing 40 percent annually.
Cisco also claims that over 20,000 customers are now participating in the Cisco One software licensing program that disaggregates software and hardware sales. That number should increase in the wake of a Cisco DNA Access Wireless initiative launched last week. Under the terms of that three-tier program, customers can sign up for a basic DNA Essentials or DNA Advantage tier. The latter tier provides access to Cisco policy and automation software on top of Cisco core networking software. Alternatively, organizations can sign up for a Cisco One Advantage that provides additional access to Cisco analytics and security software.
Robbins says Cisco is enticing customers to sign up for Cisco One by making, for example, advanced analytics and the ability to examine encrypted packets for malware available only via a Cisco One license. That approach recognizes the value Cisco provides via software that will now be continuously updated versus waiting for customers to upgrade network hardware. For the foreseeable future Cisco expects to support the bifurcated approach of customers consuming networking technologies via Cisco One and customers that will continue to prefer to acquire hardware and software together.
"The integrated systems business is not going away," says Robbins.
If anything, Robbins contends that networking opportunity is expanding because of the rise of multi-cloud computing and the Internet of Things (IoT). In addition, Robbins says digital business initiatives are driving demand for higher amounts of network bandwidth. Cisco also expects that a steady stream of software updates delivered by Cisco will result in customers upgrading their network infrastructure at a faster cadence than they have historically.
Emphasis on Meraki management
In the meantime, Cisco continues to work on unifying the management plane spanning its various products. Cisco today previewed an instance of a Meraki dashboard that could be accessed from Cisco DNA Center, the management framework Cisco developed to drive the Cisco Digital Network Architecture (DNA) to separate hardware and software last June. Long-term, the goal is to eventually merge the management of Meraki and Cisco DNA Center, but for now customers will still need to license Meraki management software separately.
Cisco is also revamping the rewards it provides partners to provide everything from additional rebates to access to a platform for managing the backend business operations designed for managed service providers (MSPs) by ConnectWise.
Stephen Elliot, an industry analyst with International Data Corp. (IDC), says it's hard to parse exactly what percentage of the recurring revenue Cisco is generating specifically involves software. As more workloads head into the cloud, Elliot says Cisco realizes that the opportunity to sell switches into the datacenter is declining at a time when hardware margins are under pressure.
"They realize they will need to drive more revenue from software," says Elliot.
Elliot also notes most cloud service providers built their own software-defined networks (SDNs), so Cisco needs to find ways to stay relevant by providing CSPs such as Google with access to customers and its partner network.
The degree to which customers will allow Cisco to rack up additional software revenue remains to be seen. But the one thing that's clear is that network hardware is now a means to a much larger software end as far as Cisco is concerned.