AT&T Spins off WarnerMedia to Focus on 5G

AT&T's (T) big announcement to sell its media business, WarnerMedia, to Discovery Inc. (DISCB), holds the potential to remake the company and shore up its finances. The deal will garner the telco $43 billion as it spins off media assets, gets new equity in a streaming media giant, and pays down debt.
The arrangement, announced on Monday, is set to close by the middle of 2022. It will create a separate, as-yet-unnamed media company headed by Discovery CEO David Zaslav.

Besides creating a media giant second only to the Walt Disney Co. (DIS) in annual revenue (the new company is expected to generate $52 billion in 2023), the move reflects a trend toward big telecommunications companies getting out of the media business. And for AT&T in particular, it signals that the company is ready to redirect its resources toward its core competencies, namely broadband and 5G.
"For AT&T shareholders, this is an opportunity to unlock value and be one of the best capitalized broadband companies, focused on investing in 5G and fiber to meet substantial, long-term demand for connectivity," AT&T CEO John Stankey said in a statement.
Telcos Pivot on Media
As noted by Bloomberg, AT&T's sale of WarnerMedia comes shortly after it sold its Crunchyroll anime business to Sony for $1.175 billion in December 2020 and spun off its DirecTV business in an arrangement with investment firm TPG Capital in February 2021. It also follows the sale by Verizon (VZ) of that company's media business, which include AOL and Yahoo, to Apollo Global Management early in May 2021 for $5 billion. Verizon initially paid nearly $9 billion to acquire AOL and Yahoo.
Bloomberg said its analysts expect other big telecom players with media holdings, such as Comcast (CMCSA), to jettison those assets in order to focus on 5G and other core telco businesses.
The trend is a clear statement that -- as predicted by Futuriom years ago -- the quest for media riches was a pipe dream for the telcos. For AT&T especially, the controversial 2018 merger with Time Warner has turned out to be a bust. After spending about $81 billion on Time Warner, AT&T will receive from the new WarnerMedia/Discovery company $43 billion in cash, debt securities, and the retention of certain debt by WarnerMedia. AT&T shareholders will collectively receive a 71% stake in the new company.
That's some sad math, and it echoes AT&T's recent agreement with TPG, which is expected to close in the second half of 2021. Those terms include AT&T getting $7.6 billion in cash from the newly hatched "New DirecTV," along with the spinoff taking on about $200 million of the DirecTV debt AT&T accumulated. That's all for a company on which AT&T spent $67 billion in 2015.
Less Debt, More Capex for AT&T
AT&T's latest media sales reflect its determination to reduce its sizable net debt of $168.9 billion as of March 31, 2021, which has had investors grumbling. By selling its media assets, AT&T will shorten the timeline planned to reduce the debt, allowing for an increase in capital spending. According to the Wall Street Journal, capex will move to $24 billion next year from an estimated $18 billion in 2021.
By Futuriom's reckoning, AT&T's capex has fallen over the last three years, while spending by rivals T-Mobile US (T-MUS) and Verizon has crept upward, as shown in the chart below: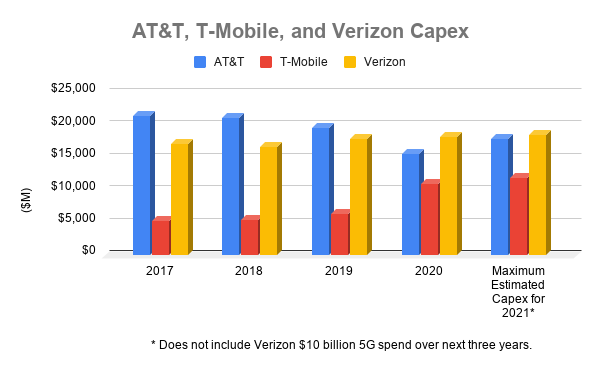 AT&T has fresh impetus to step up its capex. Having spent $27.4 billion to acquire 80 MHz of spectrum in the Federal Communications Commission's 5G "C-band" spectrum auction earlier this year, AT&T must now spend on deploying those resources. That includes equipping millions of points of presence (PoPs) worldwide, as well as installing fiber to connect 5G cells and to provide backhaul in 5G networks.

AT&T still owns some media assets, including Xandr, an online advertising company AT&T acquired for reportedly over $1 billion in 2018. But it's likely we'll see a change there too. AT&T's priorities have shifted back to the core of its business — providing communications networking, wired and wireless. The telco is leaving the likes of "90 Day Fiancé" in more capable hands.
AT&T shares initially rose on Monday's news, but ended up closing down, at $31.37 (-0.86, -2.67%). Discovery shares also traded down, closing at $33.85 (-1.80, -5.05%).