Arrcus Scores $50 Million, Doubles Valuation

Arrcus, a Futuriom 50 startup in the multicloud networking (MCN) space, has closed $50 million in Series D funding led by Prosperity 7 Ventures (P7), the investment arm of Saudi petroleum giant Aramco. The round brings the company's total raised to roughly $123 million since its founding in 2016 and spotlights the growing importance of MCN as a vehicle for cloud efficiency in hybrid enterprise networks.
This funding round, which Arrcus says doubled its valuation from its last round in 2021, was joined by existing investors Clear Ventures, General Catalyst, Liberty Global, Lightspeed, and Silicon Valley Bank.
The round, awarded in an increasingly straitened funding environment, comes as companies are reevaluating the role of cloud networking in their organizations. According to Arrcus, managing traffic in a way that optimizes cloud usage and lowers networking costs is a priority in most companies.
An Inflection Point for Networks
"We think this is an inflection point for networks," Shekar Ayyar, CEO and chairman at Arrcus, told Futuriom. This year, he said, will see a strong trend toward MCN as companies shift their focus to distributed edge networking and look to integrate hybrid clouds with 4G and 5G mobile network services. This calls for a network infrastructure model that features a common operating system plane across telco, hyperscaler, and enterprise networks.
Cue Arrcus' Connected Edge (ACE) platform, which runs an assortment of solutions for MCN, including network automation and orchestration (ArcOrchestrator); integrated analytics for visibility and observability (ArcIQ); and a converged platform for telecommunications and compute (ArcEdge). Arrcus also supports routing innovations such as Segment Routing and has a patent on accelerating Segment ID allocation, which plays a crucial role in streamlining the performance of Internet traffic and content delivery.
Arrcus CEO Shekar Ayyar. Source: Arrcus
Common Ground for Networking
CEO Ayyar points out that the ACE platform's standout feature is that it provides a common operating system for networking across cloud, enterprise, and telco networks. "We are not a point solution," he said. "We are uniquely positioned as an OS environment that can go from switch to router, on-prem to cloud."
Arrcus showcased its technology in a demonstration with SoftBank Corp. in September 2022, in which Arrcus' support of SRv6 in its ArcOS operating system enabled the carrier to connect a 5G network slice to its multi-access edge compute (MEC) technology automatically without adding additional 5G gear. Notably, SoftBank is a strategic investor in Arrcus.
In another trial, Arrcus demo'd a patented Virtualized Distributed Routing (VDR) solution for the ACE platform with telco Liberty Global, which is also an investor in Arrcus. With ACE and VDR running on a white-box cluster, Liberty decoupled network services from legacy physical chassis, giving the service provider a way to simplify and scale a distributed router network without relying on traditional hardware.
The ability to replace switches and routers with white-box solutions and virtualized networking also has drawn attention to Arrcus from datacenter service providers. CoreSite, for instance, deploys the ACE platform to provision its Open Cloud Exchange (OCX), which offers cloud-to-cloud access for enterprise customers using Arrcus' virtualized routing.
What's Ahead for Arrcus
Arrcus is one of a handful of startups addressing the MCN challenge, which Futuriom research indicates is a key area for IT professionals in managerial positions. In our 2022 Secure MCN Survey report 2022, 87% of respondents in MCN and cloud-native networking solutions over the next 1-5 years: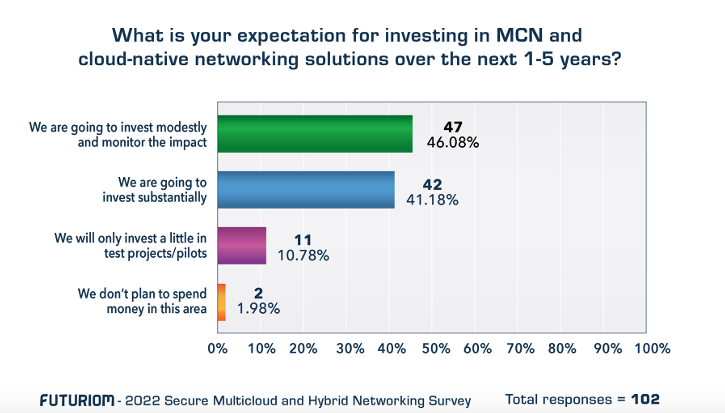 This latest funding round will be used to advance Arrcus' go-to-market presence against this competition, the vendor says, while growing its R&D and engineering bench.
So far, so good: Arrcus claims to have increased its customer roster and its bookings by over 100% CAGR as of the end of 2022.