Cloud Tracker Pro
What's Up with Cloud Spending?
The demise of Silicon Valley Bank (SVB) and ongoing macroeconomic uncertainty have raised a big question for enterprises worldwide: Is it time to pull back spending on cloud infrastructure and services?
Answers vary. In recent earnings reports, infrastructure-as-code leader HashiCorp posted revenue growth of 48% for its latest fiscal year. Cisco (Nasdaq: CSCO) posted its best results in years, and rival Arista Networks (NYSE: NET) provided upcoming quarterly guidance ahead of the Street. Optical networking firm Ciena (NYSE: CIEN) reported 47% growth in its sales to cloud providers, hinting a strong demand for hyperscaler services.
At the same time, distributed cloud database company Couchbase (Nasdaq: BASE) adjusted guidance last week to reflect what management terms macro headwinds affecting broader IT spending. Couchbase said customers are taking longer to make buying decisions, have added layers of approval to the process, and are making smaller investments overall.
Turning to the Customers
We recently reached out to IT customers about their cloud spending plans. In a Futuriom survey of 230 IT professionals in February 2023, 47% of respondents reported that they plan to accelerate their plans for cloud architectures and networking solutions. Another 28% said they plan to spend selectively, emphasizing specific cloud architectures and solutions that help them save money. 19% said they will slow their adoption of cloud technology.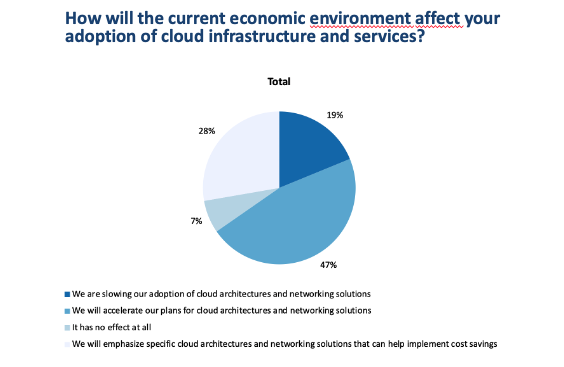 To access the rest of this content, you need a Futuriom CLOUD TRACKER PRO subscription — see below.