VMware's CEO and NVIDIA's Unveil New AI Environment

VMware CEO Raghu Raghuram had a surprise for keynote attendees at VMware's Explore conference in Las Vegas yesterday. Toward the end of a series of new product presentations, he welcomed NVIDIA founder and CEO Jensen Huang to the stage to introduce a joint technology stack for enterprise-based generative AI.
That solution -- VMware Private AI Foundation with NVIDIA -- is a full-stack offering that aims to solve a major issue for enterprises intent on using generative AI: the need to deploy industry-specific data to train large language models (LLMs). The goal is to give customers a way to use their own data to populate generative AI foundation models such as MPT or NVIDIA's NeMO in order to create applications tailored to their requirements.
The in-person appearance of Huang was a significant endorsement ahead of VMware's merger with Broadcom, which seems to have taken a step closer to reality after UK regulators approved the deal this week. It is particularly interesting given that NVIDIA competes with Broadcom in the key area of SmartNICs. And NVIDIA created a special BlueField DPU to work within VMware Private AI Foundation with NVIDIA, Huang said.
And speaking of Broadcom, its CEO Hock Tan, who was in the keynote audience but presented his remarks via video, has vowed to continue to support VMware post acquisition: "Once this transaction closes, we will focus on investing in VMware products and services," he said. "In fact, Broadcom will immediately invest an additional $2 billion a year to better unlock customer value. Now half of that investment will be focused on R&D. The other half will focus on helping to accelerate deployment of VMware solutions through VMware and partner professional services."
A Complex Stack
According to the two CEOs, "hundreds" of engineers from both companies spent several years developing VMware Private AI Foundation with VMware, which comprises accelerated computing components from NVIDIA alongside virtualization tools from VMware. The stack trains AI models, fine tunes them, and deploys them across multiple GPUs, all using private enterprise data in a private environment.
Source: VMware
"For the very first time, enterprises around the world will be able to do private AI – private AI – at scale, deployed into your company and know that it's fully secure and ... multicloud," said Huang.
At the heart of the stack is the ability to manipulate GPU instances in VMware virtual machines. "Think about this," said Huang. "Instead of virtualizing applications to run on CPUs, we've virtualized the GPU. We made it possible for VMware to run bare-metal performance with all of its security and all of its manageability and vMotion capabilities across multiple GPUs, multiple nodes, to process those giant language models and to be able to deploy it end to end and to be completely multicloud."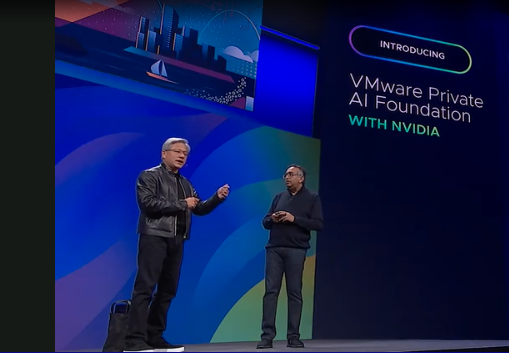 Source: VMware
CEO Raghuram acknowledged the challenge: "The networking stack… There are very onerous demands on it and we had to do a lot of things…. You need a lot of GPUs and we are able to group up to 16 GPUs into a single VM where the model's running in order to make all the compute power available and getting all the data from storage directly into your GPU memory."
VMware Private AI Foundation with NVIDIA is expected to be available early in 2024, the vendors said, and it will be supported by Dell, HPE, and Lenovo.
And There's More…
VMware also announced VMware Private AI Reference Architecture for Open Source, which aims to help customers create open source software (OSS) models within the VMware Cloud Foundation environment, which incorporates VMware's Aria Automation Orchestrator, vSphere virtualization products, vSAN storage, and NSX networking and security layer.
The new reference architecture incorporates solutions that VMware collaborated with partners to offer. These include integrations with Anyscale, Domino Data Lab, NVIDIA, Hugging Face, Intel, and a variety of systems integrators. The vendor also has rolled out Intelligent Assist, a series of products containing generative AI trained on VMware's own data to streamline the use of Tanzu, Workspace ONE, and NSX+.
It all added up to evidence that VMware is doing its generative AI homework with all the right players. Now we'll see how the solutions fare once they are released – and after the Broadcom takeover.
Futurion Take: VMware made impressive announcements at Explore 2023, but these remain to be proven in multiple enterprises once they're released. Meanwhile, the schedule and the impact of the Broadcom takeover prompts ongoing questions about how VMware's AI products and services will fit within Broadcom.