VMware Multicloud Services Get DPU Boost

At its VMware Explore 2022 conference in San Francisco this week, VMware (NYSE: VMW) unveiled a series of interconnected product upgrades with the twin goals of improving security and optimizing performance.
In today's announcements, VMware highlights improvements to its VMware NSX multicloud hypervisor and its VMware vSphere 8 workload software suite. Let's take a closer look.
DPUs to the Rescue
Specifically, NSX and vSphere 8, which work together, now connect with data processing units (DPUs), also called smartNICs (smart network interface cards). Through a mechanism called the Distributed Services Engine added into vSphere 8, both products benefit from improved performance and better visibility for security purposes.
VMware officials state in a blog:
"[I]nstead of relying on simple packet inspection, the DPU-based NSX security implementation can contextualize network traffic based on the application generating the traffic and process traffic behavior accordingly in order to provide more accurate insights on security risks."
VMware also says that by offloading traffic to DPUs, NSX, when equipped with a new NSX Distributed Firewall that is now in beta, will be able to observe East-West datacenter traffic at line rate without requiring software agents, an approach that gets a better security handle on microservices-based workflows.

VMware NSX-as-a-Service
By way of an endeavor called Project Northstar, VMware also is previewing what it calls "a SaaS-based network and security offering that will empower NSX customers with a set of on-demand multi-cloud networking and security services, end-to-end visibility, and controls."

Key to the NSX service is a central console interface to NSX's networking and security services that, along with the SaaS, will give customers a way to manage distributed security across public and private clouds. Users will be able to coordinate multicloud policies and security functions like firewalling, network detection and response (NDR), and NSX Intelligence-as-a-service.
One goal here, says VMware, is to keep pace with an IT trend toward service-based workloads supported by OpEx budgets, not by legacy capital expenditures for software licenses and hardware platforms.
Power of the Ecosystem
VMware's new DPU support is achieved through alliances with chip partners AMD (Nasdaq: AMD), Intel (Nasdaq: INTC), and NVIDIA (Nasdaq: NVDA) and system partners Dell Technologies (NYSE: DELL), Hewlett Packard Enterprise (NYSE: HPE), and Lenovo.
VMware says tests conducted using vSphere 8 and NSX with gear from these vendors resulted in substantial performance improvements – up to 20% savings in CPU cores, up to 36% higher transaction rates, and 27% lower latency, as shown below: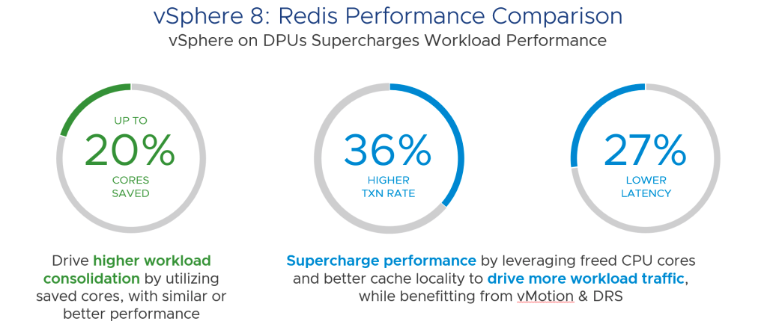 Source: VMware

Hooking key VMware multicloud management products to DPUs puts VMware squarely in the flow of key chip trends. And, while VMware's conference is focused on its own products and services, it will be interesting to see how chip-level efficiencies in the new wares progress after the Broadcom takeover.