Broadcom Will Buy VMware for $61 Billion

Broadcom (Nasdaq: AVGO) will acquire VMware (NYSE: VMW) in a 50% cash/50% stock deal valued at approximately $61 billion. The merger, which has been anticipated, would be the second-largest tech M&A this year, following Microsoft's (Nasdaq: MSFT) bid for gaming giant Activision – a deal valued at $68.7 billion.
The acquisition is expected to close in Broadcom's fiscal 2023 (Broadcom's year closes in October 2022). Once the deal closes, VMware and VMware's brand will take over Broadcom's Software Group and, according to Broadcom's press release,"[incorporate] Broadcom's existing infrastructure and security software solutions as part of an expanded VMware portfolio."
The deal includes Broadcom's assumption of $8 billion of VMware net debt. Still, Broadcom expects the deal to be immediately accretive once it closes, doubling the number of large enterprise software accounts currently in the Broadcom Software stable and increasing Broadcom's business profile to rely 50% on silicon and 50% on software. In the process, Broadcom also expects to double its annual revenue.
Broadcom also expects VMware annual earnings before interest, taxes, depreciation, and amortization (EBITDA) to grow from roughly $4.7 billion now to $8.5 billion within three years of the deal closing.
This deal remains to be approved in multiple jurisdications, and there is a "go shop" provision, which allows VMware to entertain other bids for a 40-day period that closes July 5, 2022.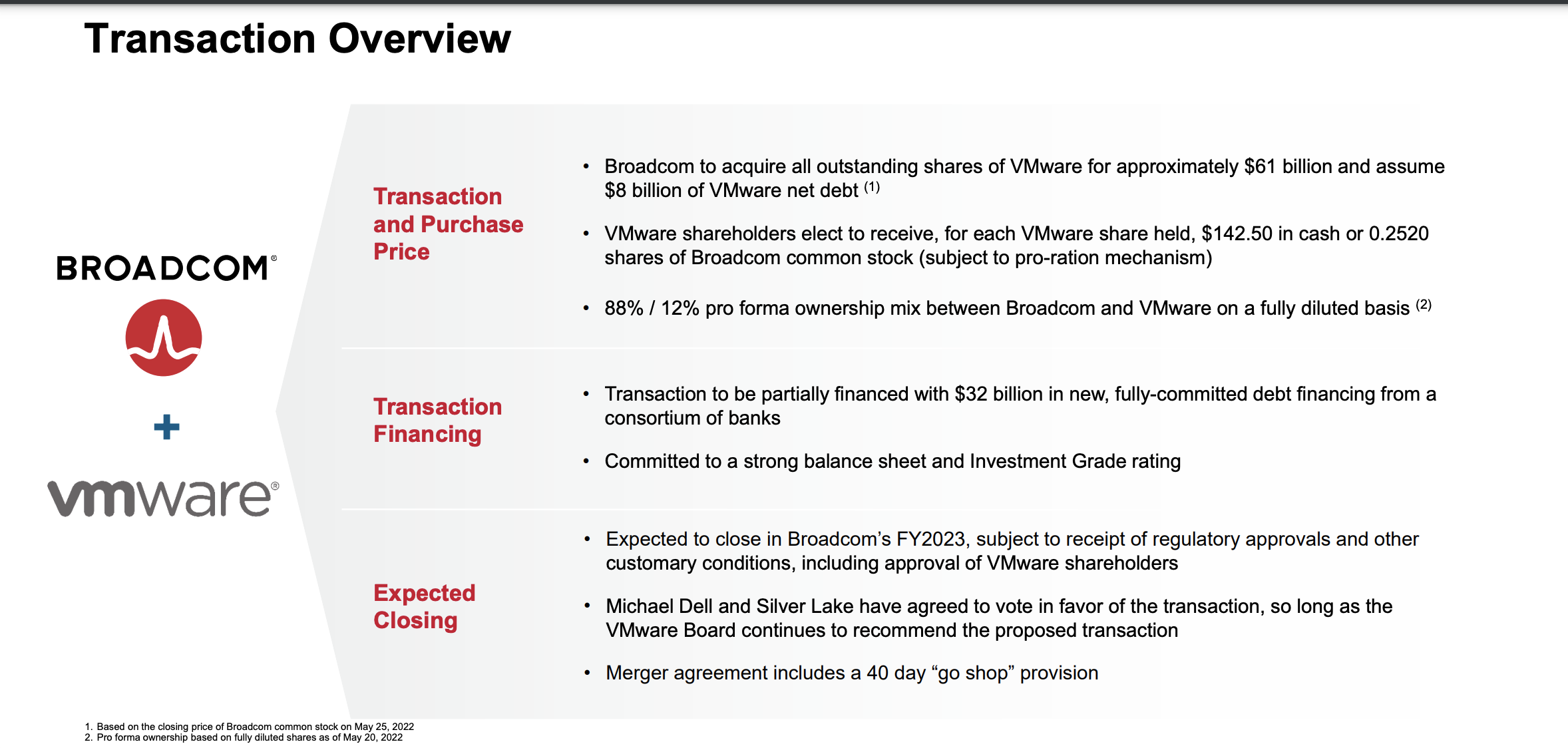 Source: Broadcom
Private Clouds Stressed
The combination of Broadcom and VMware will focus on large-scale enterprises – the world's largest multinational companies – which continue to have sizeable investments in private cloud environments. This is where Broadcom sees a key VMware strength, particularly among companies whose regulatory restrictions require them to maintain data and development in private datacenters and restricted geographies.
Merchant Silicon Advances
Throughout this morning's conference call, executives also stressed the need to view the enterprise market as embracing disaggregation of hardware and software, making for a multi-pronged approach to enterprise computing.
"We are creating a model of disaggregation," said CEO Hock Tan. He said that merchant silicon has been outselling proprietary networking chips for the past five years. Broadcom is noted to be a market leader in merchant silicon for switching and routing.
As previously noted by Futuriom, this deal also tempts speculation about how Broadcom and VMware technologies might be unified in data processing units (DPUs), better known as smart network interface cards (smartNICs), which are aimed at offloading the processing burden of CPUs to facilitate faster interconnections in private cloud datacenters and beyond. It is interesting to consider the potential for VMware's technologies to work within the disaggregated switch/routing silicon offered by Broadcom.
Building on Successful Results
Broadcom today also released its fiscal second quarter 2022 financial results ahead of schedule. Revenues for the quarter came in at $8.1 billion, up 23% year-over-year. Earnings per share (EPS) was $9.07 on net income of $4 billion (non-GAAP). Free cash flow generated during the quarter was $4.2 billion.
Broadcom expects next quarter to be just as good, predicting $8.4 billion in revenue. Despite any challenges presented by the upcoming merger, said CEO Tan today, "the fundamentals of our business have never been stronger."
In morning trading, Broadcom shares were selling at $539.37, +7.74 (1.46%). VMware shares were trading at $120.74, +0.20 (0.17%).