Why Would Broadcom Buy VMware? Here's Why

Broadcom (Nasdaq: AVGO) is in talks to buy VMware (NYSE: VMW), according to a variety of news sources. The intended purchase, which may still fall through, could boost Broadcom's efforts to extend further into the datacenter market, particularly the market for data processing units (DPUs), also known as smart network interface cards (smartNICs).
If successful, Broadcom, which has a market valuation of roughly $222 billion, would need to fork over a substantial premium on VMware's current market valuation of about $40 billion, making it one of the biggest technology deals of the year. It would also be the latest in a series of acquisition moves by Broadcom CEO Hock Tan, who has been on the dealmaking track since taking over his post in 2006.
Since 2007, Broadcom has spent billions on a range of companies geared to beefing up its enterprise datacenter presence, including infrastructure software player CA Technologies (bought for $18.9 billion in 2018), storage networking leader Brocade Communications (bought for $5.9 billion in 2016), and AppNeta for software-as-a-service (SaaS) network monitoring in 2021 (amount undisclosed).
In 2017, Broadcom even tried to buy rival Qualcomm for $105 billion in cash and stock before having that deal blocked by Donald Trump on the grounds that its base in Singapore threatened the U.S. position in mobile chips. (After that, Broadcom moved to San Jose, Calif.)
Drivers of the Broadcom-VMware Deal
For years, Broadcom has been focused on high-speed enterprise chips, including the Jericho2c+, released in 2020. A router chip supporting 400-Gbit/s Ethernet, that 14.4-Tbit/s, 7-nm chip was aimed squarely at the cloud computing market. The Broadcom Stingray SmartNIC, the company's official DPU/smartNIC offering, also was released around the same time.
Meanwhile, VMware, just over a year out from its spinoff from Dell, has also been finding its own path to the DPU/smartNIC market. Since 2020, the company has been focusing an effort called Project Monterey on how its virtualization software can work with DPUs.
In March 2022, senior technical marketing architect Dave Morera described the project as follows:
"Under VMware's Project Monterey, network processes such as network traffic, Distributed Firewall, among others, will be offloaded to the SmartNIC [smart network interface card]; meaning that not only are the resources being bypassed from the x86 server but also the traffic itself. Project Monterey will also facilitate the installation of ESXi and NSX on the DPU itself, and hence, offloading the required CPU resources from x86 to the DPU and not only freeing up resources on x86 for VMs to consume, but also providing an extra layer of security."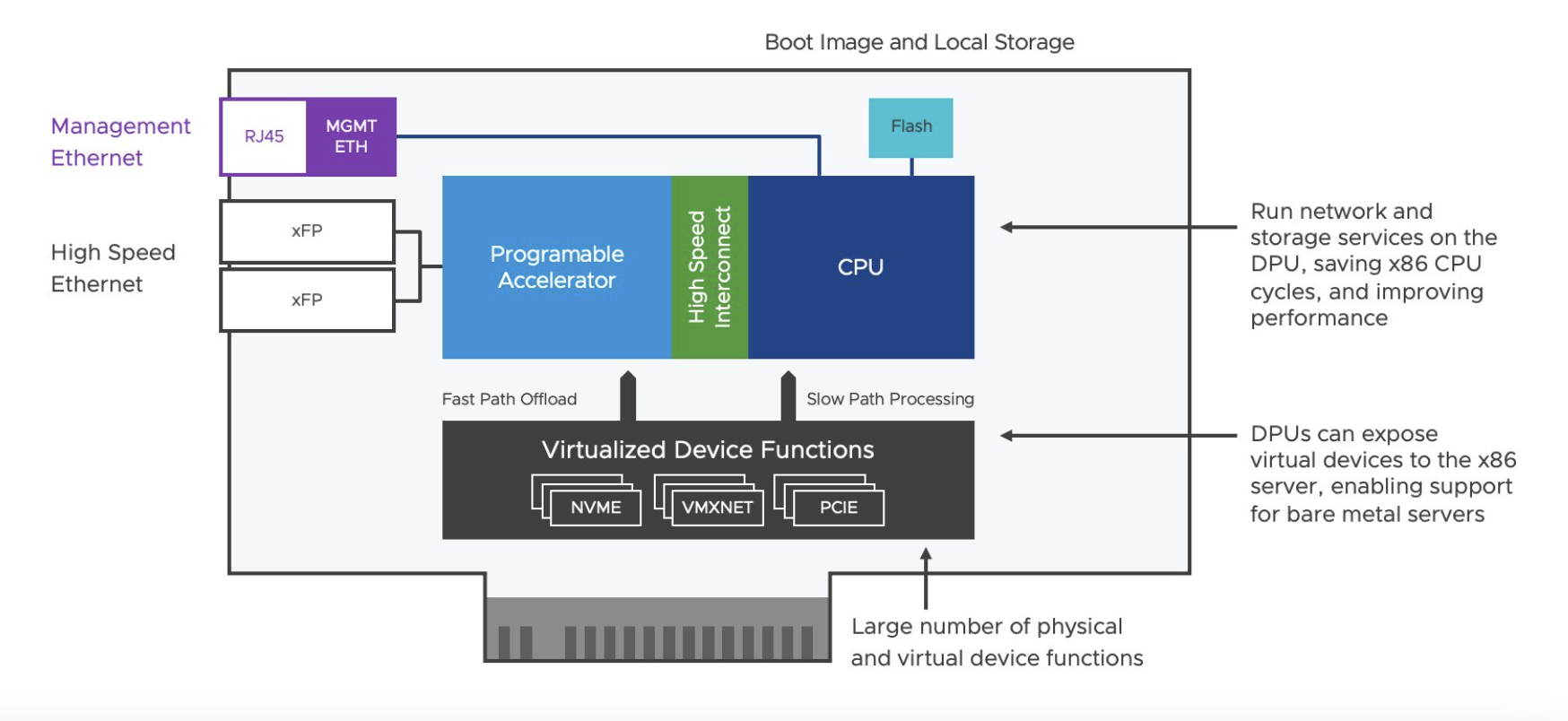 Source: VMware
The wisdom of focusing on DPUs – or more generically, smartNICs -- can't be overstated. The DPU has become a key area of focus for NVIDIA (Nasdaq: NVDA), with its Mellanox BlueField-2 and BlueField-3 DPUs; as well as for rivals Marvell (Nasdaq: MRVL) with the Octeon 10; and Intel (Nasdaq: INTC) with its Infrastructure Processing Unit, among others.
By focusing on DPUs/smartNICs, as well as on the software that enables them, Broadcom could make further inroads into the datacenter market, which is expanding rapidly with the growth of digital transformation. The merger also would be an opportunity to escape some of the pressures of the chipmaking market, which continues to undergo supply chain woes.
Investors are split on the potential for Broadcom and VMware to unite. In morning trading, Broadcom shares were trading at $517.90, −25.28 (4.65%). VMware shares were trading at $113.44, +17.73 (18.52%).