VMware Finally Splits from Dell

In a long-anticipated move, Dell Technologies (NYSE: DELL) has agreed to spin off VMware (NYSE: VMW). The transaction is expected to close by the fourth quarter of calendar 2021, subject to regulatory approvals.
"Establishing ourselves as a standalone company is beneficial to VMware," said Zane Rowe, CFO and interim CEO of VMware, on a conference call with financial analysts last night. "It allows for strategic and financial flexibility, including the ability to extend our cloud and on-prem ecosystems."
Both stocks rallied on the news, with investors hoping that spinning off VMware can unlock some value. Dell shares rose 8.5% to $100.59 and VMware shares were up 3% to $160.43. Both stocks were hitting new 52-week highs on the news.
The broad perception is that since 2016 (when Dell bought VMware parent EMC), Dell's ownership has limited VMware's options to work with other hardware suppliers; has hindered its momentum toward a subscription- and software-as-a-service (SaaS)-based revenue model; and has limited VMware's ability to trade on equity for M&A.
At the same time, Dell too has had some limitations from its ownership of VMware. "By spinning off VMware, we expect to drive additional growth opportunities for Dell Technologies as well as VMware, and unlock significant value for stakeholders," said Dell CEO Michael Dell in a statement. "Dell Technologies will continue to modernize its core infrastructure and PC businesses and embrace new opportunities through an open ecosystem to grow in hybrid and private cloud, edge and telecom."
Dell and VMware Will Sustain Partnership
All that said, executives were clear on last night's call that the two companies will continue their partnership through a specific commercial agreement. Dell will continue all its go-to-market efforts at scale to sell VMware products.
The two companies will continue to sell products such as VxRail, VMware Cloud on Dell EMC, VeloCloud SD-WAN, Digital Workspace, and security solutions together. Existing customer licenses for joint value-added wares will be maintained. And edge and telecom will remain areas of joint research — a significant statement, given the rise of 5G and multi-cloud environments.
Simplified Corporate Ownership
To buy Dell Technologies' stake, VMware will distribute a special cash dividend of $11.5 billion to $12 billion to all VMware shareholders, including Dell Technologies, which will glean about $9.3 billion to $9.7 billion from the transaction. Observers say that could help Dell pay down some of its notorious debt. For the payout, VMware intends to draw $2.5 billion to $3.5 billion from its cash resources as well as a portion from debt, which the company intends to pay off over the next two years.
As expected, Michael Dell and Silver Lake Partners will continue to have large holdings, and Michael Dell will remain chairman of VMware's board. But the ownership structure of VMware will be substantially simpler, as shown in the diagram below: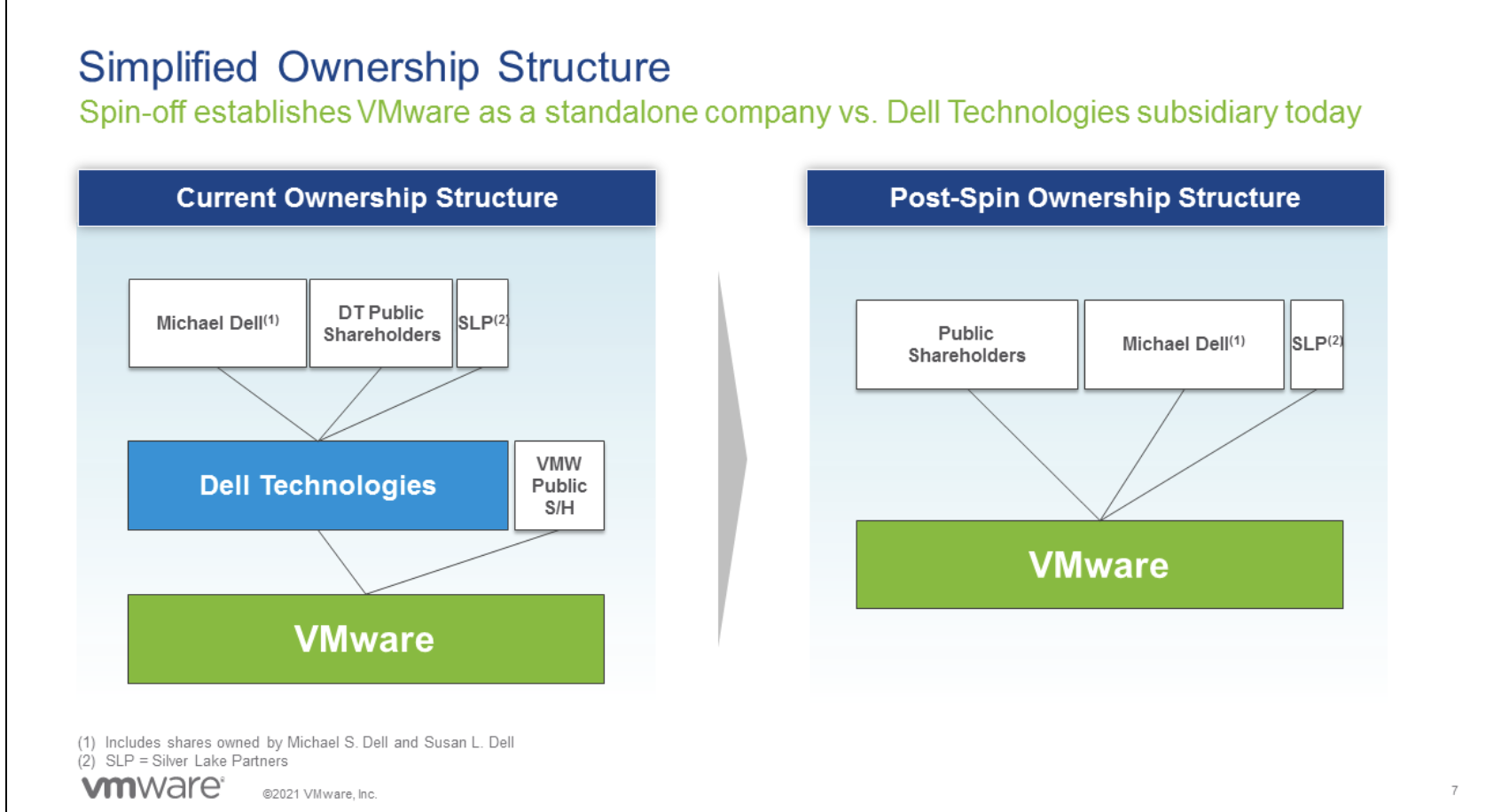 Source: VMware
Simpler Capital Structure
The spinoff also will eliminate VMware's current dual-class stock structure. Its Class B shares, which carried 10 votes per share, will convert to Class A shares on a 1:1 basis with no premium, and all shares will carry one vote. This should help VMware join a range of financial indexes, such as the S&P 500, execs said, and will push it toward maintaining valuable, investment-grade stock.
Cheers for Dell, Questions for VMware
For the most part, last night's news met with market cheers, mostly for Dell, which not surprisingly is seen as the chief beneficiary in the deal. Early today, Dell shares were trading at $96.49 (+3.79, +4.15%). VMware's were down, selling for $153.97 (-1.54, -0.99%).
On last night's call with VMware's Zane Rowe, analysts questioned whether VMware would be able to pay off the debt resulting from the spinoff and still maintain its M&A pace, which has helped to grow the company. Rowe's answer was yes. Indeed, the spinoff has long been seen as a way for VMware gain more equity to trade on for M&A.
Former VMware CEO Pat Gelsinger mentioned this shortly before leaving the company to become CEO of his former employer Intel (Nasdaq: INTC). "I can't effectively use my equity for acquisitions today," he told CNBC last September. "There's a very tight ownership range I have to live inside of." That "M&A aperture," as Rowe terms it, has now widened.
With this spinoff announced if not completed, the way seems open for the next big decision about VMware's future — namely, who will be the new CEO? That and other questions about how this spinoff will affect the competitive landscape, remain to be answered. But one thing is clear: Both Dell and VMware are better off freed from the constraints of their old relationship. It's time for a fresh start.