5G Catalysts: Telco Cloud and Edge Trends 2021

In 2021, deployment of 5G infrastructure and applications is expected to accelerate, demonstrated by the recent hundreds of billions of dollars in capital being pledged to the rollout of 5G infrastructure and services.
When you throw in a macroeconomic recovery, government stimulus, and low interest rates you have the potential for quite the party!

Meanwhile, the arrival of the COVID-19 pandemic has increased the urgency as organizations worldwide recognize the importance of digital infrastructure. Recently, CSPs have demonstrated an understanding of this urgency by stepping up capital spending plans as well as striking deals with large cloud service providers for hybrid edge services that combine the capabilities of cloud data services with communications services.

5G Disaggregation and Virtualization Rule
The development of the cloud edge touches a wide range of industries and technologies, but the most crucial aspect is that it will be enabled by the new wave of 5G wireless infrastructure that has several important technical characteristics:
• 5G infrastructure has a wide range of spectrum features stretching from Ultra reliable and low latency communications (URLLC) to cloud virtualization, with improvements including increased bandwidth, better latency, and more flexible cloud-based management. This will massively expand the market for potential applications and services.
• The next-generation wireless infrastructure is the first to be based on cloud-native design principles and virtualization, fostering integration with a wide range of cloud services – as well as introducing techniques for fine tuning application access and performance using network slicing.
• 5G infrastructure will be more open and "disaggregated," enabling a faster deployment of infrastructure including into new markets such as enterprise private wireless.
All of this infrastructure growth will spur development of the edge infrastructure and ecosystem, as CSPs and cloud providers partner to put the cloud and communications network closer to the customer.

Futuriom has done a full analysis of how the deployment of new 5G networking infrastructure is likely to set off a race for new applications. This report, 5G Catalysts: Telco Cloud and Edge Trends (Cloud Tracker Pro Subscription required) takes a detailed look at new potential applications, services, and business models for 5G infrastructure. The key to its success will be the uptake of new "edge-enabled" cloud-based applications to drive new services and business models. In this report, we will delve into the most promising new edge-enabled services and applications including wireless broadband, streaming media, smart anything (SmartX), retail analytics, connected vehicles, industrial automation, public safety, connected healthcare, augmented reality, and online gaming.
Special thanks to the report sponsors: Arrcus, Ciena, DriveNets, and VMware.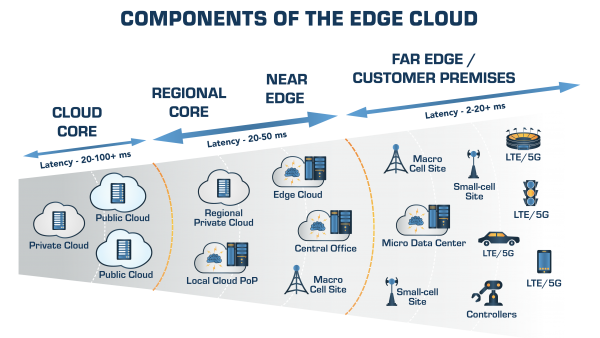 Key Findings and Highlights
• $100+B C-band Investment Drives the Real Year of 5G. After several years of the "Year of 5G," Futuriom believes it's actually happening in 2021. That's because communications service providers (CSPs) and cloud providers are making real investments for hundreds of billions of dollars in the C-band spectrum to roll out 5G and cloud edge infrastructure to support next-generation wireless applications.
• Top 5G Edge Services. The most promising applications and use cases for 5G edge cloud that will emerge from edge cloud from 2021-2025 include wireless broadband, streaming media, cloud gaming, connected vehicles, smart anything (Smart X), immersive experiences (VR/AR), Multi-access Edge Compute (MEC) as-a-service, and private wirelessnetworks.
• Cloud Ecosystems Are Taking Shape and Will Accelerate in 2021. Public cloud providers have stepped up their partnerships with CSPs and technology platform vendors. Partnerships among cloud providers, CSPs, and datacenter providers are starting to accelerate.
• Cloud Players Are Still Favored for Edge. Cloud service providers still have the strategic edge and leverage in providing cloud services ranging from IIoT to cloud gaming. In order to gain market share, CSPs service providers need to focus their monetization strategies in balance with the right cloud provider partnerships to avoid "dump pipe" strategies.
• Architecture Catalysts. The arrival of 5G will serve as a catalyst to accelerate network architectures built on technologies such as virtualization and microservices. This will benefit providers of software virtualization technology and expertise from the cloud, as well as technology vendors focused on service automation, security, and cloud-native architectures.
• Key 5G Edge Platform Features. Cloud technology platforms are migrating toward cloud-native platforms built on microservices that can provide high connection density, security, low latency, low power consumption, high bandwidth, and network slicing.
• Top Technology Beneficiaries. Technology areas that will benefit from 5G deployment include public cloud providers, content delivery networks (CDNs), cloud networking technologies, micro datacenters, Internet exchanges, datacenter hosting providers, smart network interface cards (NICs), edge orchestration, security providers, optical fronthaul, optical backhaul, automation software, edge-compute gear, and edge-data management software.
• Key 5G Edge Leaders to Watch (Public Companies). Akamai (NASDAQ: AKAM), Amazon (NASDAQ: AMZN), AMD (NASDAQ: AMD), AT&T (NYSE: T), Ciena (NYSE: CIEN), Cloudflare (NYSE: NET), Dell (NYSE: DELL), Digital Realty (NYSE: DLR), Equinix (NYSE: EQIX), Ericsson (NASDAQ: ERIC), Fastly (NYSE: FSLY), Google (NASDAQ: GOOGL), IBM (NYSE:IBM), Intel (NYSE:INTC), Microsoft (NASDAQ: MSFT), Nokia (NYSE: NOK), HPE (NYSE: HPE) , NVIDIA (NASDAQ: NVDA) , Qualcomm (NASDAQ: QCOM), T-Mobile (NASDAQ: TMUS), Verizon (NYSE: V) , and VMware (NYSE: VMW).
• Key 5G Edge Leaders to Watch (Private Companies). Many of the companies featured in our recent Futurio 40 report have interesting plays on the cloud edge. Some of the more interesting private companies highlighted in the reprot include Alkira, Arrcus, Aryaka, DriveNets, EDJX, Infiot, Intential, Kentik, Saguna Networks, StackPath, Triggermesh, Vapor.io, Versa Networks, Volta Networks, and Weaveworks.
• Business Challenges. Top concerns in business deployment of 5G services will include integration complexity, cost, expertise in cloud-native architectures, service automation, security, and network availability and resiliency.
Full list of companies profile in the report Appendix:
Public Companies:ADVA (Xetra: ADAG), Affirmed Networks (NASDAQ: MSFT), Alphabet/Google (NASDAQ: GOOGL), Amazon Web Services (AWS) (NASDAQ: AMZN), Ciena (NYSE: CIEN), Cisco (NASDAQ: CSCO), Cradlepoint (NASDAQ: ERIC), Dell Technologies (NYSE: DELL), Digital Realty (NYSE: DLR), Enea (STO: ENEA), Equinix (NASDAQ: EQIX), Ericsson (NASDAQ: ERIC), Hewlett Packard Enterprise (HPE), Intel (NASDAQ: INTC), Metaswitch (NASDAQ: MSFT), Microsoft (NASDAQ: MSFT), MobileedgeX (Xetra: DTE), Nokia (NYSE: NOK), NVIDIA (NASDAQ: NVDA), Red Hat (IMB) (NYSE: IBM), VMware (NYSE: VMW)
Private Companies:Arrcus, Aryaka, Cato Networks, DriveNets, Edgeworx, EDJX, Guavus, Hazelcast, Infiot, Itential, Macrometa, Netfoundry, Netris, PacketFabric, Pensando, Saguna Networks, StackPath, SUSE/Rancher Labs, Swim, Ubiqube, Vapor IO, Versa Networks, Volta Networks, Weaveworks, Wind River, ZEDEDA
This report is part of our annual Cloud Tracker Pro subscription. You can subscribe and download the report by clicking on the button below.