Megaport Partners with Zenlayer

Multicloud networking provider Megaport (ASX: MP1) has joined up with edge cloud service provider Zenlayer to expand the service footprint for both vendors. The strategic partnership will add Zenlayer's 270-odd points of presence (PoPs), which feature heavily in the Asia-Pacific region and in South America, to Megaport's 600-plus datacenter-resident nodes around the world. The vendor says this will result in a combined network of over 800 locations across six continents.
"Together, our global, private software-defined networks (SDNs) now make one of the largest SDNs in the world," state Joe Zhu, CEO and founder of Zenlayer.
MCN Market Demand
The news is interesting on a few fronts. First, it highlights demand for multicloud networking (MCN), which is building as a result of enterprise moves toward use of multiple cloud services and hybrid clouds. Indeed, results of Futuriom's latest survey on the subject indicate high interest among senior IT professionals, as shown in the table below: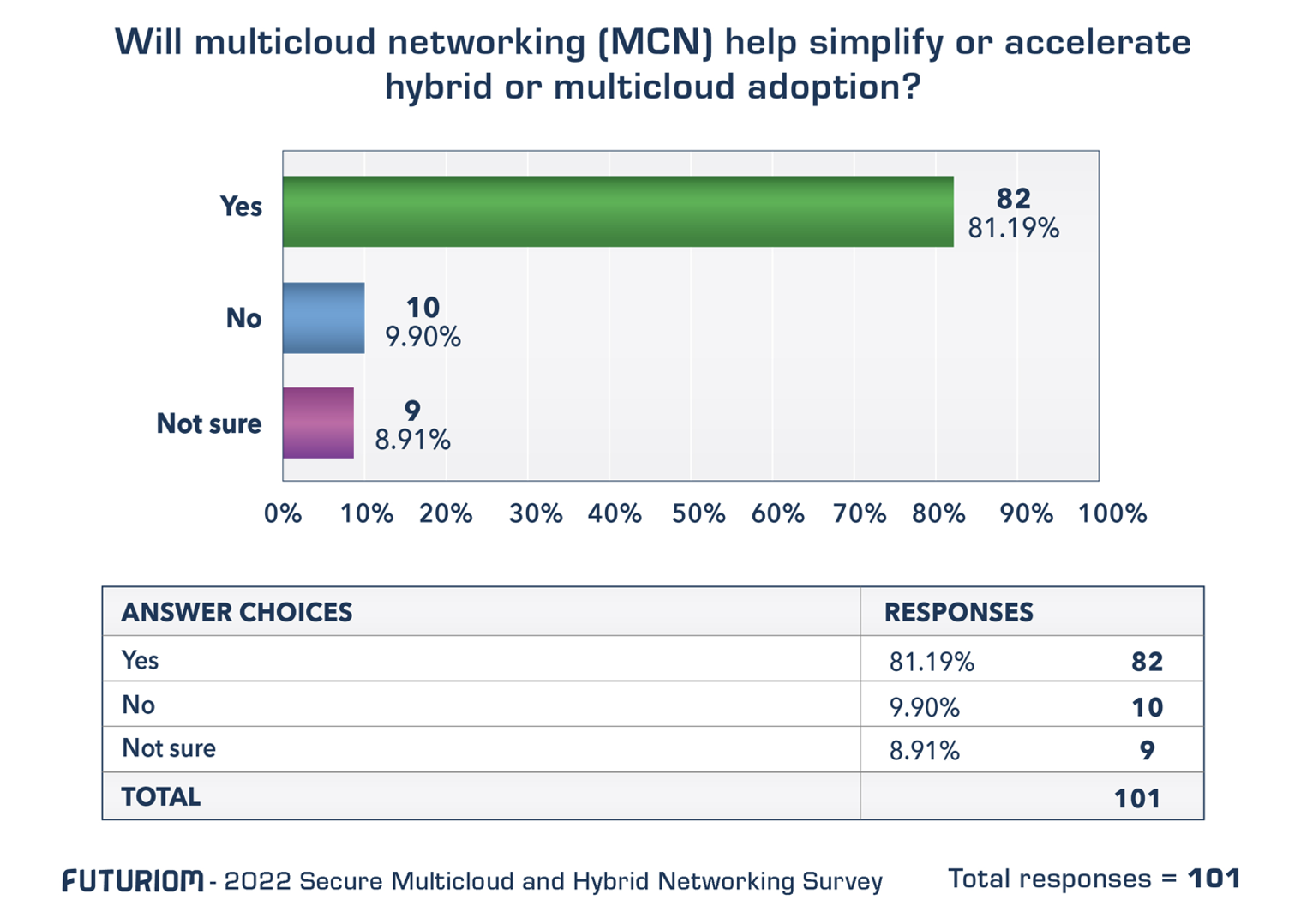 The alliance also shows the trend toward ecosystem partnerships to address the complex issues of MCN. While both parties offer onramp, edge, and connectivity services across multiple PoPs, their particular advantages should boost the fortunes of both.
Two Are More Than One
Megaport, a publicly held firm founded in 2013 and based in Brisbane, Australia, has made its name as a network-as-a-service provider, offering software-based orchestration of connectivity among public clouds. It also supports connectivity via software-defined wide-area networking (SD-WAN) services as part of a Megaport Virtual Edge service. Datacenter provider Digital Realty (NYSE: DLR) has a small stake in Megaport and has partnered with the NaaS provider to offer interconnection alternatives to the public Internet.
Zenlayer, founded in 2014 with headquarters in Los Angeles, Singapore, and Mumbai, has built a reputation for edge services, including accelerated content delivery and bare metal, all designed to reduce latency for enterprise applications. The startup, which has raised over $100 million, connects to major public cloud providers as well as to Cloudflare's (NYSE: NET) network. It also is known for its strong presence in China, India, Southeast Asia, South America, Russia, and Africa – areas where Megaport has yet to establish key footholds. Zenlayer also has a relationship with datacenter providers CoreSite and Equinix (Nasdaq: EQIX), and in September 2022 it announced an interesting alliance with Southeast Asia telecom provider Telin to offer digital services over subsea cables for hyperscalers, carriers, and large enterprise customers.
The combination of Megaport's and Zenlayer's networks should bolster Megaport's PoP presence in growing markets while introducing Zenlayer in areas where it hasn't gone before. And, though both companies offer edge capabilities, Zenlayer's focus on edge services could add to Megaport's offerings in that department as well.
Questions Raised
There are a couple of questions raised by this alliance. The first is how services will be billed and supported. A spokesperson says billing for now will remain separate, indicating that support will as well.
Other questions pertain to Zenlayer's relationships in China. The company has investors in China and partners with China Unicom and China Telecom. This may or may not limit the abilities for customers in the U.S. to use the network services provided by either Megaport or Zenlayer, given various regulatory requirements for data management.
Still, the expansion of capabilities for both Megaport and Zenlayer seems compelling and points to a wider issue of empire building among significant MCN players.