Aviatrix Pairs with Equinix at the Network Edge

Aviatrix is collaborating with Equinix (Nasdaq: EQIX) to offer secure, edge-powered multicloud networking and control across over 25 Equinix points of presence (PoPs) worldwide at speeds up to 10-Gbit/s.
The arrangement could be big news for enterprises seeking ways to govern their multicloud and hybrid cloud networks securely and with optimal performance. The deal also should benefit both vendors as the market for multicloud networking (MCN) heats up.
Aviatrix Pushed to the Edge
Key to this announcement is its focus on the edge. Aviatrix, which has pioneered MCN technology for many largescale enterprises looking to support a mix of on-premises cloud resources with AWS, Microsoft Azure, and Google Cloud Platform, among other cloud environments, will provide an Aviatrix Edge solution, apparently a new product, as a "device" on Equinix's Network Edge. From the Equinix side, Network Edge is a platform that provides edge networking services within the Equinix Fabric that supports Equinix's International Business Exchange (IBX) datacenters.
An Aviatrix spokesperson describes the deal this way:
"[T]his is an IaaS [infrastructure-as-a-service] solution for Equinix customers that makes it easier to quickly push their cloud-operating model (automation, visibility, trouble-shooting, etc) to the edge (Equinix DataCenter) via Aviatrix. It is for customers that pay Equinix for shared compute at an Equinix location that is then managed and supported by Equinix personnel like a CSP [communications service provider]. Aviatrix has now released our functionality in this Equinix Network Edge marketplace of common offerings to be procured to run in these instances.

In an Equinix blog, Mason Harris, Equinix's Principal Product Manager, Network Edge, states:
"Most enterprises today have both on-premises and cloud infrastructure, work with more than one cloud provider and operate across multiple geographies. They're constantly building new applications that need to be able to traverse multiple clouds around the world seamlessly. To succeed with hybrid multicloud, you need a network infrastructure that enables an uninterrupted flow of data between clouds, as well as connection to components such as SD-WAN gateways, distributed firewalls, load balancers and other virtual network devices."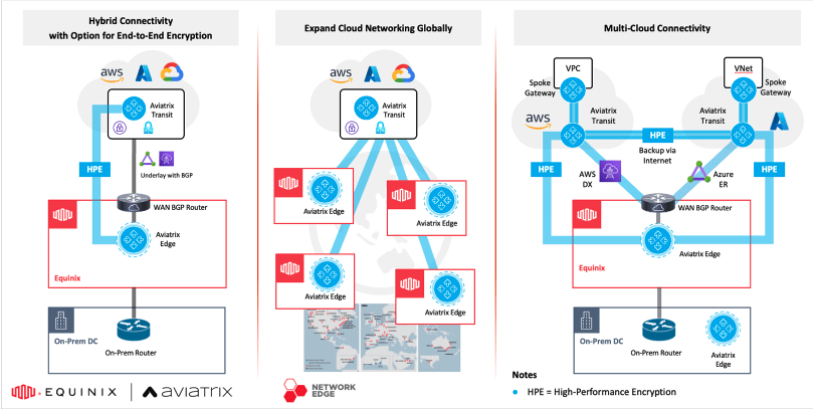 "Aviatrix Edge on Network Edge." Source: Mason Harris, Equinix
Equinix aims to provide that underlying infrastructure over which Aviatrix Edge can deliver encrypted connections to multiple clouds.
Why This Matters
The combination of Aviatrix and Equinix edge technologies streamlines the underlying infrastructure on which Aviatrix operates. Compared to telecom infrastructure, that should result in dramatic time savings and amplify operational effectiveness.
To highlight the point, Aviatrix and Equinix present a joint customer, Jim Setty, Network Architect at Masco Corp., a U.S. manufacturer of home improvement and building products. Setty said in the press release:
"We are all in on cloud for the agility and speed, but native cloud networking was a challenge we needed to overcome. It was like we went from a full box of crayons on-prem to a couple of broken up sticks of colored wax in the cloud. Aviatrix was the answer to those challenges. Now, as a result of this collaboration, we have seamlessly extended our Aviatrix cloud network and network management with the global reach of the Equinix platform."
The edge combo should also boost Equinix's ability to offer MCN support to an increasing number of customers with hybrid cloud networks – customers who may have decided to forgo sticking with a single vendor such as AWS, Microsoft Azure, or Google Cloud Platform for distributed or hybrid cloud support. After all, why risk so-called vendor lock-in when you can create your own multicloud network over Equinix Fabric?
Other MCN Infrastructure Solutions
The Aviatrix Edge on Network Edge solution is yet another development in an ongoing trend among real estate investment trust (REIT) service providers to support MCN. Equinix rival Digital Realty (NYSE: DLR), for example, offers ServiceFabric Connect augmented by virtual links based on services from Megaport. (That network-as-a-service [NaaS] provider touts its ability to help manage MCN costs as a key differentiator from Equinix.)
Other datacenter service providers are joining the MCN fray. In June 2022, Arrcus allied with datacenter service provider CoreSite to add Arrcus' Connected Edge Multi-Cloud Networking (ACE MCN) platform to the CoreSite Open Cloud Exchange (OCX) service. Again, the goal is to add high-speed virtual MCN capabilities to datacenter interconnection facilities.
Two Top Players
While part of a trend, the status of Aviatrix as a key MCN startup in the field, along with Equinix's leading position in the datacenter/interconnection markets, makes this a significant announcement. It also heralds a specific focus on the edge by both companies.
Aviatrix says the deal with Equinix is not exclusive, though other partnerships aren't yet in the pipeline. And as Equinix expands its Network Edge PoPs beyond 27 or so, Aviatrix will be included in the extended network. As to support, both vendors will support their respective technologies, with direct connections between support teams.
The Aviatrix Edge on Network Edge solution is set for delivery in mid-December, the vendors said.