How Anthropic's Massive Funding Impacts the Cloud

News this week that startup Anthropic raised $450 million in Series C funding highlights the strengthening ties between major enterprise cloud providers and generative AI companies.
Generative AI is, of course, the talk of tech, with its ability to generate text, images, and more from natural language. Its growing significance, along with the massive amount of computing required to create and sustain models, has cloud providers scrambling to create their own generative AI tools, to add processing power to their services, and to forge alliances with the most innovative AI startups specializing in generative modeling. Given robust market predictions, providing even a slice of the enormous resources required by generative AI could be game changing for the cloud hyperscalers. And that's in addition to benefiting from offering the technology in specific services.
Anthropic, along with OpenAI (more on that momentarily), is leading the charge in cloud partnerships. Its latest funding, which brings its total raised to a breathtaking $1.45 billion, was led by Spark Capital and included participation from Google and Salesforce Ventures, along with Sound Ventures and Zoom Ventures, among others.
Particularly notable is Google's contribution, which is one of at least two that company has made to the startup. Late in 2022, Google reportedly invested $300 million in Anthropic, taking a roughly 10% stake in the company. That investment, made by Google Cloud (though parent company Alphabet is also likely to benefit from a relationship with Anthropic), was reported in the Financial Times but was otherwise not publicized. Google has also been named as Anthropic's "preferred cloud provider."
Salesforce, another Anthropic investor, has also incorporated Anthropic's technology into its Slack messaging application for use on its cloud-based services. Salesforce Ventures also has invested in several other generative AI startups, including Cohere, Hearth.ai, and You.com.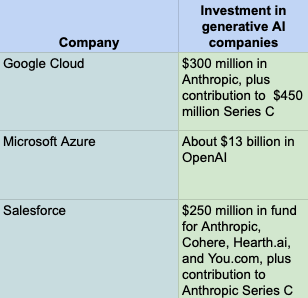 Other Cloud Alliances

Anthropic's cloud alliances echo the major investment Microsoft has made in OpenAI, whose ChatGPT model helped launch the current craze when it was released to the public in November 2022. Microsoft reportedly has spent $13 billion on funding for OpenAI and has become the startup's exclusive processing platform. Microsoft is also busy incorporating OpenAI into its product lineup, starting with Azure OpenAI Service. Microsoft reportedly plans to extend the technology into nearly every area of its offerings.
All of this activity prompts questions about what investments AWS may make. So far, the cloud market leader hasn't funded any startups, but its recently announced Amazon Bedrock suite is set to incorporate foundation models from Anthropic, AI21, and Stability AI, along with a series of models named Titan developed by AWS. AWS also is releasing EC2 instances called EC2 Inf2, which equip the provider's compute instances powered by AWS Inferentia2 chips. These AWS-designed chips are meant to accelerate the processing-intensive workloads associated with generative AI applications. AWS also is offering instances based on its Trainium chips and will work with NVIDIA to provide more AI infrastructure.
AWS's adoption of Anthropic is a further indication that the startup is clearly positioned to play a dominant role in the rising market for stable and "safe" generative AI applications for enterprise customers. What that role may lead to is still unclear, but the process will be exciting to watch.