Guavus Releases New Analytics for Service Providers

Guavus, a business unit of Thales (Euronext Paris: HO) has released new software aimed at making mobile, content, and telco service environments more cloud-friendly and edge-efficient.
Dubbed Guavus-IQ, the new solutions use artificial intelligence (AI) to derive real-time, actionable information from the masses of network management systems, operational reporting systems, equipment management systems, and service-specific databases residing on provider networks. As one Guavus spokesman put it, Guavus-IQ grabs the pins out of multiple haystacks.
That's a task that's getting more important as service providers ramp up their 5G wireless networks and add remote access, Internet of Things (IoT) gear, and customer-facing applications at the network edge. If played right, for companies like Guavus that are familiar with the complexities and scale of carrier networks, it just might be a perfect storm.
Guavus Analytics Cover Operations and Subscriber Data
Guavus-IQ has two parts — both of which run in servers at the edge or core of the network, linked into private or hybrid clouds and any associated data lakes or warehouses. The first is Ops-IQ, which ingests data from hundreds of sources to identify faults, prioritize or de-prioritize alarms, reduce "noise" caused by routine maintenance, detect abnormal devices and traffic anomalies, analyze router behavior, and track other aspects of network operations.
A second solution, Service-IQ, monitors customer behavior, tracks device usage, analyzes audience statistics and traffic distribution patterns, identifies changes in customer location, and tracks marketing campaigns, among other subscriber-oriented tasks -- as shown in the diagram below (Source: Guavus):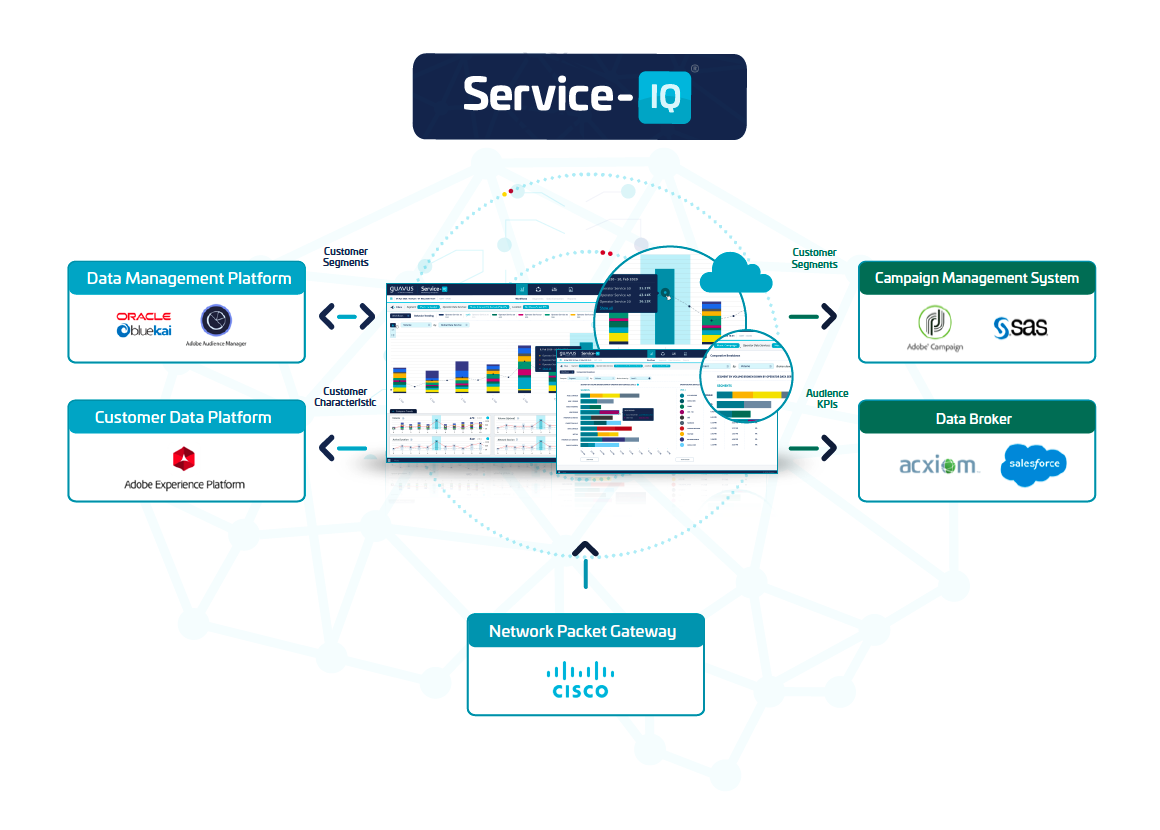 Guavus Leverages Telco Customization Backstory

The technology on which Guavus' new solutions are based has already been in use in other communications service provider environments, including those of Comcast (Nasdaq: CMCSA), Charter Communications (Nasdaq: CHTR), India's Reliance Jio, Germany-based Unitymedia, and Verizon (NYSE: VZ). Creating and packaging a streamlined and efficient version with fresh features, open APIs, reduced edge latency, and added intelligence grew out of events over the last couple of years.
Guavus was founded in 2006 with a charter to create AI-based analytics to fit the requirements of specific communications service providers, whose networks are notoriously complex. Thales, a French company that sells equipment and services across industries like aerospace and defense, acquired Guavus in 2017 to advance its own data analytics efforts. Then, in January 2019, Guavus in turn acquired SQLstream, an analytics company whose specialty is real-time streaming analytics from IoT and other edge devices and applications. Finally, in April 2019, Thales folded Guavus and newly-acquired Gemalto, a premiere supplier of mobile SIM cards and other security components, into its Digital Identity and Security Group. Under this umbrella, Guavus created a more efficient, repeatable product out of its customized solutions.
Guavus Heads Into Growing Field
The Guavus-IQ series isn't coming to market a moment too soon. Competition is building in many areas. Teoco, based in Fairfax, Virginia, has a considerable presence among service providers looking for networking analytics. And though marketed as enterprise solutions, the products of San Francisco-based Moogsoft also compete with Guavus for mobile and content provider deals.

Service providers also are reaching for platforms from companies like Splunk (NASDAQ: SPLK), as well as a roster of vendor-specific solutions from equipment players such as Ericsson (Nasdaq: ERIC) and Nokia (NYSE: NOK). And large mobile, telecom, and content providers are moving aggressively to add more AI to their networks — as evidenced in recent news of an alliance between IBM (NYSE: IBM) and Verizon Business.
Since most service providers carry solutions from many suppliers, Guavus is likely to find revenue openings despite all the competition. Still, Guavus maintains that its sharp focus on service providers, especially in the mobile sector, will help it in the longer term to shoulder aside players with broader ambitions. That seems a reasonable hope for Guavus, since the market forces that brought the company this far are only getting stronger.