Telcos Tout Automation Progress at MEF

LOS ANGELES -- For those tracking the evolution of cloud-scale and telecommunications technologies, the progress in the telecom network has been painfully slow, in part due to major complexity. That appears to be changing as leading service providers report progress in the "cloudification" or virtualization of their networks here at the MEF18 Event.

If you think that service-provide technology integration issues don't effect you, think again: Fancy next-generation services such as hybrid cloud, software-defined wide-area-networking (SD-WAN) services, and 5G for both the consumers and enterprises will require bulletproof networks that can share service characteristics, provisioning, and monitoring data across different service-provider domains.
The Standards Start Here
The MEF, a standards organization that hosts this conference targeted at service providers, has been driving standardization of cloud-based application programming interfaces (APIs) and interoperability between service providers. They are contributing to efforts from additional network-focused standards organizations such as the TMForum.
The MEF has been pushing its 3.0 framework, which is a collection of APIs with fancy Italian names as well as arcane acronyms such as Sonata, Presto, and Lifecycle Service Orchestration (LSO). The details aren't super important unless you are a network engineer. The main thing to know is that as service providers adopt these APIs, they can share important networking provisioning and service assurance data across their networks.
Some of the progress cited in the virtualization of service provider networks includes the rollout of software-defined wide-area networking (SD-WAN) services, which enable enterprise customers to add many services from the cloud using an industry-standard access devices and virtual network functions (VNFs) created in the cloud, the buildout of next-generation mobile services including 5G using a virtualized, cloud-based evolved packet core (EPC) platform, and automated provisioning services that can enable customers to create their own global circuits across multiple service providers, using Web interfaces.
Service provider speakers are optimistic about progress, but they describe remaining challenges of the mission. Some service providers are still reluctant to open up their networks to others, and yet others are frustrated by vendors that are moving too slowly to open up their systems.
"We need to work together to solve for easier integration," said Viraj Parekh, Executive Director, Global Product. " We need to coalesce around building standards for interoperability."
Roman Pacewicz, Chief Product Officer, AT&T, reaffirmed this attitude in an industry panel.
"Our industry is going through a lot of transformation and it's more important than ever that we come together and figure out how to be more efficient together," said Pacewicz.
Prepping for 5G
Service provider integration will key to allowing enterprises worldwide to further leverage cloud technology in digital transformation, said many of the service providers here. They also see it as critical to the success of 5G mobile technology, which will make bandwidth even more plentiful to drive more data-hungry applications.
Pacewicz points out that with the arrival of 5G, the density of devices and speeds will increase by a factor of 10 to 1.
For those not familiar with the core infrastructure of service providers, these advanced technologies can be complex to connect, or "orchestrate" across multiple providers and technology platforms. For example, imagine an augmented reality device such as Microsoft's Hololens that needs share low-latency data with the cloud to produce imagery or visual analytics. The connectivity needs to be managed and optimized across multiple networks and clouds to ensure that the application works.
One example here at the show was a "proof of concept" (POC) demonstrating how a augmented reality demo titled "Blade Runner.' This POCs uses APIs from the MEF and TM Forum to enable a worker with an augmented reality service to monitor construction services using Caterpillar equipment with real-time data feeds.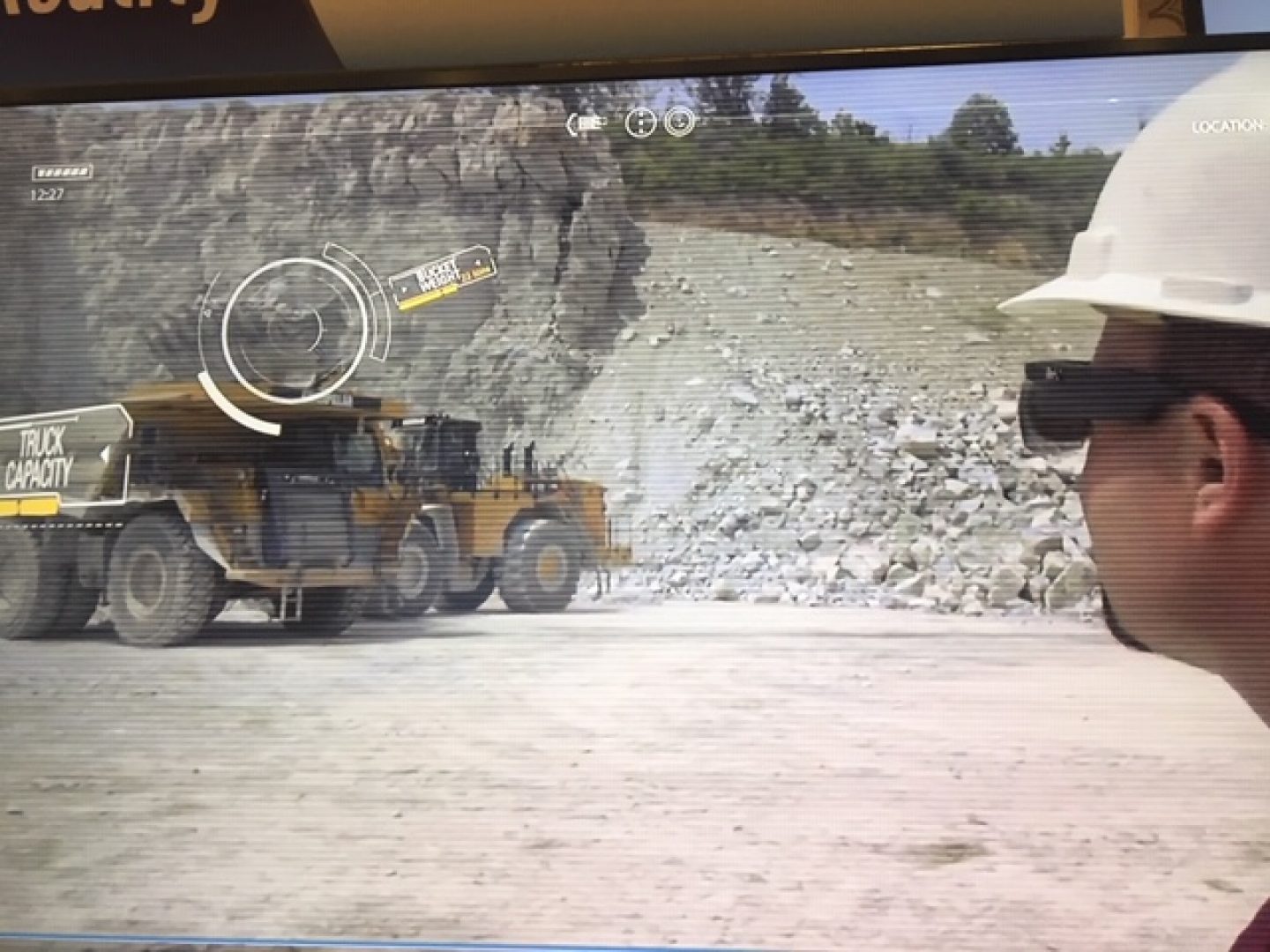 In another example of a POC partnership, Telus, Singularity Networks, Sandvine, and Nokia demonstrated a "self-optimizing" network that could manage the quality of a video service running across multiple providers
To understand the complexity need to integrated services among multiple service providers, take a look at the diagram below which describes the APIs and network connections for another POC across four provider networks: TATA, Sparkle, Equinix, and Liquid. In order to set up the connection and provide quality and service and monitoring of the network services across providers, this demos used variety of APIs including the MEF's Cantata, Sonata, Legato and Presto APIs. This complex service enables the provisioning of virtual services from the cloud.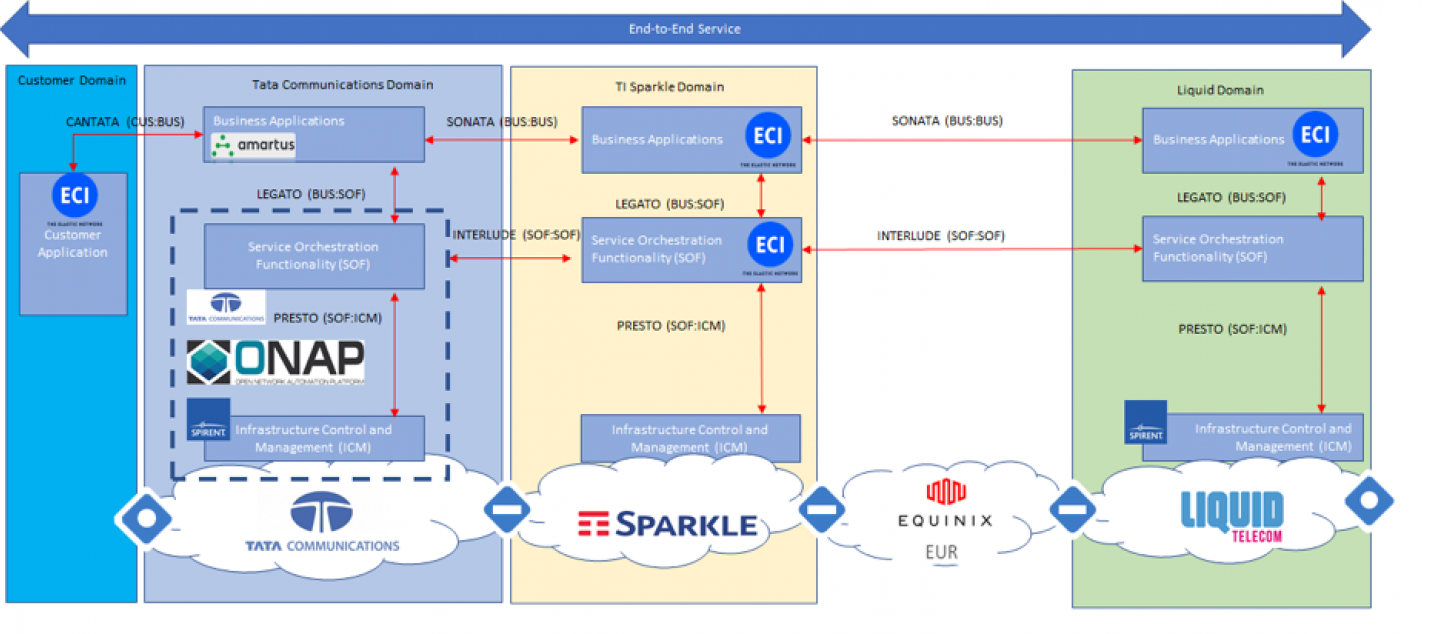 While there's been frustration with the service-provider industry as we await their networks to catch up to the cloud, it's clear they are working hard to this end. As an analyst coming to the MEF shows for more than a decade, I saw more concrete more adoption of cloud technology and network interoperability features than I've ever seen before.