Survey: Pandemic Drives Digital Transformation

Despite substantial challenges, the Covid-19 pandemic may have brought IT decision-makers to a watershed moment in their digital transformation plans.
That's a central conclusion of the most recent annual digital transformation survey of 450 IT decision-makers, or digital architects, by Couchbase, a Futuriom 40 company. The findings also reveal that IT has been under considerable pressure not just to maintain services during the pandemic but to press on with innovation in spite of it. This has brought major challenges into sharp focus, data management being one of them.
IT Plans Are Stalled, Not Stopped
The Couchbase survey shows the Covid-19 pandemic has been a double-edged sword for IT. Digital transformation plans have been stalled, but the pressure is on to get them going despite the odds.
To wit: Couchbase says a similar survey in 2019 showed that 78% of respondents in the U.S. and Western Europe reported they had gone beyond the planning phase in shifting to cloud-native environments and were delivering them. In contrast, just 48% of respondents could report delivery in 2020.
Meanwhile, a full 69% of survey respondents in 2020 reported having to make "noticeable" or "major" changes to their digital transformation plans as a result of the pandemic, and 8% had to scrap their original plans and go back to the drawing board.
At the same time, the pressure to deliver digital products has soared. In 2019, 19% of respondents to Couchbase's survey reported feeling under high or extremely high pressure to deliver projects, compared to 48% in 2020, as shown in the chart below. And all of this is happening even as IT budgets have not risen substantially from 2019.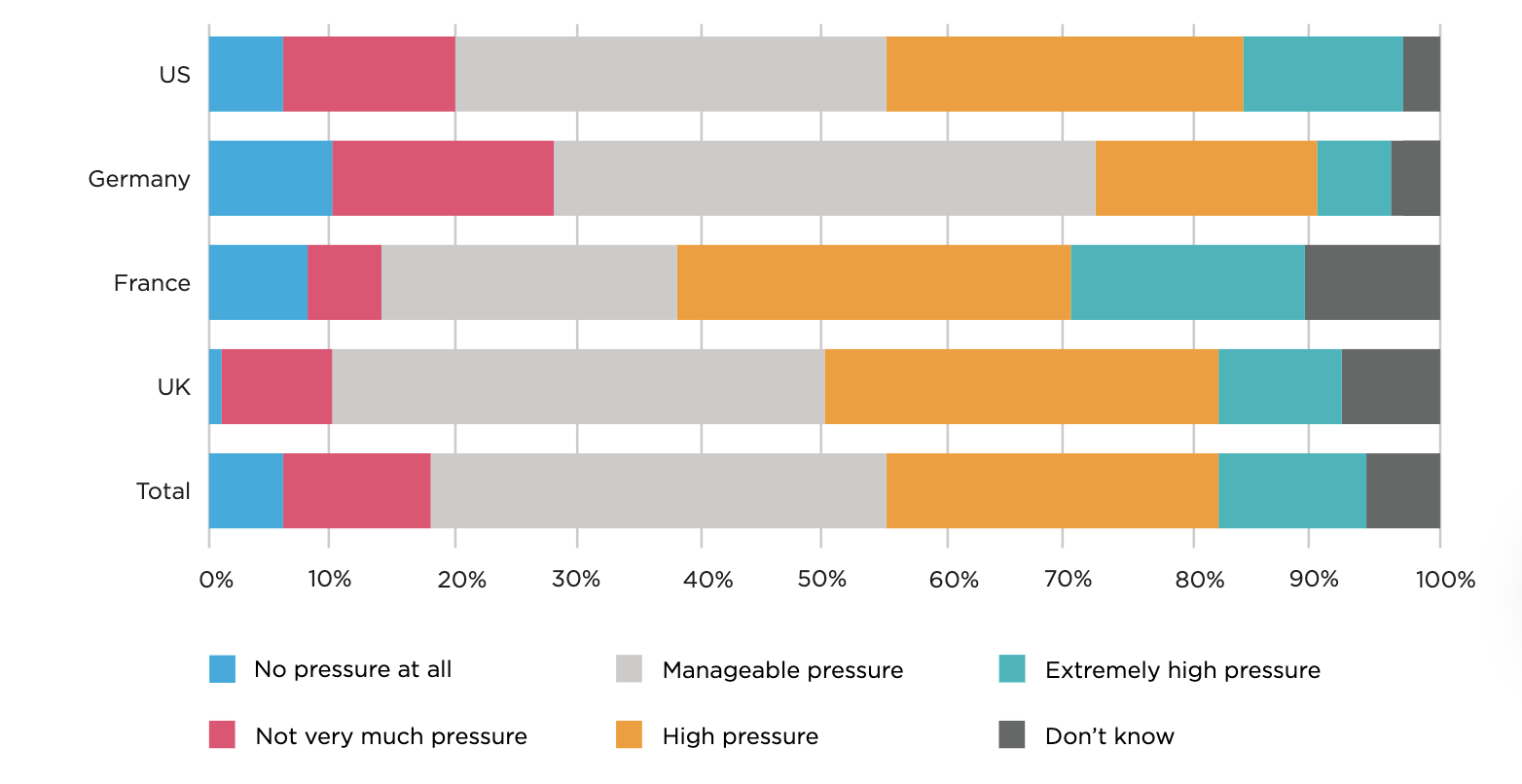 Pressure currently put on the IT team by the rest of the organization to deliver digital projects, by location. Source: Couchbase.

Given the obstacles posed by the pandemic, it seems logical to assume that it's no-go for digital projects not related directly to supporting remote work and other efforts to keep business moving. But Couchbase reports that "projects driven by innovative ideas from within the business" jumped from 8% in 2019 to 14% in 2020. Couchbase takes this to suggest "that we may have passed a watershed moment for truly creative digital projects."
IT Names Chief Drivers, Obstacles to Cloud
The idea that a watershed has been passed is demonstrated by how IT respondents to the Couchbase survey remain committed to cloud in spite of the pandemic's pitfalls: 80% reported that moving to a hybrid or multi-cloud environment has helped them meet digital transformation goals; for 41%, it has proved "significant" or "indispensable."
Indeed, a plurality of those surveyed (68%) say cloud computing will be the most likely technology to effect digital transformation, followed by big data analytics (59%). Automation, mobile applications, and artificial intelligence are also considered factors, as shown below: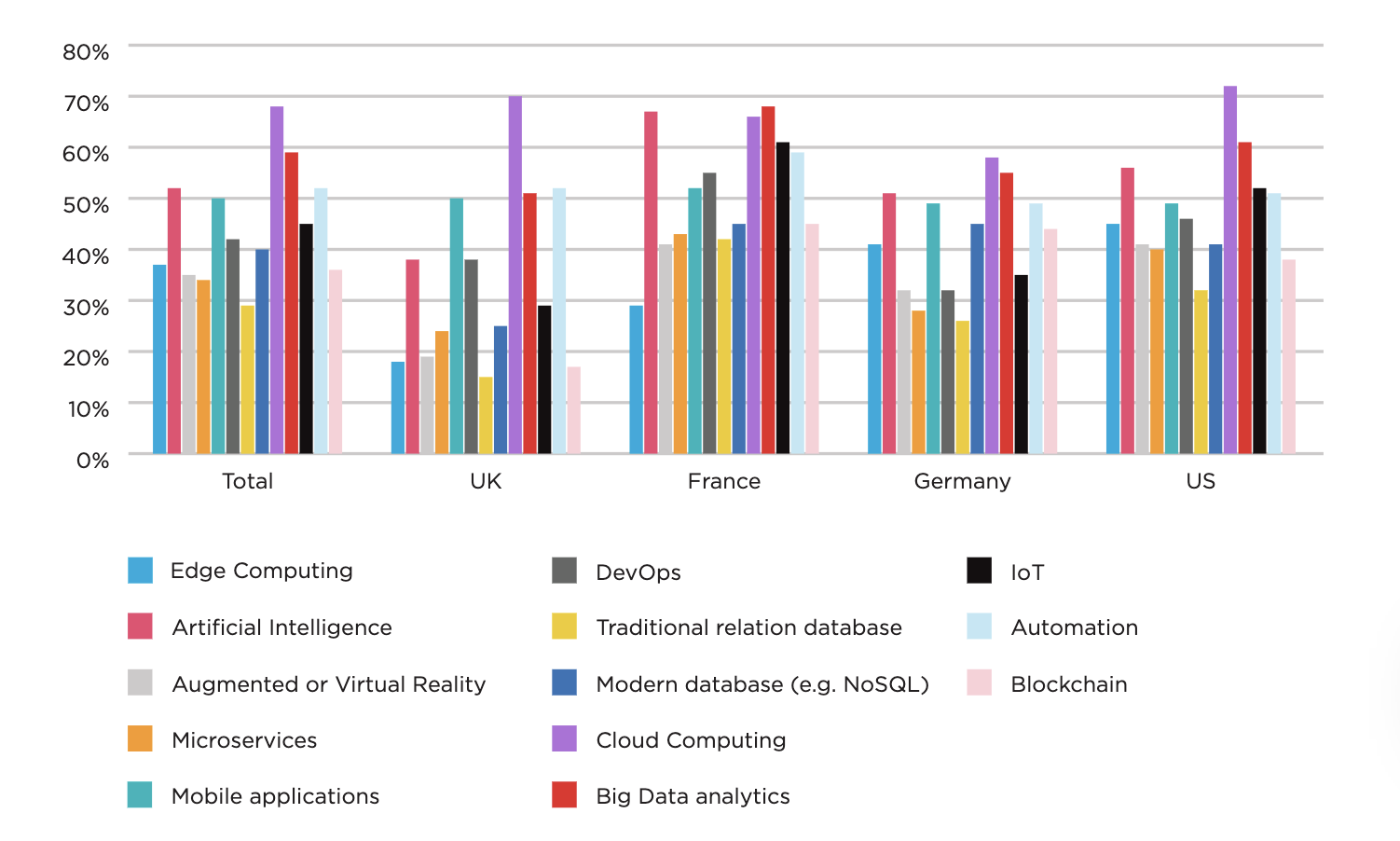 Technologies having major potential to effect digital transformation efforts in the future. Source: Couchbase.
Deterrants to Cloud Computing
Despite the popularity of cloud, though, IT decision-makers still have reservations about cloud environments. Following are concerns listed by percentage of respondents to the Couchbase survey:
Security — 62%
Keeping costs under control — 40%
Ability to meet future needs — 39%
Ability to scale to meet demand — 38%
Clarity around pricing — 30%
Avoiding vendor lock-in — 26%
Databases Scrutinized
Another issue about cloud is how to actually get there. Not surprisingly, Couchbase, which offers a distributed NoSQL database, stresses the central importance of data management — specifically, the kind of database used. And the vendor highlights overall findings that indicate respondents view NoSQL data handling as more significant to the future of cloud computing than mainframe-based relational databases.
Still, though 29% of those surveyed think relational databases have the power to drive digital transformation, a full 91% report still relying on them, and 31% rely on them heavily. Companies have invested for decades in relational databases and the skills needed to manage them. And for many, those data stores contain the crown jewels of corporate information.
For Couchbase, the kicker is this: Of those using relational databases, 61% say their reliance on them is holding back their transformation projects. So 60% have been reducing their use of relational databases over the last year, and 64% plan to reduce their reliance over the next 12 months, as shown in the chart below: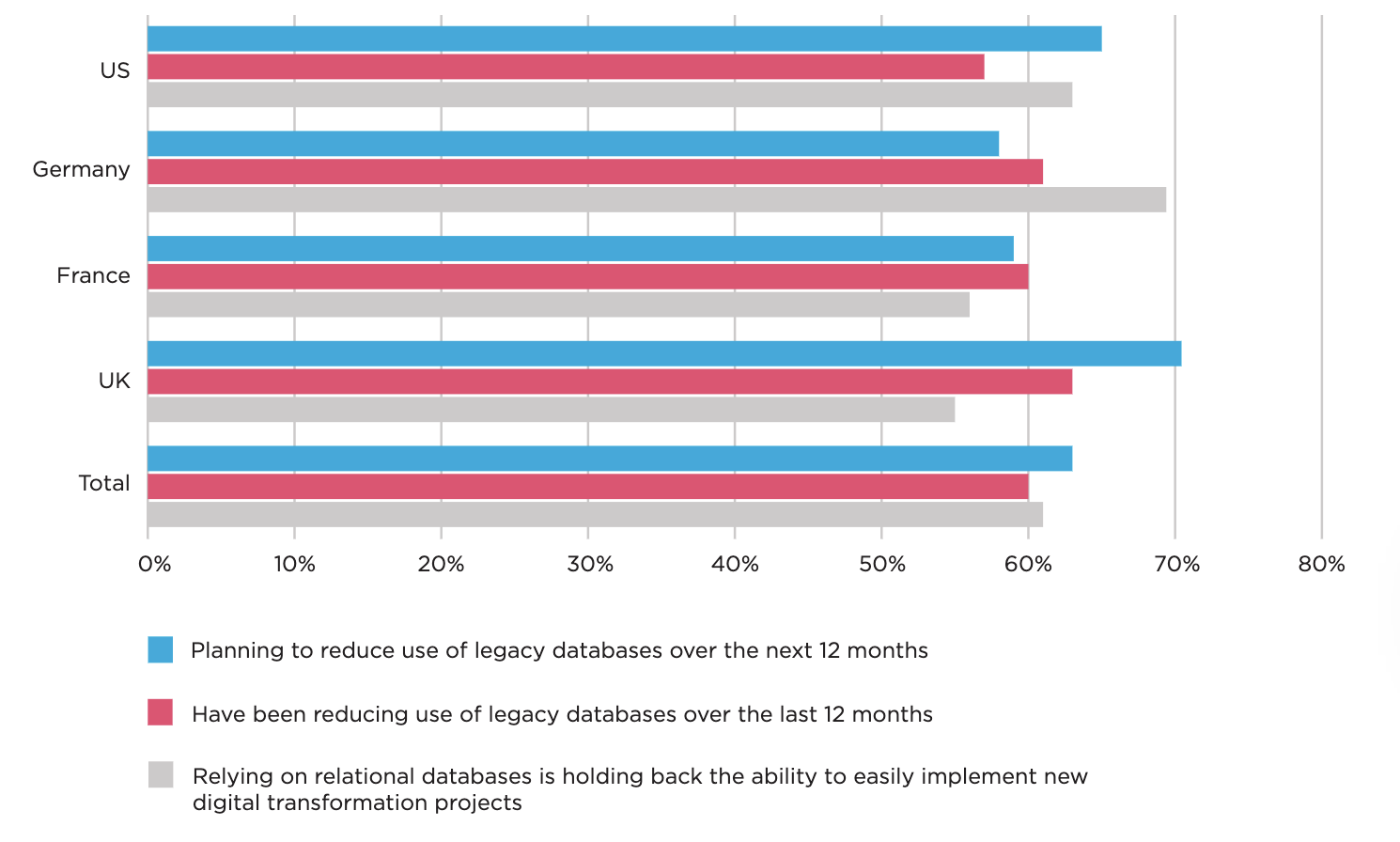 Attitudes toward relational databases. Source: Couchbase.