Cloudflare Takes Aim at Digital Divide

Cloudflare (NYSE: NET) is taking aim at the Digital Divide between those with Internet access and those without, offering a plan to provide small, community-based networks worldwide with secure connectivity. In return, the network-as-a-service (NaaS) provider just might expand its own network.
Cloudflare has launched a project aptly called Pangea (evoking the image of a world without divisions), which allows grassroots community or nonprofit networks to link to the Internet without having to pay costly fees to Internet service providers (ISPs). Presently, Cloudflare's network serves 200 cities in 100 countries, and the vendor claims to link to over 9,500 cloud services, ISPs, and enterprises around the world.
"Safe, reliable, and sustainable Internet access is a basic human right," said Matthew Prince, co-founder and CEO of Cloudflare, in a release. "Unfortunately, many communities are building their own infrastructure only to be blocked by high bandwidth costs. We want to help where we can–if they've already built the connecting roads, we want to offer our network as the safe, accessible highway to the global Internet."
That's a laudable mission. But those connecting roads CEO Prince refers to could be a reward for virtue. Communities and organizations that have created their own broadband facilities provide fiber or wireless access to areas that are off the grid for Internet providers. By tapping into Cloudflare's global Anycast network, grassroots groups form new links that could ultimately serve as additional pathways to Cloudflare points of presence (PoPs).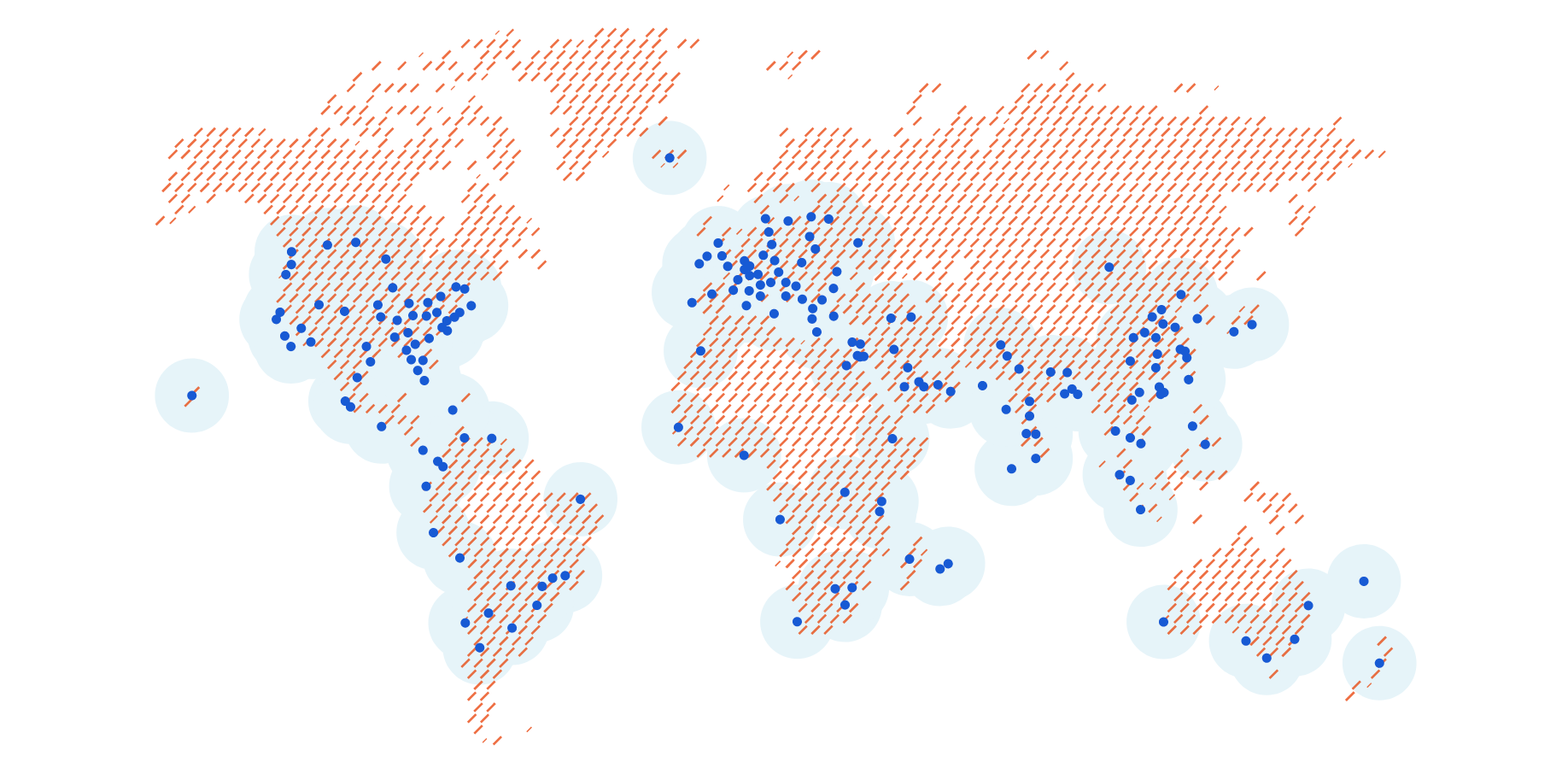 Cloudflare's global PoPs. Source: Cloudflare

Closing Internet Gaps
Cloudflare quotes the World Economic Forum's (WEF's) estimate that 45% of the world's population still lacks Internet connectivity. Even in developed nations, about 19% of the population lacks Internet. In the U.S., for instance, the WEF states that 6% of the population, or 21 million people, lack Internet connectivity. In developing nations, 53% lacks connectivity; in underdeveloped countries, nearly 80% live without it.
The nonprofit Internet Society estimates that the COVID-19 pandemic in 2020 increased the urgency of providing Internet to all. During the lockdowns, Internet usage rose 70% as people turned to remote work, entertainment, and online links to family, colleagues, and medical professionals. In the U.S. and Europe, broadband use increased 47%.
All this has pushed efforts to close the Digital Divide. Recent growth in government subsidies is helping fund Internet projects in the U.S. And worldwide, the Internet Society continues to work toward helping individual communities and nonprofit organizations get online.
But affordability remains an issue. ISPs often refuse to run services to rural areas where population density – and therefore profit potential -- is sparse. Worse, they have tended to charge higher prices in rural areas. And the Biden administration has stated that Americans pay too much for the Internet, leading to a situation where even in areas with service, some citizens can't afford to pay ISPs.
Cloudflare to the Rescue
Enter Cloudflare, which proposes to extend its services wherever possible to deliver secure Internet connectivity to small networks, something the company's well prepared to accomplish.
Cloudflare started life as a content delivery network competing with the likes of Akamai (AKAM), Fastly (FSLY), and Limelight Networks (LLNW, formerly CenturyLink). But, like those rivals, it has morphed into a cloud-native edge service. Cloudflare deploys software-defined wide-area networking (SD-WAN) and provides security, performance, and management features through a common interface. Among the company's claims is the ability to offer zero-trust security and traffic optimization via its Cloudflare Network Interconnect, Magic Firewall, and Magic Transit services.
Organizations hoping to tap into Cloudflare's free services must qualify by filling out a form online. Once approved, they can connect to the Internet via Cloudflare for free. Cloudflare is getting no subsidy from the government for any of this.
What does Cloudflare get in return? For one thing, great branding. Like its other projects, including Fair Shot, which created virtual waiting rooms to help speed the distribution of COVID vaccines, Project Pangea adds to Cloudflare's cachet as a vendor with heart, a provider who is attuned to the needs of its customers.
But Cloudflare also gets access to the underlying infrastructure of the community networks it serves. That could help buttress the links Cloudflare already has, and give the provider access to fiber, some of which is subsidized by the federal government. Though Cloudflare doesn't own that infrastructure, access can extend its edge cloud capabilities.
Bottom line: Project Pangea is a winning proposition for both qualifying networks and Cloudflare.