Content Delivery Networks Evolve at the Edge

There's a trend underway in the evolution of content delivery networks (CDNs), as they shift into high gear at the edge.
Recent news highlights how CDNs are morphing beyond the centralized, host-centric networks of past days into cloud-native edge services geared to faster, more secure and manageable application delivery.
There are even a few new names for these services — application delivery networks (ADNs) or Edge 2.0, or variations on SASE (secure access service edge). And their growth, spurred by the pandemic-motivated shift to remote "work from anywhere," along with greater demand for Internet of Things (IoT), online entertainment, and e-commerce services, has skyrocketed.
A sampling of financials from leading public companies in this space illustrates this growth. Even without the latest Q4 2020 numbers, revenues for Akamai (AKAM), Cloudflare (NET), Fastly (FSLY), and Limelight Networks (LLNW) have tracked steadily upward for the last seven quarters: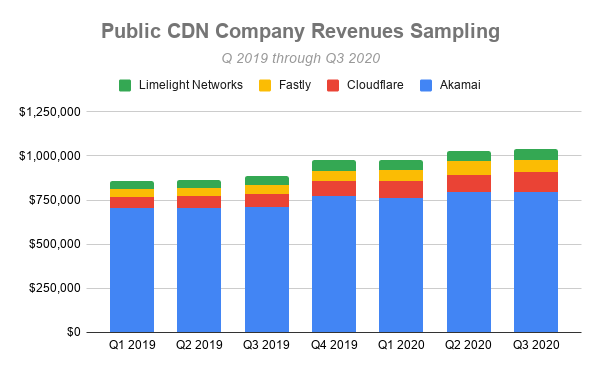 Source: Company financials.
Edgy New CDNs Hit the Headlines
Recent news is full of items that illustrate the progress of CDNs as they forge new identities and assume greater roles for enterprise and service provider customers.
In one instance, StackPath announced January 7 that it's expanding to over 50 points of presence (PoPs) worldwide, with new edge locations in Buenos Aires, Argentina; Santiago, Chile; Bogota, Colombia; and Lima, Peru — all of which are demand hotspots for cloud-oriented business apps and other content, the vendor says.
The five-year-old Dallas-based company last year marked $396 million in total funding after a Series B round of equity financing led by Juniper Networks (JNPR) and Cox Communications (COX). And it sees no slowdown in demand for its services.
"Why does the edge matter? … The core cloud can't handle what's coming in terms of demand from users and demand from the network," said Arash Marzban, SVP of product at StackPath, in a recent interview with Futuriom. While StackPath offers edge compute supporting VMs and containers, serverless computing, advanced security, and a range of analytics in addition to CDN, he says his company's CDN services are growing fastest. And he thinks the next 12 to 18 months will see sizable growth for his company and others.
Elsewhere, when the extreme right-wing website Parler went dark recently after AWS pulled its content delivery services from the site, the news highlighted how much companies of any ilk require the security and low-latency delivery that only evolving, edge-friendly CDNs can offer. The situation also drew attention to the success of CDN services offered by the cloud titans AWS, Microsoft Azure, and Google — all of which compete with Akamai, Cloudflare, Fastly, and others in the CDN arena.
There are many more examples of recent CDN news, including the $500 million proposed acquisition of Volterra by F5, which centered attention on Volterra's network of application-delivery PoPs worldwide. Volterra claims its distributed edge design -- its ADN -- is different from CDNs as shown in the chart below: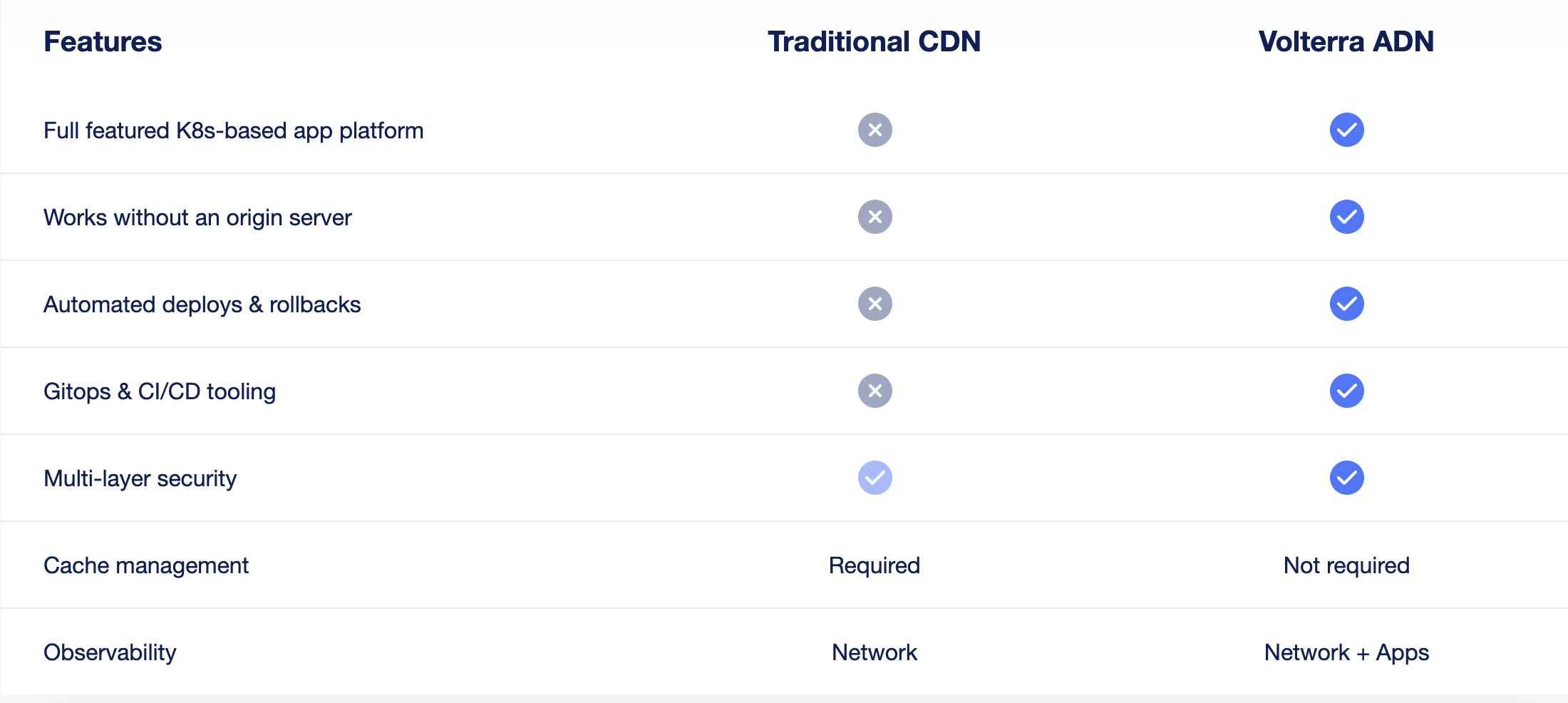 Source: Volterra.
What Qualifies the New CDNs?
Volterra's chart resonates with a general set of features that seem to qualify an evolving CDN vendor, as listed below:
— Cloud-native architecture. The so-called origin servers of today's successful CDNs don't have as many complicated "hops" to span. Instead, they are part of powerful cloud-based architectures.
— Distributed PoPs. Edge computing and caching via networks of distributed PoPs, typically located at major metro areas worldwide, are essential elements in delivering the low latency demanded for enterprise, service provider, and consumer applications.
— Advanced security features. Zero-trust security and similar options, including web application firewalls (WAFs), secure web gateways (SWGs), distributed denial of service (DDoS) monitoring and remediation, and cloud access security brokers (CASBs) are part of every successful CDN these days. Indeed, Akamai points to its security solutions as a key driver of revenues over the last few years. For the third quarter of 2020, the company's security solutions led all other product areas with 23% growth, making security the company's major selling point for new business, according to execs.
— Programmability. Modern edge CDNs depend on application programming interfaces (APIs) to adapt their services to fit customer requirements, to automate specific functions, and to incorporate solutions from ecosystem partners into their services. This is particularly important because CDNs deliver customer-facing services like online retail, which require tweaking for specific brands and products.
A CDN By Any Other Name
All of the CDN vendors mentioned here would argue that they do more than traditional CDNs by offering distributed serverless technology, support for containers and microservices, advanced security functions like zero trust, and sophisticated APIs for partner integration, automation, and customization.
This is a kind of double-edged sword: As these kinds of services morph beyond traditional barriers, there will be increased competition from sources that didn't start out in the CDN space. The cloud-titan CDNs demonstrate this. And while telcos have typically fallen behind in this area, there is evidence that carriers like Verizon (VZ), which offers its own CDN, see this as an area to populate.
Futuriom also believes we'll see tighter integration and overlap of software-defined wide area networking (SD-WAN) with CDN networks. And 5G is set to catalyze a move to edge clouds that will further boost edge CDNs -- and their rivals. Expect to see much more activity in this area in 2021.