Cloud Hyperscalers Expand Subsea Connections

This week, Facebook (Nasdaq: FB) and Alphabet's Google (Nasdaq: GOOGL) unveiled submarine cabling projects in Africa and Asia – the latest additions to a growing subsea empire built to handle hyperscalers' burgeoning Internet traffic requirements.
As part of a 2Africa consortium that includes several other companies (China Mobile International, MTN GlobalConnect, Orange, stc, Telecom Egypt, Vodafone, and West Indian Ocean Cable Company), Facebook will help fund additional channels in an ambitious string of submarine cabling originally announced in 2019 as Project Simba. The goal is to circle the African continent with undersea data fiber, extending branches to Europe and the Middle East along with other strategic locations – now including Seychelles, Comoro Islands, Angola, and Nigeria. The new landing points bring the total reached to 35 in 26 countries. The 37,000-kilomter network is set for completion by 2023.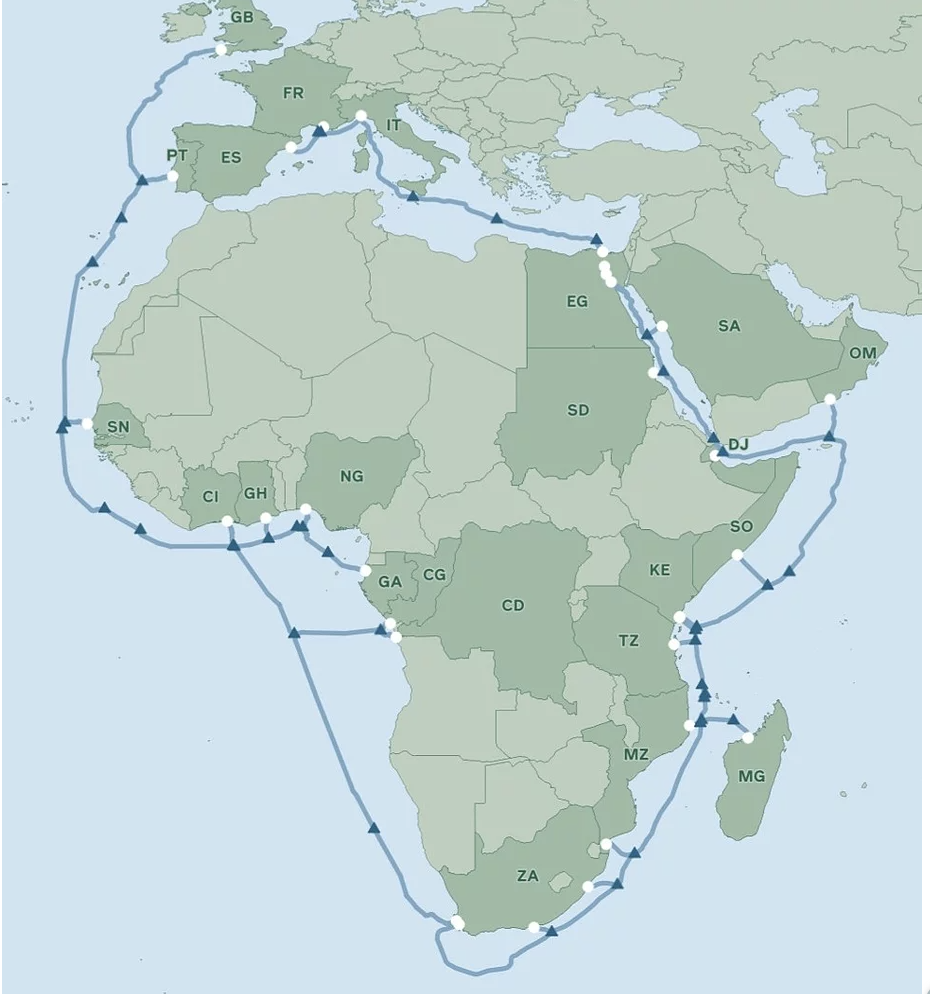 The 2Africa network plan. Source: 2Africacable.com
Separately this week, Google announced Apricot, a subsea cable project designed to link Singapore, Japan, Guam, the Philippines, Taiwan, and Indonesia. Facebook also chimed in that it will participate. Apricot is expected to go live in 2023.
These are just the latest in a lengthening list of undersea cabling projects undertaken by cloud hyperscalers, particularly Facebook and Google, though Microsoft (Nasdaq: MSFT) and Amazon Web Services (Nasdaq: AMZN) also have a hand in ocean-going connectivity. The collective aim is to take control of the Internet links they rely on worldwide, eliminating hassles and middleman consortiums wherever possible.
Why Cloud Suppliers Want Their Own Subsea Links
Installing undersea cabling is expensive, running into the hundreds of millions for a single connection. The cloud titans can afford that. Further, they may believe it's a cost of doing business. Instead of relying on a supply chain of carriers, many hooked to regional and national governments, to pass legislation and get funding for necessary links, the hyperscalers can get in early on opportunities to extend broadband, 5G, and edge services to key global markets.
The Apricot system, for instance, is meant to be complementary to Echo, another project designed to link the U.S. to Singapore. "Echo … [will] decrease latency for users connecting to applications running the Google Cloud Platform (GCP) regions in the area, home to some of the world's most vibrant financial and technology centers," wrote Bikash Koley, VP and Head of Google Global Networking and Head of Technology and Strategy, Google Cloud for Telecommunications, in a blog.
A Growing Subsea Ecosystem
The Apricot cable, which includes Facebook and its consortium members as well as Google, is one example of how cloud firms are aligning to complete subsea projects. As documented on TeleGeography's Submarine Cable Map, others include CAP-1, a link between the Philippines and California, which is funded by both AWS and Facebook and is set for completion in 2022. There's also Amitie, an effort of Facebook and Microsoft, along with carriers Aqua Communications, Orange, and Vodafone that will link the U.S. to strategic points in the U.K. and France by Q1 of 2022. Another example is Jupiter, undertaken by AWS, Facebook, NTT, SoftBank, and others to link the western U.S. to the Philippines and Japan, which was completed in 2020. Interestingly, the major cloud providers seem fine with funding projects with Facebook but not with each other.
Among the leading cloud providers, Google seems the most prolific, having invested in 18 subsea cables over the last several years, with more on the way. But Facebook is also very active, particularly in large projects such as 2Africa.
As the cloud suppliers move to expand their reach globally, they are drawing along several major subsea cabling companies, most notably Alcatel Submarine Networks (ASN), owned by Nokia (NYSE: NOK). ASN was among the first companies to offer cables containing 16 fiber pairs in its design called SDM1, allowing for capacity up to 190 Tbit/s. Competitors include SubCom, Bulk Fiber Networks, Ericsson (Nasdaq: ERIC), Huawei Marine Networks, NEC, Padtec, Pirelli, and Xtera.
The hyperscalers' cabling projects will also include business for optical switching firms such as Ciena (NYSE: CIEN), Ericsson, and Nokia. And data center colocation and interconnection providers such as Equinix (Nasdaq: EQIX) and Digital Realty (NYSE: DLR) will also benefit.
Expect More
As hyperscalers continue to fill in network gaps around the globe, particularly extending links to Asia and Africa, they will help shape the future of the Internet. While carriers worldwide also play a major role, expect the cloud suppliers to add value with content and services, particularly as 5G takes hold. And follow the money: Wherever cloud providers are investing is likely to be a hot market.