Experts Define the Network Edge

Where is the network edge, exactly?
That was the topic of a panel discussion at last week's Datacloud Global Congress, a virtual event focused on the European cloud market. And the session revealed there are no easy answers.
"One of the things we're calling the edge is actually close to the core center," said Terje Jensen, SVP and head of network architecture at telecommunications carrier Telenor. "[W]e have regional edge … and we can probably club that together with an access edge…. We also have what we call the custom edge, which is on premises…. There [is] quite a broad range of edge installations with different drivers and different problems to solve."
Most panelists agreed that application requirements drive the location of the edge. Jensen noted, for instance, that the some apps must be located within a certain country in order to meet data governance laws. In that case, the edge is defined by the borders of a nation. Elsewhere, the edge is defined by latency.
That last definition works for Steve Alexander, SVP and CTO at optical equipment pioneer Ciena (CIEN). He said the edge can be defined as the point at which network performance, or the "mean time to cloud," provides the best customer experience for a particular application — a feature that will vary with use cases. "You can't beat the physics," he said. "It's time of light on fiber."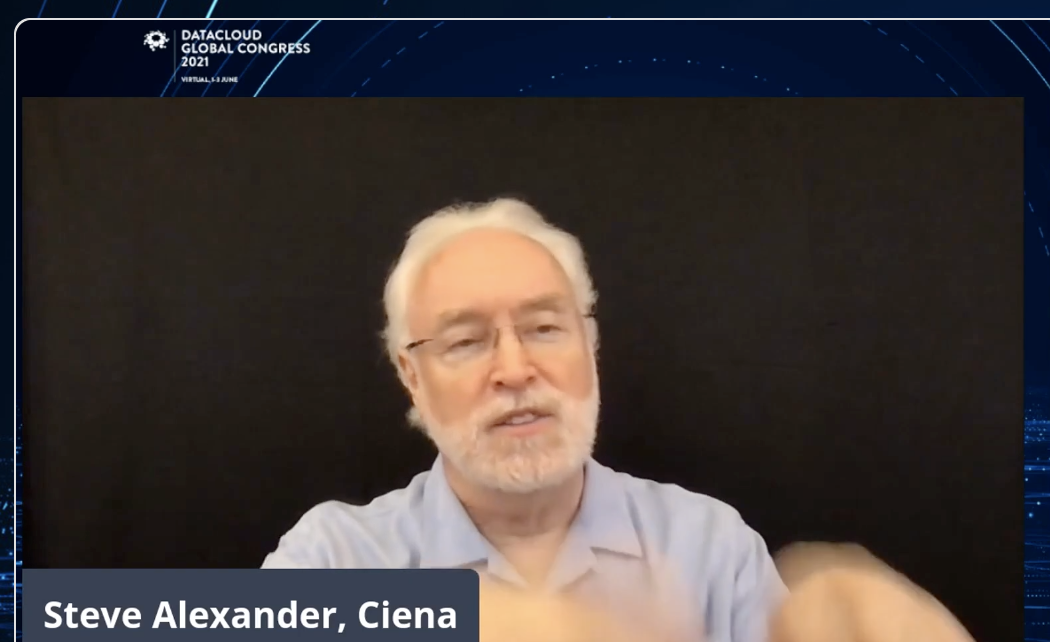 Source: Datacloud Global Congress 2021
Ed. note: In Futuriom's recent report, "5G Catalysts: Telco Cloud and Edge Trends 2021," we illustrated the edge as viewed from the perspective of latency, as shown below: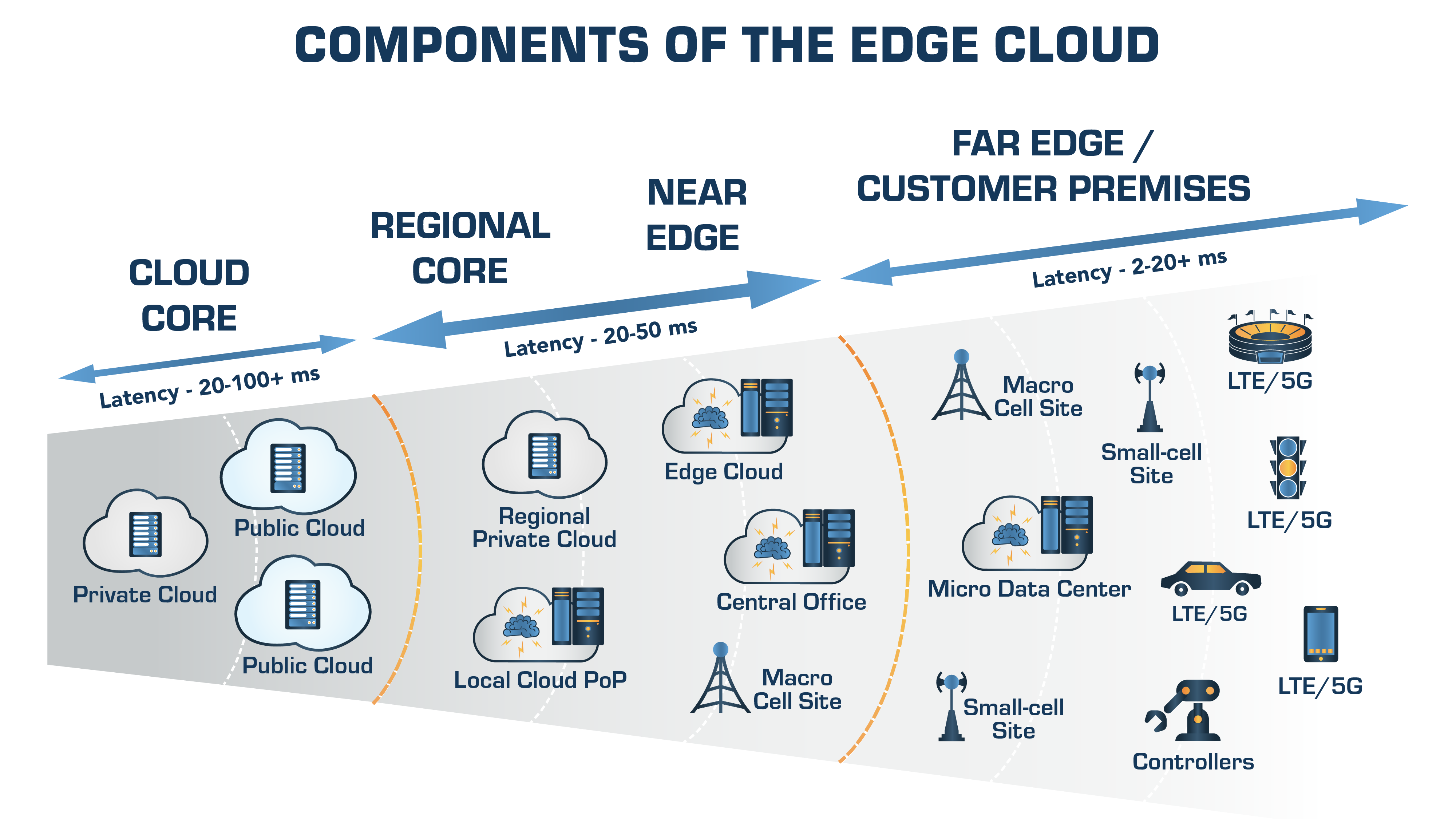 Source: Futuriom
For Michael Winterson, managing director, Equinix Services (EQIX), the edge is wherever centralized computing gives way to a distributed model, though the scope and size of implementations vary greatly. "[R]eality for us [at Equinix] is edge is only when the economics of decentralization — bringing compute closer to the user — outweigh the cost of the massive efficiency of centralization."
Winterson gives examples: For one customer, moving from one data center to 10, thereby reducing latencies by 70%, is an edge move, but totally different from a 5G access edge, which might need sub-1 millisecond latency and involve hundreds of sites.
The Future of the Edge
Edge proliferation will impact networks in many ways. But Guy Willner, CEO of IXcellerate, a data center provider, said edge designs won't eliminate centralized data centers. "If you're doing foundry work on ASIC chips running AI algorithms, you're basically running thousands of billions of calculations…. To do that, you need a massive machine like… a supercomputer. That's not something you're going to stick under your desk unless you've got a fire warden in the office adjacent."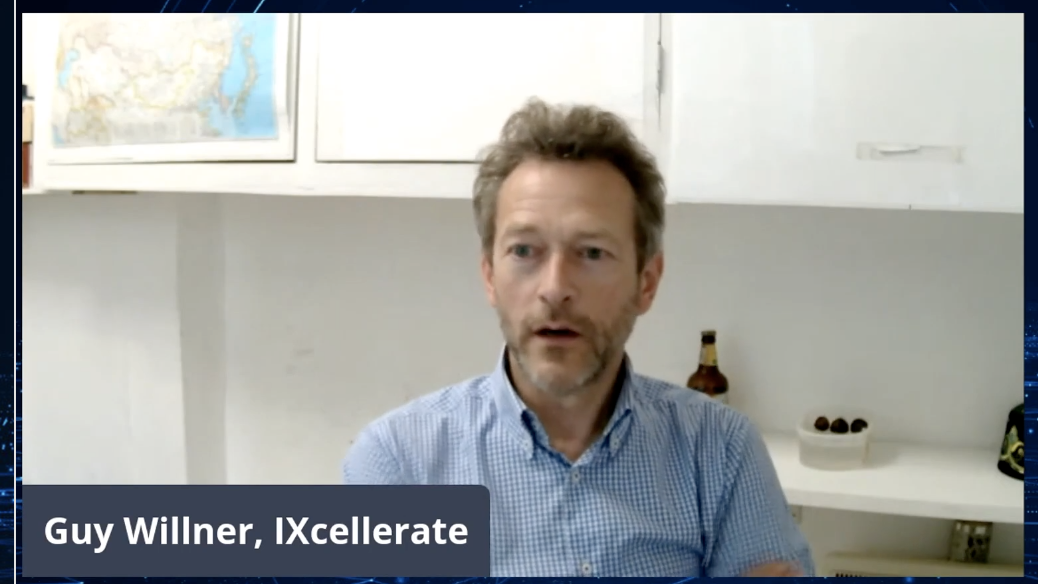 Source: Datacloud Global Congress 2021

Michael Winterson believes data center providers will have to accommodate edge networking from their existing facilities in a couple of ways. Bare metal implementations give customers virtual data centers to assist during the transition to cloud services. But he thinks data center providers will need to go further. "We're going to have to start delivering a set of virtual data center services as well as the physical data center," he said.
"I look at the network of the future basically making sure three things have to happen," said Ciena's Steve Alexander. "The network is certainly going to get faster…. We talked about the cloud edge coming closer…. The infrastructure has to get smarter … because as you densify the edge with 5G, as you add on edge computing … the complexity goes up, and the way you combat complexity is software intelligence."
Telenor's Jensen argues against thinking of the future network edge as a function of 5G networking. "We probably don't want to say that edge equals 5G or the other way around," he said. "It's more like they are two different components." Instead of one location for the edge, he said there will be a number of locations that play to the strengths of 5G, 4G, or whatever technology best serves the situation.
Is the Edge Affordable?
Panelists noted that although the economies of scale of centralized networking are proven, the network edge can be financially viable, too. Terje Jensen said he's seeing industrial customers who would be willing to pay for edge connectivity to run their facilities more efficiently. "And of course there are the opportunities to provide devices, applications, analytics, and smartness," he noted.
Much of the economic argument rests on automation. "[W]here an application could potentially request compute and network capacity for itself, by itself…that's when I think you're going to start seeing super-interesting pricing models," said Michael Winterson.
Panelists noted that smarter networks will be able to determine the best edge deployment for an application, based on a range of factors, including power consumption. But that's another call for network smarts, said Steve Alexander. Over the next ten years, making network resources more fungible will help customers move those resources around and optimize edge networking. "I think that's where the magic is going to be," he said.