Internet Growth Fuels Undersea Cable Race

Global Internet capacity grew 35% in 2020, fueling ongoing build-outs of massive undersea transport cables by hyperscale cloud providers, which in turn are boosting cable landing stations (CLSs) that support software-defined wide-area networking (SD-WAN).
These data points emerged in part from a recent report by TeleGeography, a research and consulting company that has tracked Internet growth for decades. The firm said last year's growth — the highest in three years — was fueled by remote work and education emerging from the COVID-19 pandemic. For perspective: The company reported 22% traffic growth in 2017; 36% growth in 2018; and 27% growth in 2019.
This Internet growth is reflected in another item tracked by TeleGeography — the undersea cables that reportedly handle most of the world's Internet traffic. Over the last couple of years, more and more of these cables have been funded by Amazon (AMZN), Google, Microsoft (MSFT), and others with a major interest in content delivery over the Internet. A recent example is the 3,977-mile Dunant cable that links France and the U.S., which went live last month under the sole ownership of Google. Google also owns the Curie link between Chile and Los Angeles as well as Equiano, a link set to go live this year that will extend from Portugal along the entire coast of Africa.
But Google is just one of the major hyperscalers investing in subsea cabling. Facebook (FB) and Microsoft, along with Telefónica-owned Telxius, own the three-year-old 4,000-mile Marea link between Spain and the U.S. AWS and Facebook are part owners, along with NTT, Softbank, and others, of the massive 9,000-mile Jupiter subsea link between Japan, the Philippines, and the western U.S. Facebook also was an investor with Google in the ill-fated Pacific Light Cable Network project that aimed to connect Hong Kong and the U.S. but was scrapped last year amid security concerns. AWS is part owner, with Facebook and China Mobile, of the 7,400-mile CAP-1 link between the Philippines and the U.S.
Connectivity's Growing on Land
While hyperscalers (along with content providers and other service providers) invest in subsea cabling, other suppliers have focused on the cable landing stations (CLSs) that link that cabling to cloud networks. While some hyperscalers will provide their own termination points, CLSs also can be neutral data centers where the undersea cables connect to a range of networks.
Players in this space include the likes of Equinix (EQIX), Digital Realty (DLR), and CoreSite (COR), to name just a few. These companies aim to get their CLSs into metropolitan areas with great digital demand. The idea is then to bring in ecosystem partners to offer various kinds of connectivity to cloud services.
In a blog on January 15, 2021, Alex Vaxmonsky, director, business development for global service providers at Equinix, described the setup as follows:
"Innovations in optical transmission have cleared the way for a new interconnection model in which the cables land directly inside our data centers, close to the service providers and enterprises that need to consume their capacity….
"The end result is cheaper, lower-latency connectivity that gives cable operators the ability to offer customers fast, direct and secure access to rich cloud, network, content and other industry ecosystems inside our data centers."
Equinix says that 40 of its Equinix International Business Exchange™ (IBX) data centers in 63 metros worldwide have links to undersea cable, as shown in the diagram below: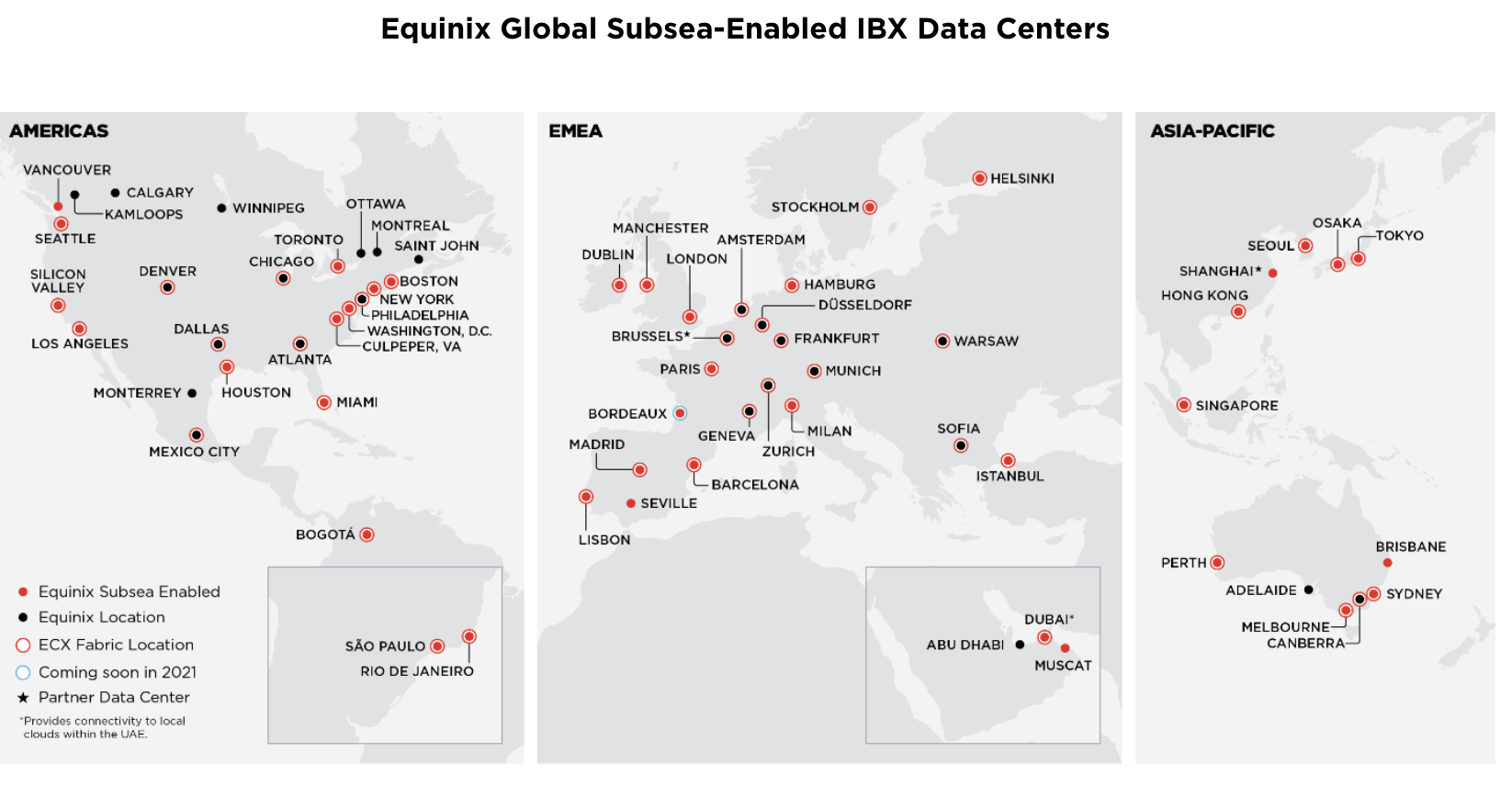 Source: Equinix

Among the ecosystem partners in these CLS-enabled data centers are SD-WAN vendors such as, in Equinix's case, Cisco (CSCO). And, while TeleGeography puts the relative penetration of SD-WAN worldwide at a small percentage (2.15%) of the overall WAN market, Futuriom expects to see SD-WAN connectivity in these CLSs increase. As SD-WAN's popularity increases and enterprises move toward SD-WAN managed services, we can expect to see a broader swathe of SD-WAN connectivity in CLSs linked to major cloud providers.
Indeed, the advantages of CLSs -- shared infrastructure costs, for example -- make them an ideal location for SD-WAN. The point where land meets sea is a good place to distribute the massive feeds from submarine cables faster, more securely, and without the added backhaul demanded of other networking schemes.