Cato Survey: SD-WAN Demand Strong, Results Complicated

Warning: Digital transformation can be complicated.
That's the message emerging from a survey of IT professionals worldwide undertaken by Cato Networks. Results of the vendor's fourth annual WAN spending survey, released today, show that enterprises deploying software-defined wide-area networks (SD-WANs) find that they need to deal with complex issues including security and cloud connectivity that can result in complicated installations that can even result in less satisfaction after they are installed.
Cato found that unless SD-WAN incorporates strong security in a global, cloud-native environment, it can negatively affect application performance, fail to adequately support mobile and remote users, and make the enterprise more vulnerable than before to security threats. It's important, of course, to keep in mind that Cato Networks is an SD-WAN vendor with a cloud security architecture.
SD-WAN's On a Roll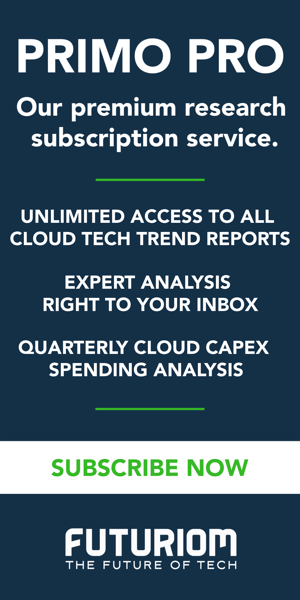 Despite the risks, the Cato survey does show there is strong demand and that enterprises are flocking to SD-WAN. In Cato's poll of 1,333 IT pros taken between October 21, 2019, and November 25, 2019, 48% of respondents said SD-WAN is a primary IT use case for 2020. This is up from 35% in Cato's survey last year.
Cloud-based applications, which depend on upgraded, virtualized networks, are taking priority. A full 62% of respondents said their most critical business applications over the next twelve months will be Office 365, Salesforce, Workday, and other SaaS applications.
And 53% of survey respondents who have MPLS now and are looking to replace it said they're "actively planning" to move to SD-WAN this year.
Of those Cato surveyed, 46% said bandwidth costs and/or network performance problems are motivating the move from legacy networks; 44% want better management. When it comes to SD-WAN, 56% of respondents think the technology reduces WAN costs. Additionally, 37% of IT execs said providing and managing mobile and remote access for enterprise users will be a primary networking challenge in 2020.
Cost No Issue
There's plenty of money for enterprises to make changes. The survey showed that 56% of those polled expect their networking budgets to grow this year; a full 73% expect bigger security budgets.
When it comes to spending, 43% of enterprises surveyed claimed to be taking a do-it-yourself approach; 34% are using a cloud-based SD-WAN service; and 23% are relying on telcos or other managed service providers.
The telcos will have to improve their services to increase their share of the digital transformation market. Fifty-seven percent of global enterprises using these services are frustrated by the time it takes to equip new locations; 55% don't like the high bandwidth cost of their services; and 25% think telcos are inflexible in accommodating new requests.
Worse Off Than Before?
The most interesting survey results related to the confidence IT professionals had before and after implementing technology that's classed as digitally transformative. Cato listed four categories: MPLS alone; MPLS with VPN; SD-WAN; and SASE (secure access service edge, the increasingly popular Gartner classification, about which more in a minute).
Survey respondents were asked to rate their confidence in each of these environments in terms of network agility, or the ability to quickly add sites, increase bandwidth, and add public cloud connections; management and operations, particularly in terms of last-mile connectivity; performance, including the ability to ensure cloud resources run just as well as internally hosted ones; and security.
Not surprisingly, confidence in MPLS precipitously dropped across all categories after deployment, especially in management and operations. But a big surprise is that a full 74% of SD-WAN respondents said they had less confidence in their networks post deployment. Indeed, there wasn't all that much difference between the confidence inspired after SD-WAN was in place and the confidence inspired after installing MPLS with VPN.
SD-WAN Security Questioned
One of the more disturbing revelations in the survey relates to security. Just 37% of SD-WAN users polled said they were able to protect enterprise locations from threats after deployment. Indeed, when it comes to defending the network, SD-WAN didn't inspire more confidence than MPLS with VPN. The latter actually inspired a point's worth more confidence, as shown in the chart below: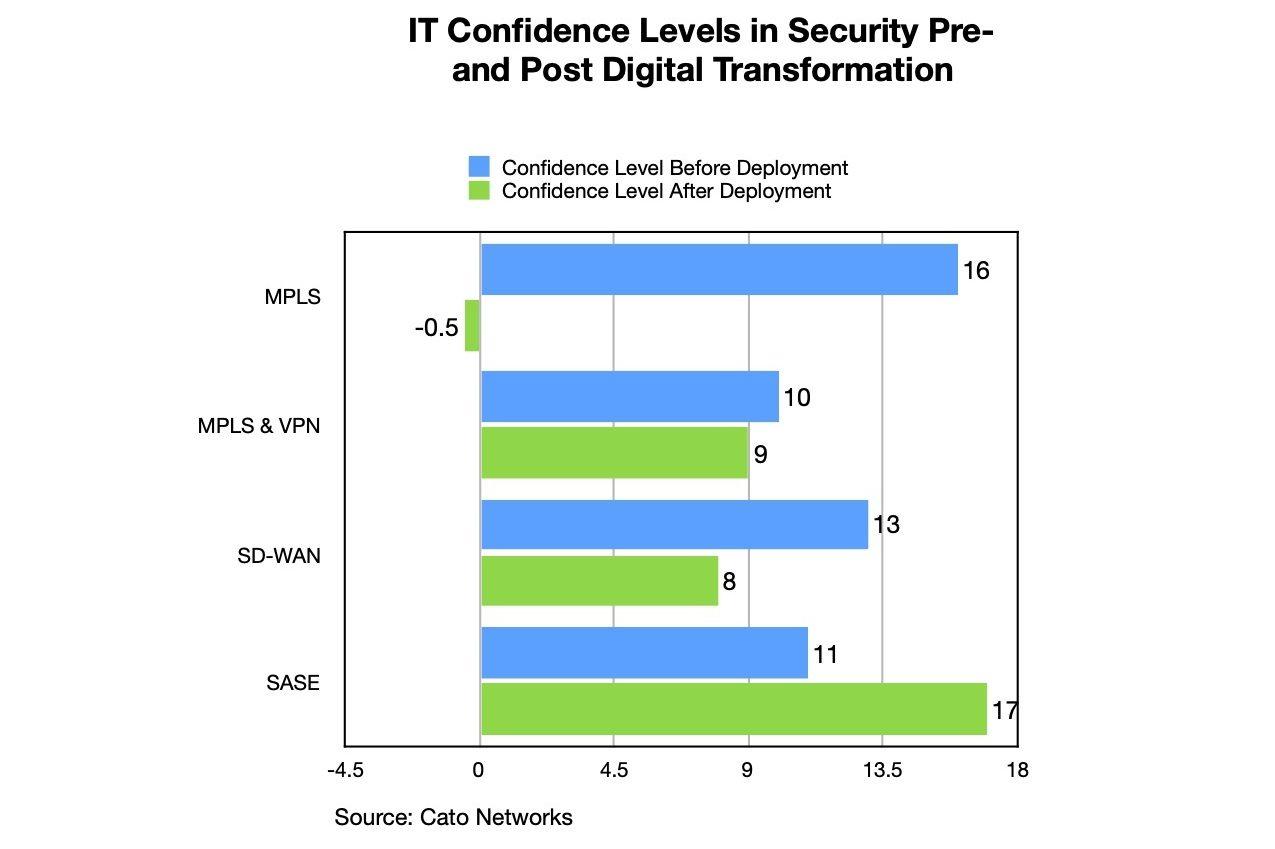 Sassy about SASE 

The survey showed that IT pros had more confidence in their environments post deployment only if they opted for a SASE approach. As noted, Gartner came up with the category in 2019. It refers to the cloud-native combination of WAN and security in a manner that's not based on IP addresses, is globally accessible, and is able to reach all edges of the network, including mobile and remote users and sites.
Cato Networks says its solution qualifies as SASE. Others claiming SASE cred include Akamai, Perimeter 81, and Palo Alto Networks, to name a few. Some experts say other players are on the SASE track, including Cisco, Fortinet, Proofpoint, VMware, and Zscaler.
While the term SASE invites some argument among marketers, the model is informative and useful. It seems destined to become central to describing what enterprises need and expect from their digital transformation projects in the coming months. Hopefully, the trend, along with API gateways, and the increasingly intricate web of alliances, integrations, M&A, and startup activity around cloud networking, will give IT pros the confidence they're seeking.