What's Behind the Ericsson Swisscom Deal? Pluribus

Ericsson grabbed a lot of fanfare this week announcing a big win at Swisscom to deploy a network functions virtualization (NFV) platform to support services for small and medium businesses. But a big part of that story was left out of most press accounts: Switching technology from Pluribus Networks Inc. makes up a large part of Ericsson's offering.
Swisscom announced on Tuesday that it is using the Ericsson NFV platform, HDS8000, for commercial offerings to enterprises. It went into commercial operation last month, with the first service in support of small and medium enterprises.
The Pluribus SDN architecture is the networking piece of the puzzle, according to public documents from Ericsson and Pluribus. Why is this important? The deal is not only a major win and demonstration of resurgence for Pluribus, an SDN startup that many people in Silicon Valley had left for dead, but it also hints that SDN and NFV may be experiencing a bit of a resurgence, even as many pundits are calling the market "dead," or at least... "stalled."
This deal may also have implications for the highly touted partnership between Cisco and Ericsson, which is showing its strains. If Ericsson chooses to rely more on startup technology than Cisco for NFV and SDN, there's not much point in partnering with Cisco.
Ericsson and Pluribus have kept relatively quiet on the nature of the partnership, probably because Ericsson wants to downplay its reliance on Pluribus as an Original Equipment Manufacturer (OEM). But there's no doubt that Pluribus's platform is running the guts of the networking on Ericsson's NFV offering, including the core networking operating system (OS) that runs the core network fabric and connects the leaf switches that aggregate traffic from the users. The image below, from a Pluribus presentation in the public forum, indicates how Pluribus likely fits into HDS8000, though Ericsson has not released the specifics.
The Futuriom Ultimate Industrial Internet of Things (IIoT) Report covers a wide range of communications and cloud technologies that are being applied to businesses around the world to provide connectivity, analysis, automation, and optimization of a range of industrial applications. For Futuriom community members, we are offering a special discount on a one-user license to this report for 20% off, which means you pay only $760! Go to the report page and use discount code "EDGE" for purchase.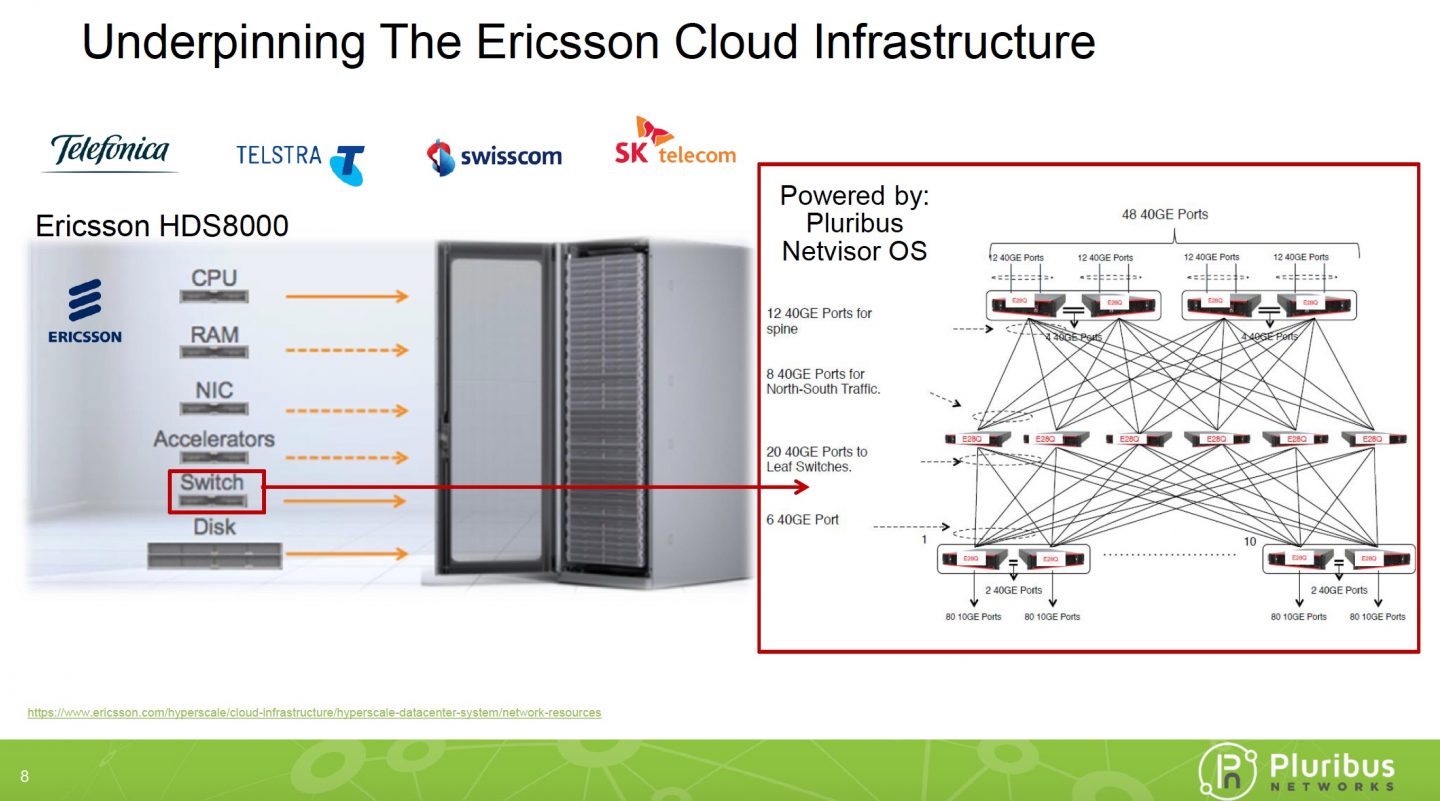 Inside the Pluribus SDN Fabric
Why is the fact that Pluribus is involved important? It makes a statement about the next level of maturity of what Futuriom is calling SDN 2.0, as the promising technology starts coming to market and proving its worth despite recent criticisms that the technology has not lived up to its promise.
The Pluribus platform is unique in the SDN market. The company initially launched its own hardware and a network OS, called Netvisor, and in its early days raised some large amounts of funding. But the SDN market changed, and as a host of SDN OS providers came to market, Pluribus opened up the platform by partnering with other SDN hardware providers such as Dell, following the "disaggregation" model of separating from the OS from the equipment. It also started focusing on analytics.
Recently, however, Pluribus has doubled down by focusing on making its platform an entire switching architecture with the features of Netvisor OS used to build an integreated SDN-switching fabric that can segment and provide analytics for applications. The key is integration with the OS, known in the industry as "underlay," whereby the SDN features are connected deep into the hardware. Many SDN offerings from the startup community do not reach this level of integration of monitoring, analytics, and switching fabric implementation at the OS level. Many SDN approaches, including NSX from VMWare, use an "overlay" approach of using protocols such as VXLAN over the existing switching infrastructure.
In the case of Swisscom, sources tell Futuriom that Pluribus is providing essentially all of the operational network and fabric architecture for HDS8000. The platform will provide 40G links and services as a connection to the compute and Radio Access Network (RAN) infrastructure. One of the key features of the platform, say sources, is that it enables many vEPCs (at different locations) to operate as one large network. This will be crucial in scaling mobile networks for 5G and IoT, which has been a focus for Ericsson.
SDN & NFV Become Real
Ericsson's deal with Swisscom indicates that SDN and NFV platforms are going to play a big role in next-generation services for technologies such as mobile Internet of Things (IoT) and enterprise business services.
"Ericsson's NFVi solution provides Swisscom with the speed, agility and efficiency that we need to deploy new services and capture the opportunities presented by 5G and IoT," said Daniel Staub, Head of Joint Mobile Group, Swisscom, in the joint press release. "Our first service is now live, servicing the small and medium enterprise market, and we will continue to work closely with Ericsson to onboard other services in the immediate future."
NFV will be especially important as a tool to virtualizing and segmented the many next-generation services that can be offered with 5G and IoT, which include mobile virtual evolved packet core (4G/5G), IoT datacenters, and a variety of enterprise business services, including virtual network functions (VNFs) such as security and application performance management.
Last year, Swisscom announced that Ericsson would be its primary NFV and SDN vendor to build a virtualized infrastructure for deploying next-generation services. The companies say the next step is the rollout of 5G. Ericsson believes that 5G has the potential to drive significant revenue growth for the next decade and will be crucial to the company's health as it undergoes a major restructuring plan.
All this is great for Pluribus, as a major architectural win with a huge partner, but Ericsson will need more deals like this to convince investors this could move the needle. Its stock price has been under enormous pressure as it faces a tough reorganization plan, which it has yet to fully divulge, going into 2018.
To read about emerging trends in the SDN market, get Futuriom's latest premium report, "The SD-WAN Growth Report," which profiles the growth potential and technology platforms for delivering new WAN services from the cloud. It's available now for $595 for a single-user license.