What is an Integrated Automation Platform (IAP)?

Cloud platforms, networking, and devices plugged into the Internet of Things (IoT) are multiplying by the day. What does that mean for the future of technology? It means there is growing demand for technology that can cross domains to securely connect a variety of devices and platforms -- an emerging area known as an Integrated Automation Platform (IAP).

(This Primer is Sponsored by UBiqube. Check out the eBook we wrote for them on IAP - What is Slowing the Smart World Transition?)
As next-generation enterprises and consumer applications transform business and society, they require many resources. These resources might include data, applications, compute infrastructure, and network connectivity that reside in different technology domains. For example, the domain could be a public cloud platform, an IoT device, or communications infrastructure on a public network.

In order to deliver digital transformation, the data must be able to move freely among platforms in a secure way. A new platform is needed to tie together the many moving parts of the infrastructure -- the IAP.
Data Drives Connectivity
Data is the lifeblood of automation and digital transformation because it is used to drive analytics to automate processes, whether that's optimizing traffic systems or improving efficiency at a factory.
High-bandwidth wireless connectivity (5G), connected cars, artificial intelligence (AI), edge computing, IoT sensors, and augmented reality are all driving a Smart World by gathering data and applying intelligence and automation to everything we do. Futuriom recently profiled one aspect of this in our case study on the Las Vegas Smart City.
The automation of the IT systems will only be possible with infrastructure that can support this real-time gathering and processing of data. But the questions is, What fundamental changes to the network and communications architecture are needed to implement these applications at the edge? IAP technology is one of the answers.

What's In an IAP?
Smart World and digital transformation projects involve a broad set of infrastructure technologies from different vendors and different functional domains for each use case to be delivered. These are the so-called technology domains of cloud, enterprise IT, and public service provider communications networks.
The IAP will provide services such as orchestration and coordination of application programming interfaces (APIs) so that many different parts of the infrastructure – public cloud, IoT sensors, edge compute, and the communications networks – can coordinate the distribution and processing of real-time data.
To solve for automation, two problems need to be addressed:
How to Integrate the array of technologies and vendors involved in such way that the assembling process is less painful and costly.
How to use APIs and other tools to abstract configuration and orchestration details and enable automation via a higher-level system can manage and automate the coordination of the technology pieces.
Think of the IAP as the higher-level brain that can abstract and manage connectivity and functions across a wide variety of technology domains, serving as the control point for integration and automation initiatives.
The diagram below describes how this happens.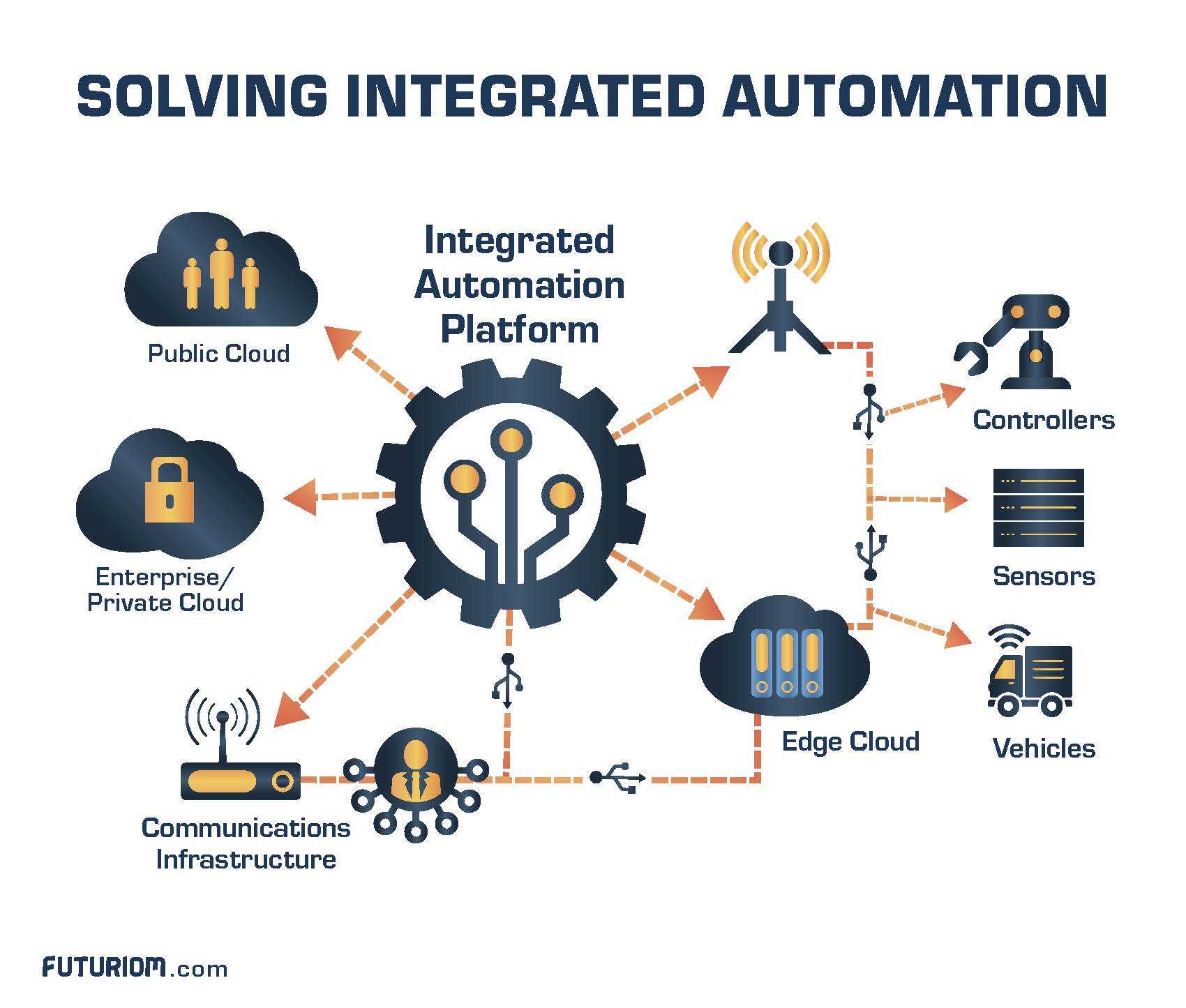 How Abstraction Drives Automation
There are a variety of technology challenges to integrating all of the IT assets in any digital transformation or Smart World project. These challenges include:

How do you integrate non-standardized platforms, clouds, and networks?
How do you build security into the integrated infrastructure, and provide ongoing security automation and visibility?
Once the IT assets are integrated, how do you streamline and automate maintenance of the assets and infrastructure?
In the current infrastructure and cloud environment, these answers aren't always available from individual IT and infrastructure vendors. Often, IT managers are challenged by the segmentation of IT and network assets into vertical technology silos – for example, cloud platforms, enterprise databases, telecommunications infrastructure, and IoT services. These technology silos often encompass a wide variety of languages, code bases, and non-standard approaches toward configuration and management.
The answer will come down to using an abstraction approach to gather data models and configuration information from the heterogenous environment, then manage the integration of this complex system as one.
For example, here are some of the tools that can be used by the IAP to abstract information into a higher-level system:
Standardized network configuration data such as NETCONF and Yang
APIs from proprietary networking systems
Configuration data models for cloud and networking systems (e.g., Tosca)
APIs from security systems
Non-standard cloud platform APIs
IoT APIs and connectors
BPM APIs, tools, and integrations
The need for a secure, integrated IT framework will become even more compelling with the arrival of a wide range of edge technologies such as 5G, compute edge, and smart sensors, which will vastly increase the amount and diversity of data and devices that can be used in any smart initiative.
Some of the technology companies using APIs and orchestration tools to drive automation across networks include Amdocs, Ciena Blue Planet, Itential, Netcracker and UBiqube, This approach will become an increasingly important function in the deployment of the edge infrastructure because 5G and edge compute applications often require the large-scale configuration of device such as sensors, networking devices and compute resources. In the real-time, data-driven world of the 5G edge, this can no longer be done manually and requires automation.
Some of the value that can be delivered in Smart World projects include the following:
| | | |
| --- | --- | --- |
| Value Creation | Risk Management | Cost Management |
| Health | Visibility | Affordable |
| Safety | Security | Adaptable |
| Efficiency | Control | Evergreen |
Of course, creating this value will not be as easy as it sounds. For many industries, ranging from government entities to industrial segments focused on digital transformation, creating value will mean integrating a wide variety of networks, cloud, and legacy assets to build the new smart, digital environment. IAP technology will play a greater role in integrating these cloud and networking technologies going forward.
(This Tech Primer was sponsored by UBIqube. Futuriom recently collaborated with UBIqube on a guide to IAPs. Check out the eBook here!)