Verizon Adds AWS Outposts to Private 5G MEC

Verizon (VZ) will extend its 5G Edge service to include private mobile edge compute/multi-access edge compute (MEC) technology integrated with Amazon Web Services (AWS), the carrier said this week. The service isn't yet commercially available and Verizon has no word on when it will be, but at least one customer, Corning Inc., attests to a successful trial.
The move points to the growing connection between telcos and cloud providers, a trend Futuriom anticipates will gather strength through the next few years, as carriers pour billions into 5G networking.
The announcement couples Verizon's MEC edge platform with AWS Outposts to create private, on-premises edge services. (Recall that AWS Outposts brings rackmounted AWS infrastructure and services to customer data centers or co-location facilities.)
The specifics of the private MEC service are relatively recent; Verizon announced its public MEC service in 2019 with an AWS Wavelength integration at selected points in its midband Nationwide 5G and 4G LTE networks. (Wavelength extends AWS to a carrier's cell site or point of presence.)
Both Verizon's public and private MEC services operate on Nationwide 5G or on Verizon's 5G Ultra Wideband millimeter-wave (mmWave) network, which is available in a growing number of U.S. cities.
Corning Activates Verizon Private MEC
Private MEC has become increasingly mentioned as a potential boon for industrial applications, particularly since it offers a dedicated, secure option for boosting edge resources. And Corning Inc. offers one example of how Verizon's MEC — and specifically, 5G MEC — can assist in that environment.
In 2019, Verizon hooked up with Corning In the company's new Hickory, N.C., fiberoptic cabling plant, to deploy a private Verizon MEC. That's since been integrated with AWS Outposts and an industrial automation service from Gestalt Robotics GmbH. The system processes data from robots distributed throughout the plant, transmitting information via 5G to applications in AWS. The solution monitors for defects and ensures that materials flow through the factory at optimal speed, says Michael A. Bell, SVP and general manager of Corning Optical Communications.
"What's powerful about the combination of 5G and edge computing is the latency combined with the ability to really process data — large amounts of data — in real time," Bell said in a video prepared for Verizon's announcement. "You're moving the computational power from the device to the edge, and that allows us to manage and process that data from multiple robots, multiple sensors and catch problems before they occur."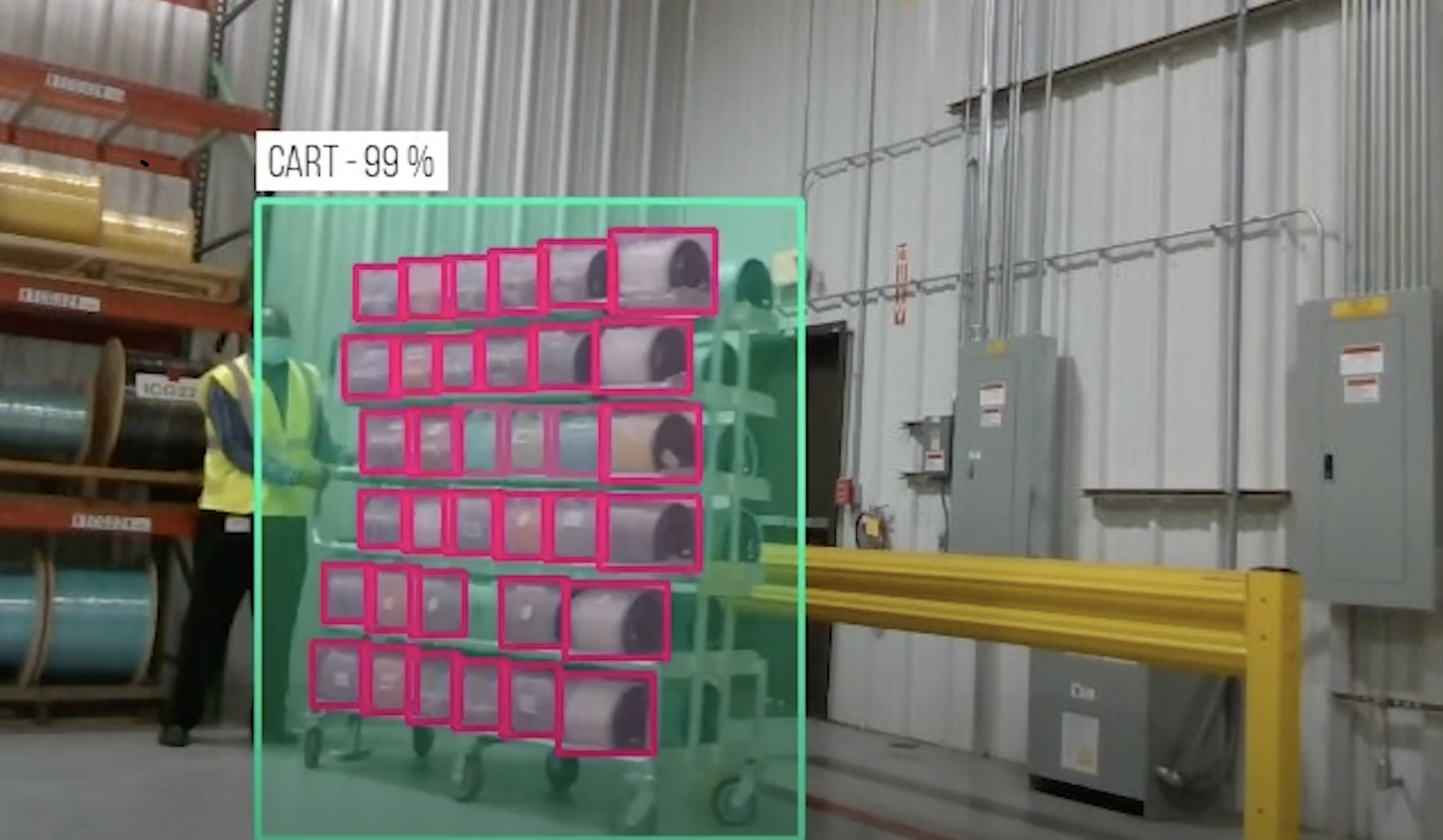 Corning Inc. illustration of industrial monitoring application used in its 5G MEC-enabled plant in Hickory, N.C. Source: Verizon and Corning.
MEC's on the Move
Verizon and Corning aren't alone. AT&T (T) lists manufacturing, along with stadiums and retail, as a key market for its private MEC service, which like Verizon's runs over the carrier's 5G networks and can be integrated with cloud provider services. Unlike Verizon's service, however, AT&T's appears to be available now.
Meanwhile, T-Mobile (T-MUS) hasn't announced a MEC service yet, but the carrier joined with Intel (INTC) and NASA in 2020 to create a 5G Open Innovation Lab in Seattle to encourage partnerships and research into all aspects of 5G networking, including edge compute. Manufacturing, along with retail, utilities, autonomous vehicles, agriculture, transport and logistics, space and satellite, and media and entertainment, is listed among the top vertical markets to benefit from the work, according to the lab's website.
Azure Is Not Left Out
Interestingly, the unveiling of Verizon's private MEC network doesn't mention Microsoft Azure. But originally, Verizon stated its plan to integrate its 5G public MEC service for businesses with AWS, and its private MEC service with Azure. A company spokesperson says there's no contradiction: Customers will be able to choose either AWS or Azure integration for private MEC, as they prefer. Perhaps they'll even be able to choose both in a multi-cloud scenario. And Verizon has in the past encouraged customers to think of adopting both public and private MEC in their environments.
It probably doesn't matter who's included in the latest press release; Verizon sees a multi-billion-dollar opportunity in MEC, and it's certainly not likely to limit its prospects by linking its services to one cloud provider, one vertical, or even to one sector, public or private. AWS and Azure aren't settling for one MEC partner, either. Expect to see an increasingly inclusive ecosystem form among telcos and cloud players eager to tap 5G edge opportunities.