Lumen Opts for Itential at the Metro Edge

Lumen Technologies (LUMN), formerly CenturyLink, has picked network automation specialist Itential to help scale networks to meet growing demand for edge services.
Lumen will use Itential's Automation Platform to enable enterprise, hyperscaler, and service provider customers to control, monitor, and orchestrate the managed services offered via Lumen's network of metro edge nodes. This is part of area that Futuriom has referred to as Integrated Automation Platforms (IAPs). Itential has been a fast-growing company in this area.
Up to now, Lumen has acted as a channel partner for Itential, but the new relationship means the carrier will not merely resell but incorporate Itential's wares into Lumen services.
The alliance should boost both companies' efforts to serve customers in a range of verticals, particularly as 5G services attract enterprises looking for mobile edge connectivity to their existing hybrid or on-premises clouds.
Expanding Edge, Expanded Automation
Lumen, which took charge of CenturyLink's global fiberoptic network last September, markets its services as a platform of metro edge nodes in locations across the U.S. (see map below), with 150 more slated to come online worldwide. Each of these nodes supplies compute, storage, security, and networking in a fiber-equipped point of presence designed to reduce customer latency to under 5 milliseconds.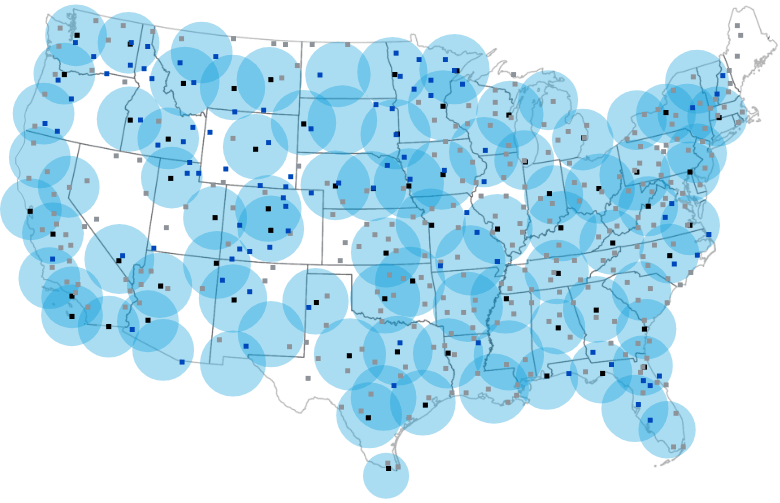 In the map above, black squares indicate Lumen metro edge nodes; gray squares, manufacturing factories; dark blue squares, healthcare providers; and circles, 5-millisecond radius. Source: Lumen Technologies.
Lumen gets about 28% of its sales from enterprise customers, and the carrier has targeted the likes of manufacturing facilities, healthcare providers, and media companies, along with hyperscaler cloud providers, as potential takers of its Itential-orchestrated metro edge nodes.
Itential, founded in 2014 by Ian Bresnahan and Chris Wade, has been at the forefront of a move toward multi-domain network orchestration. Its Automation Platform uses a variety of methods, including low-code data modeling and application programming interfaces (APIs), to create an abstracted software representation of the network. This permits management and orchestration of all network elements in cloud, premises, or public communications networks.
As edge networks proliferate, Itential has benefited. In August 2020 it was ranked 1,568 on the Inc. 5000 list of America's fastest-growing private companies. The 150-employee firm, headquartered in Atlanta and the U.K., boasts a growth rate of 276.8% over the last three years.
Automating 5G
The Lumen-Itential partnership is one of many we'll see as 5G rollouts compel carriers toward greater automation adoption. Itential CTO Chris Wade told Futuriom in an interview early in 2020 that 5G services will be beyond the capabilities of human management:
"5G, it's going to be the first network that cannot be managed by humans…. [I]f you look at 5G core and the edge, it would be like going to the cloud and asking for humans to spin up virtual machines…. The benefit of 5G applications … is super exciting, but the reality is that we have to automate and we need machines making decisions. We're going to cross that chasm with 5G. There will be no option."
Lumen hopes to leverage 5G as well. Indeed, in an email to Fierce Telecom back in August 2019, Paul Savill, then SVP of product management at CenturyLink (now SVP, enterprise product management at Lumen) said:
"We believe edge compute will work in tandem with 5G wireless networks and wireline networks to deliver more efficient, scalable compute for many existing enterprise applications, as well as enable new emerging applications like retail robotics and AI-based video analytics."
This is backed up by Futuriom research from our 2020 Network Automation Survey, which targeted 113 service providers. Of those surveyed, 95.6% said they though automation would be crucial to successfully launching 5G.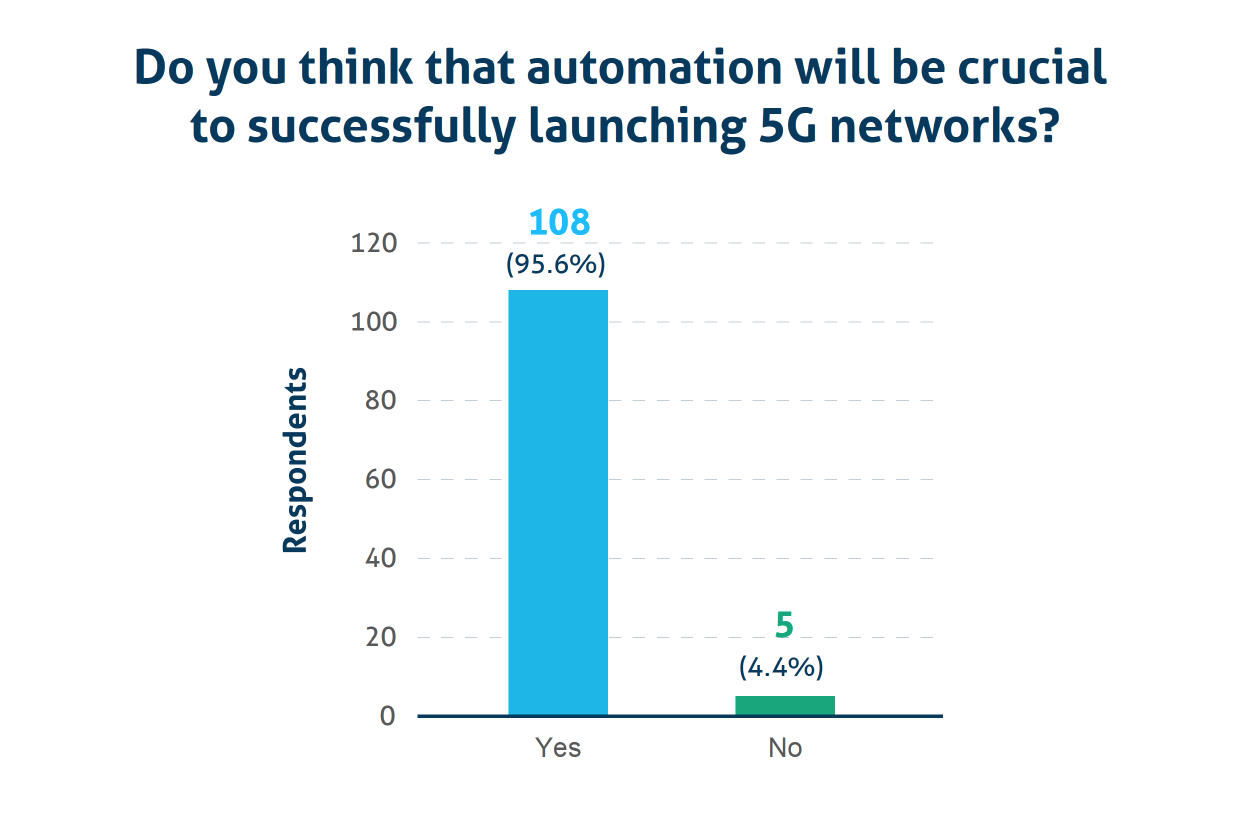 Futuriom 2020 Network Automation Survey N=113
In addition, when Futuriom surveyed 150 network operators in enterprise, webscale, and cloud, 92.9% said that network automation will be crucial to supporting multi-cloud and hybrid cloud operations.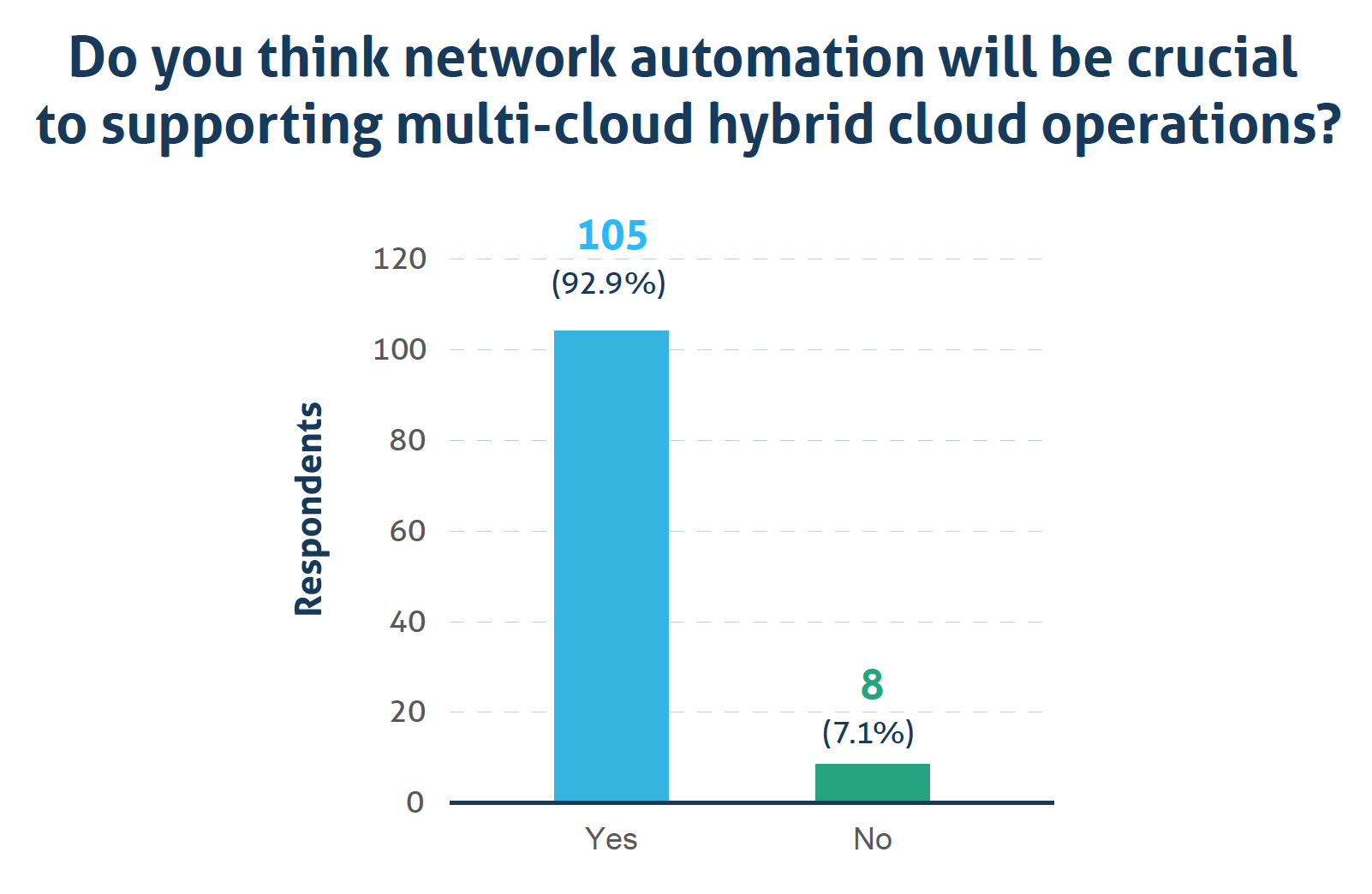 Futuriom 2020 MCN Survey N=150
Competition for Carriers
Lumen isn't Itential's only service provider partner. Itential's automation is used by Deutsche Telekom and Telecom Italia, as well as smaller, unnamed service provider customers. As edge services multiply and 5G emerges, this list will grow, though competition in the space is fierce. Major hardware suppliers such as Ciena (CIEN), Cisco (CSCO), Hewlett Packard Enterprise (HPE), and Juniper (JNPR), to name just a few, are delving into automation, while at the same time a large crop of startups is introducing cloud-native technologies to drive automation, including Alkira, Arrcus, DriveNets, PacketFabric, PurePort, and UBiqube, to name just a few.
This is a big win for a relatively small company. It also shows that the stage is set for explosive activity at the service provider edge, and automation from the likes of Itential and Lumen exemplify the trend.