Futuriom Q&A: Chris Wade of Itential

Chris Wade co-founded Itential in 2014 with the mission to drive automation deeper into network operations. Itential, based in Atlanta, was founded in 2014 and now has more than 150 employees. The company sells to large service providers as well as enterprises and it has deals in place with customers such as Deutsche Telekom and partners such as Cisco.
Prior to establishing Itential, Chris had a long history of involvement in the networking and communications industry, having held positions at Alcatel-Lucent (now Nokia), ReachView Technologies, and Micromuse. Wade is a big proponent of a model-based approach to building automation into networks. He leads the development of Itential's portfolio of network automation applications. He is an expert in software-defined networking (SDN), network functions virtualization (NFV) and operation support systems and billing support systems (OSS/BSS) markets. He graduated from the Georgia Institute of Technology with a BS in computer science.

Futuriom: Hi Chris. How did Itential start?
Chris Wade: Itential started in January of 2014. The beginning story was that networks were shifting from a CLI [command-line interfaces] human-centric world to a machine-centric, programmable world.
We started with the open source community building network applications for orchestrators and controllers with things like Open Daylight. We [Itential] thought we needed to build a new application ecosystem because over time there would be just a handful of controllers similar to iPhone and Android - how are we going to manage networks with this open-source controller thing? But what's happened is that controllers and orchestrators exploded. So we migrated to building a platform that would consume APIs from controllers and orchestrators and DevOps platforms. This allows us to build applications that would manage modern networking infrastructure.

Futuriom: Yes, I remember the controller days. There is still kind of a debate about controllers. Are they dead or should it be part of a distributed operating system?
Wade: The original idea was that they were going to take over all of networking. The idea now is we are managing networking infrastructure with consolidated orchestration and controllers giving us a software interface to the network. That's the most important thing — having a software representation of the network which can be managed individually. Those basic concepts have made their way into almost all modern network infrastructure. When you start talking to public cloud instances, those regions are basically a software orchestration layer that lets you talk to that whole network. If you are adopting SD-WAN, basically you have controller concepts built in. If you are doing data-center overlay, those have the same concept.
Whether the original definition of controller and orchestrator moves on, the same concepts are being built into all the networking technology that customers are adopting today.
Futuriom: You talk to lots of engineers and cloud architects. What are the biggest challenges you hear about every day?
Wade: When we talk to architects, they are focused on the philosophy of change in the network. The number of new things introduced is growing at an accelerated clip. They know they are going to have to adopt more technologies in the next 24 months than they probably have in the last five years. With that adoption of new technologies, they have a human CLI view of networks and they are trying to move to a more automated way. Those new technologies are coming, there are NETCONF and Yang interfaces, but sometimes they are talking about public cloud data payloads. They are thinking about, "How do I consume these new technologies in a rapid way and provide some level of automation so we don't hold up the adoption of the new technologies."
We talk about the fact that a lot of the innovation has been on the data plane and the control plane over the last few years and we've seen a lack of investment on the management side. A lot of the folks I speak with are focused on how they are going to manage the infrastructure.
Futuriom: Tell us about your customers.
Wade: When we started, we were focused on people where networking was their business. But as you see technologies such as SD-WAN emerge, it's more broad-based enterprise [customers]. We are seeing the automation in parallel to the adoption of new technology.
As that technology gets baked into everyday items — WiFi, IP branch — you are seeing the necessity for automation. Our customer base [reflects that]. We started with some of the largest networks in the world and over time [our products are] being adopted by broad-based enterprises.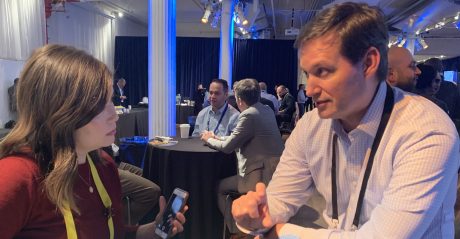 Futuriom: Why is SD-WAN perceived as more successful than some of the other technologies such as SDN and NFV?
Wade: I'd place it on consumability of the technology. One could argue how academic some of the early discussions were around virtualization and software control. As it applies to modernizing your WAN infrastructure, SD-WAN has caught hold because it had a well-defined problem where the adoption of software control and virtualization advanced the quality of the product and it [represented] the next evolution of how we are going to manage WANs and branches.
As that technology applies to other parts of the network, we are going to see similar uptake. The concepts were good and the benefits were true, but if they apply to a real use case they can be consumed by a large portion of enterprises. I think that's what we've seen with SD-WAN.
Futuriom: Do you think the adoption of automation technology is more of a cultural issue than a technology issue?
Wade: I think it's both. Most of the industry that is successful view automation not as not a way to automate individual activities, but as a way to consume these modern networking technologies. The volume of change and the requirements on networking are extreme and the technologies are more complicated. The only way to deal with that complexity is to automate it. If you don't automate it, you are going to use a small number of features of the new technology.
Most organizations I speak with don't want to take on any technology that can't be automated. It's the only way they see themselves scaling and being responsive to their business. As customers consume these new technologies, there isn't even a CLI available. We have these debates about CLI, but I think one day people are going to wake up and a minority of infrastructure has a CLI anymore. If you have a centralized software control, people are putting APIs and Web applications on top of that. The CLI will be disappearing. I think it's incumbent on everybody to look at how to have a strategy around the CLI stack, which often includes DevOps platforms like Ansible and Terraform, and then they'll have their modern techniques which are HTTP and JSON based. And they can figure out how to automate across all those technologies.
Futuriom: What about the battles between cultural domains inside organizations like DevOps and networking departments? How do you expect the cultures to evolve?
Wade: I've seen and read a lot of opinions that we have to re-train our network engineers to be software developers. We believe it's our responsibility to provide the interfaces for all these people to participate in network automation. If I say, I only want network architects and software developers to participate in my automation strategy, I end up with a very small pool of people. We think we need the largest number of people to participate in automation. This is how we engineer the network. We need interfaces where network engineers can participate, such as writing scripts, defining process, and architecting networks. We need a way for developers to participate — that means building applications. I need a way for DevOps people to participate, that means leveraging pipelines and CICD principles. So the question is how do we get the most people to participate by taking all of the above approaches rather than some notion that everybody has to be network architects and software developers.
Futuriom: How is the new 5G edge going to change the world? For example the way it will impact retail with analytics. Do you believe in that? What does 5G mean?
Wade: When it comes to 5G, it's going to be the first network that cannot be managed by humans.
Futuriom: That's interesting. Cause there's too much happening?
Wade: Yeah — if you look at 5G core and the edge, it would be like going to the cloud and asking for humans to spin up virtual machines. Or it would be like telling somebody that manages a huge VMware implementation that they can't use vSphere, they have to use CLIs. There are other ways, but they have to work through their management consoles because that's the only way they can do it.
We look at things from a management perspective. The benefit of 5G applications and how it benefits the enterprise is super exciting, but the reality is that we have to automate and we need machines making decisions. We're going to cross that chasm with 5G. There will be no option.
5G is also not a single technology. It incorporates radio, it incorporates edge, IP networks, optical backhaul, data centers and public cloud. So 5G is not just limited to a radio technology. It's a fundamental re-think on how we deliver applications across fixed or wireless infrastructure. It's going to be a huge change. It's a multi-domain concept. It requires a re-think on how we do a lot of our operations and engineering activities.
Futuriom: Where is Itential in five years that makes you happy?
Wade: Some people say we automate automation. The different domains in which we participate all have a transformation they are going through. IP networks are changing quite rapidly, optical networks are changing quite rapidly, what public cloud is and what overlay mesh looks like is changing quite dramatically. The big thing that needs to happen from our perspective is that as technology stacks mature, the need to interoperate with everything else. For a 5G service to be useful to an end user, it has to traverse a lot of those domains.
From an Itential standpoint, we believe our role is to provide the automation platform that connects all of those domains together.
Futuriom: What about "infrastructure as code," what does that mean to you?
Wade: Ultimately, we talked about representing the network as software. We moved from a CLI on top of a single devices to a software abstraction inside a controller, an orchestrator, or a DevOps platform. Once we start treating the network infrastructure as programmable software, it means leveraging everything we learned about software management and applying that to the network. We're not applying infrastructure as code to the network, I think the network is becoming more like software.
There's no reason for us to re-invent how to manage the software lifecycle, it already exists. It's a natural evolution. As the network becomes more software-like there are more software concepts and tooling to apply to that. On the networking side, as an industry we are pretty famous for trying to invent new ways of doing things. This is a case where we have a proven way of having a massive number of people applying massive changes to a distributed system. I think we should apply that to networking. And we reference that as infrastructure as code.
Futuriom: Thanks Chris!
Wade: Thank you.