IBM Big Spinoff Plan Targets 'All In' for Hybrid Cloud

In its most aggressive move forward in decades, IBM (NYSE: IBM) plans to spin off the lion's share of its Global Technology Services (GTS) division into an independent public company, leaving IBM free to focus entirely on hybrid cloud and artificial intelligence (AI).
The new spinoff, temporarily nicknamed NewCo, will continue to function as IBM's partner, funneling business to or from its former parent as needed while maintaining enough autonomy to allow both companies more agility in an increasingly crowded marketplace.
The move should let IBM draw customers to its own RedHat hybrid cloud platform without worrying about diluting business with services that support other public clouds.
This could put IBM in a better position to gain share from cloud titans AWS (AMZN), Google (GOOGL), and Microsoft Azure (MSFT). It should also enable IBM to compete more strongly against companies with similar pedigrees to IBM's, most notably Hewlett Packard Enterprise (HPE).
The split also reshapes IBM in some fundamental ways. "This represents an important shift in our business model," said IBM CEO Arvind Krishna on a conference call with financial analysts. "We will go from having over half our revenue in services to one where the majority will come from software and solutions."
IBM's October Surprise
Perhaps the biggest surprise in this deal is that it's actually happening, given IBM's historical sluggishness in evolving to fit market demands. But Krishna, who took the CEO helm from Ginni Rometty this past April, has repeatedly articulated IBM's intent to focus "maniacally" on hybrid cloud and AI. And he claims the strategy has been part of a plan all along.
To wit: CEO Krishna told financial analysts on a conference call Thursday that IBM purchased Red Hat (a $34 billion deal in which Krishna was a prime mover) with the goal of establishing its OpenShift software as a platform for hybrid cloud workloads. That goal has been reached, he said, enabling IBM to take the next steps forward.
According to IBM, just 25% of all global workloads are virtual (interestingly, that's up from 20% cited by Krishna during IBM's second-quarter earnings announcement in July). This is where IBM hopes to excel, offering OpenShift along with a range of AI-driven solutions for data management and security, and grabbing a share of what IBM sees as a $1 trillion opportunity.
NewCo, meanwhile, will offer network management, hosting, and other data-center services to enterprise clients, regardless of which public cloud provider they espouse. "It's infrastructure services, without the IBM public cloud," explained IBM CFO James Kavanaugh on Thursday's call.
From Jumble to Juggernaut?
It is easy to get muddled in the smaller details of the IBM/NewCo arrangement. Terms like hosting, managed service, and solution are already fuzzy, and it's not exactly clear where some products and services will land in the new categorization.
Nothing new here: Confusion over what goes where in IBM's portfolio has been a hallmark of the company for years and even made it a laughingstock among industry observers. Hopefully, the separation will clarify things over time.
For now, here's the plan: NewCo will take over IBM's Managed Infrastructure Services unit, which comprises roughly three-quarters of GTS's business and accounts for about $19 billion in annual revenue, compared to about $59 billion for the rest of IBM's businesses. The remaining GTS unit, Technology Support Services (TSS), will stay with IBM. Both companies will continue to sell IBM systems (storage, mainframes, etc.).
The slide below is IBM's attempt to clarify the allocations across the two companies: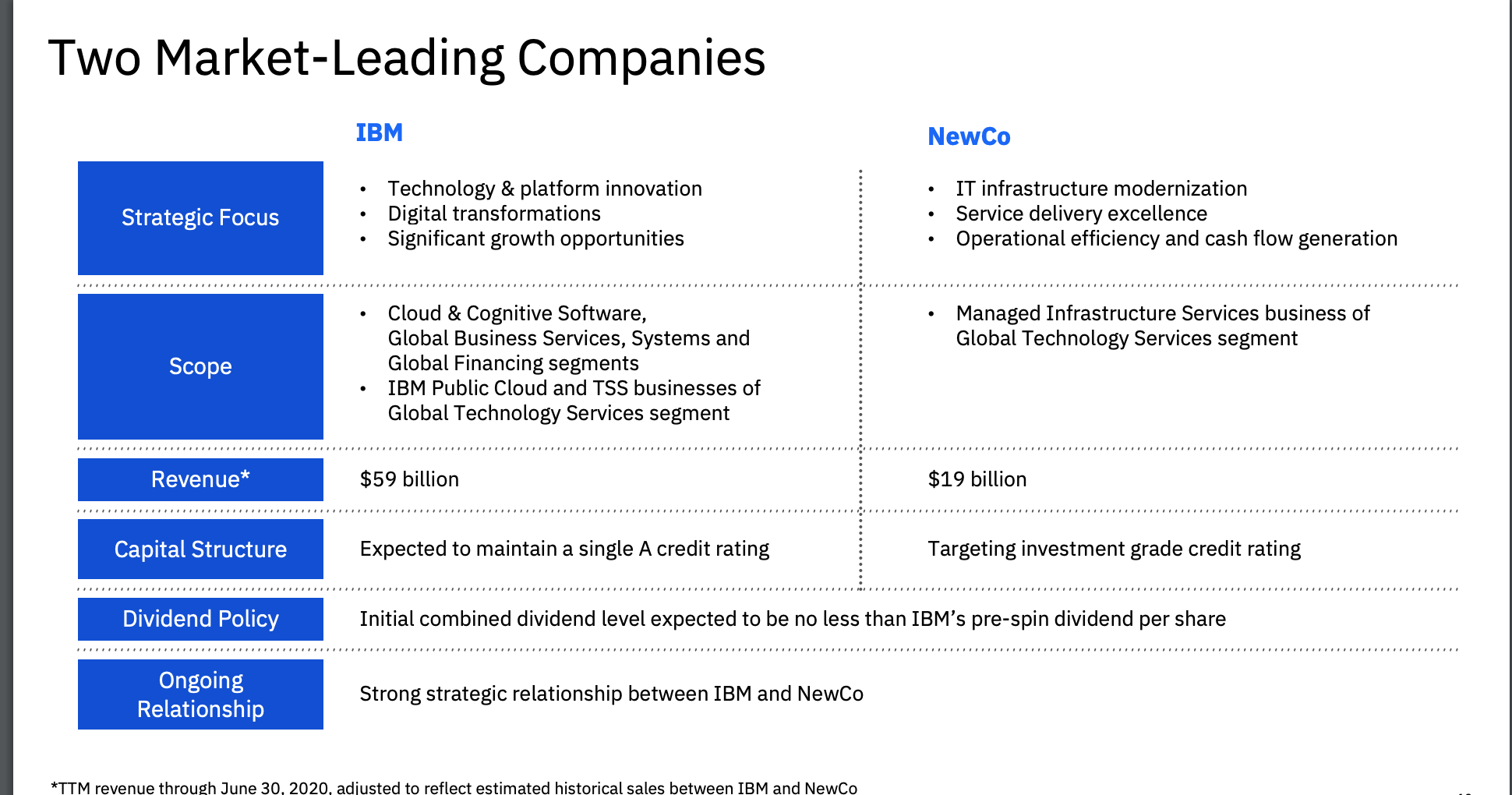 What Lies Ahead
IBM says NewCo will emerge as a tax-free, pro-rata spinoff for IBM shareholders. The separation will be complete by the end of 2021, execs say, and will incur a $2.3 billion "structural action" charge at that time. Later, IBM expects additional cash-related charges of roughly $1.5 billion and non-cash charges of about $1 billion to finalize the deal. "Obviously, we have a lot of work to do," said CFO Kavanaugh.
IBM resists any suggestion that the NewCo proposition is about jettisoning a business that's been in decline for the last few years. Between 2018 and 2019, for instance, revenues for the unit containing what is now called Managed Infrastructure Services fell 6%, and the downward trajectory continued into the first half of 2020, with a 4% year-over-year decline in 1Q 2020 and 5% last quarter.
"Look, our decision-making is not based on what's declining or what's not declining," said Krishna in response to analyst questioning Thursday. "Our decision-making is based on looking at what clients value, looking at what is strategically important…."
NewCo's assets, says IBM, include 4,600 clients in 115 countries, including more than 75% of the Fortune 100 and a backlog of $60 billion. And presumably, its position as a cloud-agnostic services provider will give it more traction — and help shuttle business back to IBM's hybrid services as customers move toward even more digital transformation.
It's a great plan on paper, with lots of moving parts and implications that will affect not only IBM but the cloud technology markets in which it competes. Will it work? So far, Krishna and Co. have been able to effect solid changes at IBM with the introduction of Red Hat and its attendant technologies. Let's see if they can make the magic continue.