Darktrace Prepares for UK IPO

Darktrace, a Futuriom 40 company, is said to be mulling an IPO in the U.K., with plans to "float" shares as early as this week. In accordance with U.K. securities law, official trading could begin by the end of the month.
Based in Cambridge, U.K., and San Francisco, Darktrace uses artificial intelligence (AI) to predict security threats by discerning the normal behavior of a particular cloud-based environment, Internet of Things (IoT) network, or industrial control system. The cloud-native Darktrace Immune System then reports anomalies and selects mitigating responses to attacks.
Darktrace has flourished since its founding in 2013 by wunderkind CEO Poppy Gustafsson and a group of unnamed British intelligence experts and Cambridge University mathematicians. It claims to have over 4,500 customers, including including Micron, Rolls-Royce, eBay Classifieds Group, the U.K.'s National Health Service, and the Vatican Library, to name just a few. It has 44 offices worldwide and its headcount is 1,500 employees.
Darktrace Valuation Measured
Darktrace reportedly has a valuation of about £3 billion, or roughly US$4 billion, though corporate leaders and investors would like that figure to be closer to £5 billion. But it seems management is hedging its bets for a number of reasons. One is the cautionary example of the recent disastrous British IPO by food delivery startup Deliveroo, which saw 26% of its stock value depleted on the first day of trading. That debacle was based in part on what some observers thought was an overly ambitious valuation, a mistake Darktrace wouldn't want to duplicate.
Deliveroo had other problems Darktrace would like to avoid, among them talk about the company's alleged exploitation of delivery drivers. In addition to ethical objections, investors had concerns that poor judgment on the part of management could lead to litigation and financial penalties.
Darktrace has had its own bouts of bad publicity, stemming from its association with several executives of the ill-fated sale of software company Autonomy for $11 billion HP in 2011. At least three Darktrace investors have been tarred with the brush of HP's accusations of accounting malfeasance in that transaction. And though all maintain their innocence, the fallout has reportedly cost Darktrace some financial backing in its journey to IPO.
Perhaps to ward off any naysayers as well as to beef up the ranks with public-company smarts, Darktrace has recently made a slew of high-profile executive changes and additions to its board. The company has a new general counsel, James Sporle, whose experience with taking companies public should be a boon. There's a new board chair, Gordon Hurst, a former finance director with public company expertise who's moving up from service as a non-executive director. In addition, there are two new non-executive directors, Lord David Willetts, a former member of Parliament with government financial expertise; and Sir Peter Bonfield, formerly the CEO of British telecom giant BT Group.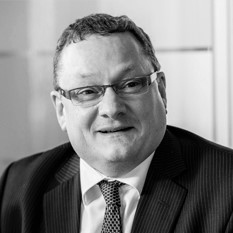 Board Chair Gordon Hurst. Source: Darktrace
Cybersecurity Market Could Boost an IPO Win

If Darktrace goes public soon, it will be facing more market risks in the U.K. than it might stateside. As some analysts have pointed out, Europe's Stoxx Europe 600 index lags the S&P 500 — over the last 12 months, the former has grown 38% to the S&P's 63%. And the Stoxx Europe 600 Technology Index has tracked 64% growth over the last 12 months, compared to the Nasdaq 100's 79%.
Still, Darktrace is a strong player in a market where demand is rising. Security has never been more important; it's an issue that's got companies recreating their strategies and startups gathering force. Two-year-old Orca Security, for instance, just landed $210 million in Series C investment — nearly as much as the $230.5 million Darktrace has scored in its eight-year history.
The market will only get hotter. "Recent attacks, including the malicious campaign related to SolarWinds, have laid bare the inadequacy of signature-based tools in protecting against stealthy intruders that lie low inside digital systems," stated CEO Gustafsson in a press release earlier this year. More protection is desperately needed, and companies that can provide it are likely to do well in any market.